Auto biggies imparting skills for employment
Providing one-of-a-kind education in skills, automobile majors like Toyota, Volkswagen and Maruti offer training programmes to 10th standard pass-outs, grooming them into skilled-employees in various functional areas. Careers360 tells you the need for and why imparting this training is essential.

Anand Kumar moved with his parents to Bangalore from Chittoor in 1996 in search for better prospects where his father became a vegetable vendor and mother found a job as a housemaid. Despite financial hurdles, Anand continued his schooling and completed his 10th Standard with the help of scholarships. He heard about Toyota Technical Training Institute (TTTI) from the place where his mother worked. And then there was no looking back. He is not only employed in Toyota Kirloskar Motors, but has also won various national and international skill tests including the Gold Medal in NSDC Pre-national Skill competition. Recently, he got an invitation from National Skill Competition by the Australian government where his team made a remarkable footprint by achieving high scores.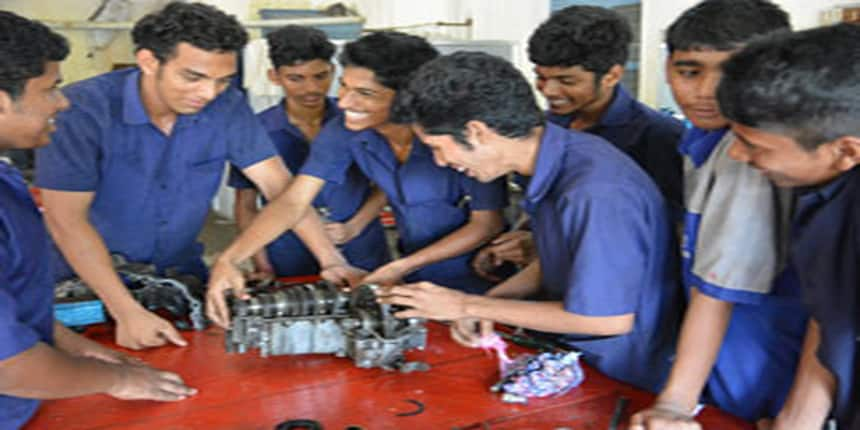 Need for automobile professionals
With the gross turnover of the automobile manufacturers in India at US$ 59,000 in 2014-15 and installed capacity of 7.19 million four-wheelers in the same year (SIAM Report), the automobile industry accounts for 7.1 percent of the country's Gross Domestic Product. The overall Passenger Vehicle segment, with close to 3.4 million units in 2016 has 13 percent market share, next to the two-wheelers segment at a staggering 81 percent.
The remarkable thing is that the sale of passenger vehicles has registered the highest growth among all vehicles at over 9% percent in the last one year. By 2020, India's share in the global passenger vehicle market, according to the IBEF report, is likely to touch 8 percent from 2.4 percent in 2015.
The above statistics imply that apart from automobile engineers and other professionals in the industry, people skilled in various vocations within automobile sector would be in greater demand than ever. The skill-set required include mechatronics, robotics, electrical planning, computer-aided design and manufacturing and different processes such as welding, hydraulic and pneumatic, paint and so on.
Key training providers
A major advantage of offering job opportunities to people in India by large automobile manufacturers is that auto firms save 10-25 percent on operations. Some of these companies offer training programmes as part of their Corporate Social Responsibility initiatives. India has a large pool of skilled manpower and a dynamic and growing science & technology base which also has a large skilled English-speaking population. The government's Automotive Mission Plan 2016-26 through the Department of Heavy Industry has targeted a four-fold growth in the automotive industry.
While National Automotive Testing and R&D Infrastructure Project (NATRIP) Centres in India strengthen the research and development initiatives; for instance, the Automotive Research Association of India, Pune has a Centre of Excellence for Power Train Development and Material; automobile companies have set up their own institutes to impart training in different skills. Major auto firms have also tied up with different Industrial Training Institutes (ITIs) across the country.
What do you learn?
Training programmes run by automobile giants imbibe requisite skills in diploma holders, helping them keep pace with engineers. One such programme by Toyota Technical Training Institute (TTTI) run by Toyota India attracts students from rural Karnataka, mostly belonging to weak economic backgrounds. The full-time course imparts auto-manufacturing and plant administration skills to at least 65 students every year. Established in 2007 as a part of the automobile giant's social initiative, the institute has provided training to close to 500 students from across the state.
The three year, full-term apprentice residential training in automobile manufacturing at TTTI is broadly divided into four course modules: Automobile Assembly; Automobile Weld; Automobile Paint and Mechatronics. In the first-year, students are equipped with basic skills, industry-specific knowledge and learn team-work. The second-year exposes them to shop-floor training, specialized training in functional area and general knowledge about automobile industry. The students learn about Engineering Drawing, Works shop Calculations, Production Technology and Mechanics of Machines and Computer-aided Design (CAD). In the third-year, students learn about specific skills in Mechatronics, Paint & Weld in Toyota's Key methodologies of Safety, Quality, Productivity, Cost, 5S, Kaizen, and Karakuri. They earn domain expertise through multi-skilling, technical seminars, quiz and internal skill contest. Successful students are privileged to appear for National Apprentice Certificate exam and certification from Automotive Skill Development Council.
Similarly, 16 to 24 candidates are admitted every year at the Volkswagen Academy India (VWA) in Chakan, Pune through a rigorous selection process in the Mechatronics Apprenticeship Programme. The learning at the academy involves multidisciplinary engineering approach, encompassing knowledge about Mechanical, Electronics, Computer and Control Systems. The Mechatronics curriculum comprises operating of conventional and CNC machines, fitting works, welding, hydraulic & pneumatic processes, robotics, CAD, CAM and CATIA (Computer Aided Three-dimensional Interactive Application). In the final year, apprentices are expected to work on the shop floor with various departments on practical projects as a part of their curriculum that comprises 70 percent of their course time. The academy also focuses on inter-personal skills as an integral part of the programme. The course is free of cost for all the apprentices and they also get a stipend of Rs 9000 per month. On successful completion, apart from getting certification from VW India, the apprentices are also eligible to appear for National Apprenticeship Examination conducted by NCVT.
Hyundai Motor India Ltd - the country's second largest car manufacturer has also expanded the scope of its agreement with 25 ITIs in India as one of the initiatives to contribute to the Government of India's Skill India Programme. The expansion has been in succession with the completion of the pilot programme that was launched by Hyundai in 2012 across five locations. About 95 percent of trained graduates have been absorbed by Hyundai dealerships in the last two years.
Eligibility and selection
Usually, one should have passed 10th Standard in first attempt with a minimum score of 50 percent in Mathematics, Science and overall (for TTTI and 12th Standard Pass for VWA). They should be within 15-17 years of age and preferably from a family which cannot afford further education for their children. The training is largely for socio-economically backward students from nearby villages in the State or neighbouring States. Some of the training academies welcome women candidates to apply for admission.
Learning outcomes
In 2014, Anshuman Srivastava from Uttar Pradesh won the 'Best Apprentice Award' from Volkswagen Group in Germany which he considers to be among the highest recognitions from Volkswagen Group for consistently delivering excellence through the tenure of the Programme at Volkswagen Academy. Anshuman is now part of Volkswagen Pune Plant's Body Shop. He works on Electrical Planning that includes E-plan software, PLC, Robotics, Drive Systems and Automation.
Kiran, from Udupi district applied for admission to TTTI after his 10th standard and utilized the opportunity by putting in hard work to secure fellowship from TTTI for five semesters in Mechatronics branch. He was shortlisted for the World Skill Competition.
In addition to providing opportunities to the students of weaker section of society, these programmes also bridge the gap between a rapidly growing industrial sector and availability of highly skilled workforce for young achievers. Shailesh Shetty, Vice President, Toyota Kirloskar Motor says, "The candidates who have been trained at TTTI are flexible, focused, and well-equipped with the best-in-class technical know-how, thus contributing towards building a strong work force for the industry as a whole."
The apprentices of Mechatronics Programme by Volkswagen are eligible to take up jobs in departments such as Quality Assurance, Production, Maintenance, Planning, and Research & Development at Pune Volkswagen plant. Vijayan KT, Head of  VW Academy at Pune says, "With the future-oriented combination of theory and practical knowledge that is imparted to candidates, we have created skilled work force for the growing and changing needs of an ever-evolving tomorrow".
Employment-ready
The noteworthy aspect about these technical training is that so far there has been 100% placement. At TTTI, the successful candidates have been placed in TKM Group companies and at the supplier's end. At VWA too, all have got employment and there has been a tremendous response and acceptance from the local community within Pune District, up to VW Germany who are fully supporting this activity. "As a responsible corporate, we at Toyota have been tirelessly working towards building a skilled workforce to cater to the needs of skilled manpower for India's rapidly growing industrial sector," Sailesh Shetty, Vice President, Toyota Kirloskar Motor, rounds off.  
Stay tuned to engineering.careers360.com for more articles and interviews