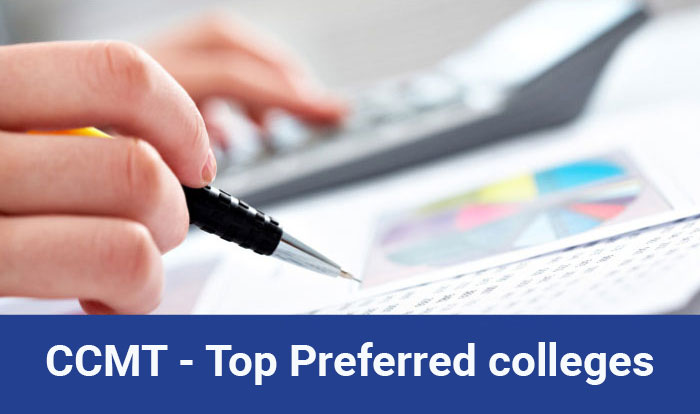 A widely searched query is CCMT - Top Preferred Colleges. With CCMT 2018 commencing the registration process, many candidates are checking the top preferred colleges for CCMT to understand the pros and cons of applying to these institutes. While all the National Institutes of Technology are generally known, a certain few are much sought out. Their infrastructure in terms of laboratories, support, faculty, placements are much better than the others. 

Since all these institutes use the scores obtained in GATE for their M.Tech admissions, the CCMT cutoff for some of the institutes are much higher comparatively making them the top preferred colleges through CCMT. Careers360 brings the CCMT - Top Preferred colleges based on the GATE scores, popularity on the basis of the number of applicants along with details of the courses offered by them and the GATE cutoff trends from past years. Candidates can use the information to gauge their chances at the M.Tech admissions at these most preferred colleges.

CCMT 2018 Registration started from April 3. Candidates could register, fill their personal, academic details and based on their preferences, enter their choices of courses and colleges in the order of preference. It may be noted that candidates with valid GATE scores namely 2016/ 2017 and 2018 were eligible.
GATE Sample Paper
Download Free Sample Paper for GATE
Download Now
Top Preferred Colleges as per GATE Cutoffs
Institute

Programmes Offered

CCMT Cutoff Trends

Chemical Engineering - (CE)

 

Civil Engineering - (CE)

Transportation Engineering - (TE)

Remote Sensing and Geographic Information Systems - (RG)

Geotechnical Engineering - (GE)

Environmental Engineering - (EV)

Engineering Structures - (EU)

Water Resources Engineering - (WR)

 

Computer Science and Engineering - (CT)

Computer Science and Information Security - (CQ)

Computer Science and Engineering - (CT)

Computer Science and Engineering - (XG)

Electrical Engineering - (EE)

Power System Engineering - (PS)

Power Electronics and Drives - (PD)

Electronics and Communication Engineering - (EC)

VLSI Systems Design - (VD)

Electronics Instrumentation - (EM)

Advanced Communication Systems - (AS)

Mechanical Engineering - (ME)

Automobile Engineering - (AE)

Thermal Engineering - (TI)

Additive Manufacturing - (AD)

Materials and Systems Engineering Design - (MB)

Manufacturing Engineering - (MU)

Machine Design - (MD)

Computer Integrated Manufacturing - (XI)

Metallurgical and Materials Engineering - (MT)

Industrial Metallurgy - (IY)

Materials Technology - (MT)

Chemical Engineering - (CH)

 

Civil Engineering - (CE)

Environmental Engineering

Transportation Engineering and Management

Structural Engineering

 

Computer Science and Engineering - (CT)

 

Electrical and Electronics Engineering - (ET)

Power Systems - (PO)

Power Electronics - (PE)

 

Electronics and Communication Engineering - (EC)

VLSI Systems - (VY)

VLSI Systems - (VY)

Communication Systems - (CY)

 

Energy and Environment - (EV)

Energy Engineering - (EY)

 

Instrumentation and Control Engineering - (IC)

Process Control and Instrumentation - (PC)

Mechanical Engineering - (ME)

Thermal Power Engineering -(TR)

Industrial Safety Engineering - (IF)

Metallurgical and Materials Engineering - (MT)

Industrial Metallurgy - (IY)

Welding Engineering - (WE)

Materials Science and Engineering - (MS)

Industrial Metallurgy - (IY)

Welding Engineering - (WE)

Physics - (PH) Non Destructive Testing - (ND)

 

Production Engineering - (PE)

Manufacturing Technology - (MF)

Industrial Engineering and Management - (IU)

 

National Institute of Technology Karnataka - Surathkal - (SR)

Applied Mechanics and Hydraulics - (AH)

Marine Structures - (MR)

Water Resources Engineering and Management - (WM)

Remote Sensing and Geographic Information Systems - (RG)

 

Chemical Engineering - (CH)

Industrial Biotechnology - (IB)

Chemical Plant Design - (CT)

Industrial Pollution Control - (IL)

Industrial Pollution Control - (IL)

 

Civil Engineering - (CE)

Geotechnical Engineering - (GE)

Environmental Engineering - (EV)

Construction Technology and Management - (CM)

Transportation Engineering - (TE)

Structural Engineering - (SU)

 

Computer Science and Engineering - (CT)

Information Security - (XF)

Computer Science and Engineering - (XG)

 

Electrical and Electronics Engineering - (ET)

Power and Energy Systems - (PX)

 

Electronics and Communication Engineering - (EC)

Communication Engineering - (CG)

VLSI Design - (VN)

 

Information Technology - (IT)

 

Mathematical and Computational Sciences - (MC)

Computational Mathematics - (SY)

 

Mechanical Engineering - (ME)

Design and Precision Engineering - (DB)

Mechatronics Engineering - (MZ)

Design and Precision Engineering - (DB)

Mechatronics Engineering - (MZ)

Manufacturing Engineering - (MU)

Thermal Engineering - (TI)

Metallurgical and Materials Engineering - (MT)

Process Metallurgy - (PM)

Nanotechnology - (NT)

Materials Engineering - (ML)

Advanced Chemical Analysis -(AA)

 

Architecture - (AR)

M.Plan (Urban Planning) -(UG)

Chemical Engineering - (CH)

Chemical Engineering - (CE)

Civil Engineering - (CE)

Water Resources Engineering- (WR)

Traffic and Transportation Planning - (TT)

Structural Engineering - (SU)

Offshore Structures - (OS)

Environmental Geotechnology - (EO)

Computer Science and Engineering - (CT)

Computer Science and Engineering – Information Security - (XF)

Computer Science and Engineering - (XG)

Electrical Engineering - (EE)

Instrumentation and Control Systems - (IO)

Industrial Power and Automation - (IA)

High Voltage Engineering – (HV)

Power Systems - (PO)

Power Electronics - (PE)

Electronics and Communication Engineering -(EC)

Microelectronics and VLSI Design - (MG)

Electronics Design and Technology - (ET)

Telecommunication - (TK)

Signal Processing - (SP)

Mechanical Engineering - (ME)

Manufacturing Technology -(MF)

Machine Design - (MD)

Industrial Engineering and Management - (IU)

Thermal Sciences - (TS)

Material Science and Technology - (MH)

Nanoscience and Technology - (NT)

Motilal Nehru National Institute of Technology Allahabad - (AL)

Applied Mechanics - (AM)

Biomedical Engineering -(BE)

Applied Mechanics - (AM)

Materials Science and Engineering - (MS)

Fluids Engineering - (FE)

Biotechnology - (BT)

 

Chemical Engineering - (CH)

Chemical Engineering - (CE)

Civil Engineering - (CE)

Environmental Engineering - (EV)

Transportation Engineering - (TE)

Structural Engineering - (SU)

Geotechnical Engineering - (GE)

Computer Science and Engineering - (CT)

Software Engineering - (SE)

Information Security - (IS)

Computer Science and Engineering - (XG)

Electrical Engineering - (EE)

Power Systems - (PO)

Power Electronics and Drives - (PD)

Control and Instrumentation - (CF)

Electronics and Communication Engineering - (EC)

Communication Systems - (CY)

Microelectronics and VLSI Design - (MG)

GIS Cell - (GC)

GIS and Remote Sensing - (GR)

Mechanical Engineering - (ME)

Product Design and Development - (PV)

Design Engineering - (DG)

Computer Aided Design and Manufacturing - (XD)

Thermal Engineering - (TI)

Production Engineering - (PU)

Electronics Engineering - (EL)

Microelectronics - (RO)

Integrated M.Tech and Ph.D.in Microelectronics - (YI)

Information Technology - (IT)

Software Engineering - (SE)

Cyber Law and Information Security - (LS)

Integrated M.Tech and Ph.D. in Intelligent Systems - (YC)

Robotics - (RB)

Bio-informatics - (BI)

Integrated M.Tech and Ph.D.in Human Computer Interaction - (YF)

Intelligent Systems - (IZ)

Integrated M.Tech and Ph.D.in Cyber Law and Information Security - (YG)

Integrated M.Tech and Ph.D. in Wireless Communication Engineering - (YB)

Integrated M.Tech and Ph.D.in Bio-Informatics - (YH)

Integrated M.Tech and Ph.D. in Software Engineering - (YA)

Wireless Communication Engineering - (WZ)

Human Computer Interaction - (HZ)

Integrated M.Tech and Ph.D. in Robotics - (YD)

Applied Mechanics-(AM)

Structural Dynamics & Earthquake Engineering-(SD)

Structural Engineering-(SU)

Architecture & Planning-(AP)

Civil Engineering-(CE)

Construction Technology and Management-(CM)

Environmental Engineering-(EV)

Transportation Engineering-(TE)

Water Resources Engineering-(WR)

Chemical Engineering-(CH)

Chemical Engineering-(CE)

Computer Science & Engineering-(CT)

Computer Science & Engineering-(XG)

Electronics & Communication Engineering-(EC)

Communication System Engineering-(CJ)

Electrical Engineering-(EE)

Integrated Power Systems-(IW)

Mechanical Engineering-(ME)

Power Electronics & Drives-(PD)

CAD-CAM-(CC)

Heat Power-(HP)

Industrial Engineering-(IG)

Mining Engineering-(MI)

Excavation Engineering-(EX)

Metallurgical & Materials Engineering-(MT)

Materials Engineering-(ML)

VLSI and Nanotechnology-(VN)

Biotechnology and Medical Engineering - (BM)

Biotechnology - (BT)

Biomedical Engineering - (BE)

Ceramic Engineering - (CR)

Industrial Ceramics - (IC)

Chemical Engineering - (CH)

Safety Engineering - (SF)

Chemical Engineering - (CE)

Civil Engineering - (CE)

Transportation Engineering - (TE)

Structural Engineering - (SU)

Geotechnical Engineering - (GE)

Water Resources Engineering - (WR)

Computer Science and Engineering - (CT)

Computer Science and Engineering (Specialization: Computer Science) - (SJ)

Analytics and Decision Sciences - (AI)

Analytics and Decision Sciences - (AI)

Analytics and Decision Sciences - (AI)

Computer Science and Engineering (Specialization: Software Engineering) - (SK)

Computer Science and Engineering (Specialization: Information Security) - (IV)

Electrical Engineering - (EE)

Power Electronics and Drives - (PD)

Industrial Electronics - (IN)

Electronic Systems and Communication - (EC)

Control and Automation - (CA)

VLSI Design and Embedded Systems - (VE)

Signal and Image Processing - (SI)

Electronics and Instrumentation Engineering - (EI)

Communication and Networks - (CW)

Industrial Design - (ID)

 

Mechanical Engineering - (ME)

Thermal Engineering - (TI)

Production Engineering - (PU)

Plastic Composite and Timber Engineering - (PT)

Machine Design and Analysis - (MA)

Cryogenics and Vacuum Technology - (CV)

Metallurgical and Materials Engineering - (MT)

Steel Technology - (ST)

Metallurgical and Materials Engineering - (MM)

Mining Engineering - (MI)

Architecture and Planning - (AP)

Centre for Energy and Environment - (CY)

Chemical Engineering - (CH)

Chemical Engineering - (CE)

Civil Engineering - (CE)

Structural Engineering - (SU)

Environmental Engineering - (EV)

Earthquake Engineering - (EE)

Disaster Assessment and Mitigation - (DA)

Water Resources Engineering - (WR)

Transportation Engineering - (TE)

Computer Engineering - (CX)

Computer Engineering - (XE)

Electrical Engineering - (EE)

Power Systems - (PO)

Power Electronics and Drives - (PD)

Electronics and Communication Engineering - (EC)

VLSI Design - (VN)

Embedded Systems - (EB)

Electronics and Communication Engineering - (EG)

Wireless and Optical Communication - (WO)

Mechanical Engineering - (ME)

Production Engineering - (PU)

Industrial Engineering - (IG)

Design Engineering - (DG)

Thermal Engineering - (TI)

Metallurgical and Materials Engineering - (MT)

Steel Technology - (ST)

Metallurgical and Materials Engineering - (MM)

Civil Engineering-(CE)

Environment Engineering-(NG)

Soil Mechanics & Foundation Engineering-(SM)

Structural Engineering-(SU)

Transportation Engineering & Planning-(TP)

Urban Planning-(UP)   

Water Resource Engineering-(WA)

Chemical Engineering-(CH)

Chemical Engineering-(CE)

Computer Engineering-(CX)

Computer Engineering-(XE)

Electrical Engineering-(EE)

Power Electronics & Electrical Drives-(PL)

Power Systems-(PO)

Electronics Engineering-(EL)

Communication System-(NX)

VLSI & Embedded Systems-(VS)

Mechanical Engineering-(ME)

Manufacturing Engineering-(MU)

Thermal Systems Design-(TD)

Turbo Machines-(TM)
To know about the CCMT Cutoff Trends for all the participating Institutes - Click here
Questions related to GATE
Related E-books and Sample Papers