Incentivize faculty to go for PhDs from IITs, work with industry - Interview with Dr. GK Prabhu, President, Manipal University, Jaipur
With the recent influx of industry skill requirements in the engineering fields, the lack of good faculties has been steadily on rise. Employability factor has been hit and engineering institutes have been in conflict to figure out how the situation should be tackled. Dr. GK Prabhu, President of Manipal University Jaipur, in conversation with Careers360, looks at the pressing challenges in India's engineering education. Dr. Prabhu, who started his career in 1989 has more than 29 years of experience in education system in India more so in engineering. Emphasizing on industry-driven skills and along with his will to make sacrifices to create a better faculty for the students, Dr. Prabhu puts his thoughts on record through this interview.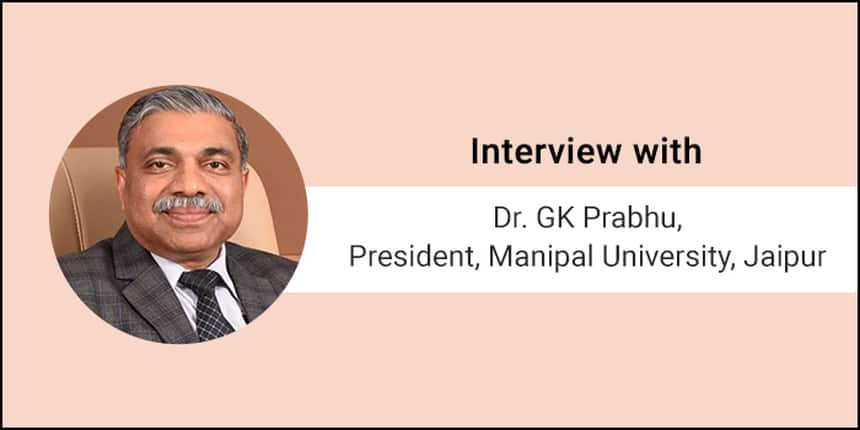 Q. What are the latest trends in Engineering Education?
A. In the Engineering Education, the first thing that comes up is complaints. Of course, when we were students there were complaints that there were too much theories and very little hands-on training. More and more number of colleges have come up but somehow, curriculum-wise, I think we aren't up to the mark. When you talk about statistics, in many areas you'd see only 25 percent engineers are employable. So, employability is one thing that really hurts the engineering colleges. When we talk about employability, it isn't that everyone needs to be placed. It isn't like that. Everyone needs to be placed in a place where their competence is acceptable. So, this isn't happening in the nation right now and that is the really worry for engineering education. So, if we know this, we need to fix this.
Q. How do we fix this lack of employability skills?
A. See, if all the stakeholders are not very happy with the way our education system is going, we need to change that. There are two areas through which we can improve. First is by having a better curriculum. So, having the best curriculum is not that kind of a difficult task. I can go for any other university, get that curriculum and bring it here but the challenge is who drives this curriculum? Even if it's driven by our students, do they have the potential to absorb this? Is it relevant? So, deliberation is going on to fit the best curriculum that we can give to our students. Normally, once in four years, there is a major change in the curriculum framework. The curriculum must be competent, relevant, flexible and we must have a fun part in learning without losing the rigour. We will involve our faculty members, our students, freshly passed out students because they will give a lot of input for us and the alumni, senior academicians across the country. Hence an "Academic Conclave" is planned early next academic session and have the new curriculum ready for 2019 admission batch.
Q. Would you say that the curriculum and engineering education per se should be fine-tuned to the market needs? Isn't learning more important than a job?
A. This change happens in the engineering education because of some strong reasons. It is the only such undergraduate programme where specialization comes in. If you see Medicine, everyone does MBBS, but specialization comes in Master's. So, now it is a challenge for us and market also. That is why, postgraduate in engineering isn't that popular when compared with other career options. Why M.Tech will only be acceptable if someone wants to enter in the teaching profession? Market doesn't want it. Industry doesn't care. Even if an industry wants a postgraduate, they will go for MBA rather than the core engineering. So, the challenge for us is fine tuning. If we don't fine tune it, then we will not get the placement. And as a result a large number of students will not get placed, it will be a burden on the society and us.
Q. Right now, what are the trending courses in Engineering?
A. Computer Science, IT and Computer and Communication are the leading branches. Stable branches like Mechanical, Electronics and communication, they are still having that kind of pace.
Q. Currently, there have been a lot of lay-offs in the IT sector. How do we face this?
A. That's because industries are also becoming smarter now. There is more automation when they come. But again, as an institution, we must also educate our people that it isn't only that skill is needed, along with that there are several other skills that are needed like communication skills, writing skills, leadership skills. So, he must have an added advantage over others to retain himself and go forward. So, as an institution, we must create these opportunities and also educate these people.
Q. Are we creating engineers just to get in the Management sector? It is becoming a feeder service for the Management sector?
A. For us, it is a surprise. If you ask me irrespective of the branch, what is that something that an engineer student gets, it is problem-solving skills. Give a problem and he will come out with a solution which will be cost effective and optimal. The basic skill in Engineering Education is problem solving and that makes him better when compared to others. Let's say, one comes with any other background and the other comes from an Engineering background and both of them are put together for any of the field. The Engineer…Give him any problem, he will solve - whether it is a timely solution, or an optimum solution depending upon the situation.
Q. Is there a problem regarding quality of students? Are they industry-ready?
A: At our level, we keep on getting brighter students year by year but your point is right. One is the market, today what is said is done. Indian industries aren't creating good engineering products. They are also not putting enough money on research and innovation. So, that is the one part of it. Mechanical Engineers are not doing Mechanical jobs. Chemical Engineers are not practising Chemical Engineers jobs. So, there is a mismatch. Initially, he'd be attracted but if you ask the same person after two years if he is happy, he isn't because may be, he got a campus placement and he joined there but doing some work that is not at all relevant and challenging for him also, That is a one part of it. The second part is that 50% of the blame engineering institutions have to take, we aren't getting a good faculty. So, why is there not any good faculty? Because if everybody gets a job who will come for engineering. Let us say, if it is Medical, the most wanted specialization will attract the highest faculty there. If you go to engineering, the most wanted department is Computer Science but the most challenging for the institution is to get faculty in Computer Science.
So, what engineering colleges should do now is that they need to conduct a faculty development programme with the existing faculties. How we'll do it? There are couple of points
l  I will depute them for IITs for their PhD by giving them three years full salary as an incentive. Go and do it! And then come back, when you will come back, I will accept you.
l  I am also talking to various companies through my alumni that can you give me two positions in your company where I can put my faculty in your company for short duration, 6 months or 1 year. You don't need to pay for them, I will pay everything. But at least give them chance to be in the industry. Let them be a part of the industry. So, the faculty who was looking for an industry, now he is with me. I will fulfil his dream and when he comes back, he will fulfil mine.
Q. What if he likes the corporates more than college?
A: When I give this opportunity to 10 people. And out of ten, two people may not come back. Okay. If employer likes him and he likes the company. Then, fine. But at least other eight will be benefited. And I will not be angry with those two people, I will talk to them and say to them whenever my students come, take them. So, that is it. You help me and bring more and more collaboration. Be my ambassador. Why? Because company is also accepting you which means you have that kind of calibre. Be my adjunct faculty, whenever you are free then come and teach my students.
Manipal University, Jaipur Updates and Articles
Read about the campus life at Manipal University Jaipur along ...
13 Jul 2020
Manipal University Jaipur, Rajasthan has received A+ accredita...
28 Feb 2020
Questions related to Manipal University, Jaipur
Showing 923 out of 923 Questions