Interview with Santosh Rungta, Chairman, Rungta Group of Institutions
Choosing the right college is not an easy task and students are always worried about how to select the best college for them. Well, a little research regarding the facilities, placement can help the students to decide the right college for them. In order to solve this problem of students, Careers360 has been conducting campus interviews, alumni interviews and providing you with the placement reports of various institutes. In the same series, Careers360 team conducted an interview with Santosh Rungta, Chairman of Rungta Group of Institutions to know about the facilities, admission process, placements, etc. of the group of institutions. Read the full article to know about the institute in detail along with top recruiters and packages.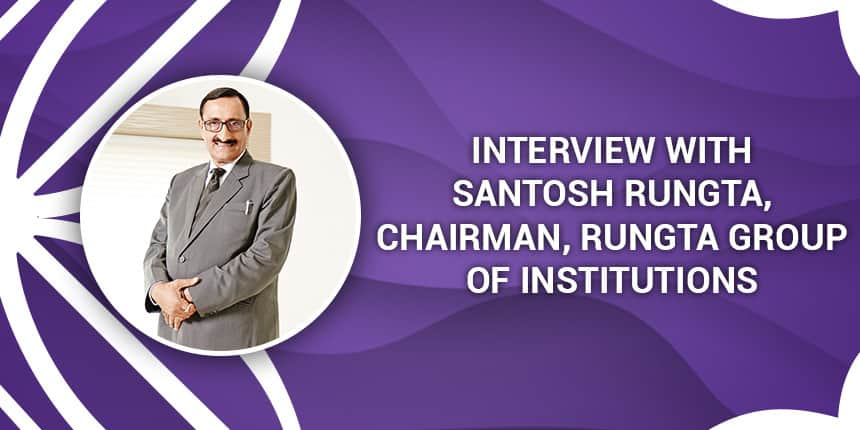 Careers360: Tell us something about the institute; when it was set up, vision and mission?
Santosh: Rungta Group of Institutions is a group of India's Top Ranked Institutes, located on two campuses, one in the educational capital of Chhattisgarh- Bhilai and other in the state capital of Chhattisgarh- Raipur. Our Bhilai Campus houses Flagship Institutes including Rungta College of Engineering & Technology, Bhilai and Rungta College of Pharmaceutical Sciences and Research. Bhilai Campus also houses leading Science and IT colleges offering courses on basic sciences, Biotechnology, IT, Commerce and management.
Group's Raipur Campus also boasts International Infra and development. Rungta International School – an IB Board, Switzerland, is the only truly International school of Central India. Raipur campus also houses Rungta College of Engineering & Technology, Rungta College of Pharmaceutical Sciences and Research and KDRCST – a Science, Commerce, Management, Education and IT College.
Vision
To be recognized among top ranking institutions in the country by 2025 that provides quality education, pursuance of research and innovation.
Mission
To produce qualified and competent graduates to serve humanity by providing an environment for holistic development through excellence in education and inculcating ethical values and a sense of social and environmental responsibilities. The institution is committed to disseminate and preserve knowledge by stimulating intellectual growth through research and innovation.
Careers360: Tell us something about the admission process?
Santosh: In Chhattisgarh, almost the entire admission process is governed by the State government's Directorate of Technical Education and Higher Education. As far as Engineering is concerned, 75% seats are filled by State level entrance examination – CG PET and 10% are filled through JEE-Main counselling in state, 15% seats are Management Quota seats that are filled through college level counselling. Pharmacy too follows a similar process. Rungta R1 Group is the only group to have FN/PIO/ NRI category admission permission from AICTE and students from various countries including Nepal, Bhutan, UAE, Bangladesh, Sudan, South Sudan etc. are currently studying in Rungta Group of Institutions.
The admissions to PG programs- M.Tech and M.Pharm is done through GATE/GPAT. Admissions to 3 year UG and 2 year PG degree programs including BBA, BCA, B.Com, M.Sc. etc. are done through the college level counselling on merit basis.
Careers360: What kind of infrastructure can students expect at the institute? Please elaborate?
Santosh: Management has always laid stress on developing Infrastructure for its group institutes that are most modern and futuristic. Every attention is given to develop infra that is conducive to academic excellence, both for students as well as Faculty. This philosophy is reflected in all the Laboratories, Lecture Theatres, Libraries, R&D Facilities. Campus is highly advanced in terms of usage of technology. Digital learning which has gained importance today, Rungta had implemented it way back in 2008-09.
A little about the digital learning at our campuses:
Every classroom is enabled with roof mounted LCD Projectors

Every Faculty podium is equipped with Tablet PC

Each classroom has 2 IP Cameras, recording all the Lectures.

Entire 80 acres of campus is Wi-Fi enabled.

A IBM Blade server with 13 servers in it acts as a reservoir to all the learning resources and anybody can retrieve, video lectures, notes, presentations from any remote location at a click of a mouse.
Other facilities at the campus include Girls and Boys Hostels, Central Library, Shopping complex, Guest House, Sporting Arena with Cricket Ground, Football ground, Basketball court, Badminton Courts and separate Gym for Girls and Boys.
Our Raipur campus also has Infra that matches any International University setup. It has International Hostels, lavish Playgrounds of Lawn Tennis, Basketball, Cricket as well as Horse Riding facility.
Careers360: There is a lot of stress that is being made with regard to interaction with the industry as well as companies that recruit. What are the steps being taken by the institute in this direction?
Santosh: Industry Institute Interaction has always been a strong point of Rungta Group of Institutions. Management understood the importance of connecting students with the industry since inception. We have a fulltime team of competent professionals that reach out to almost all major Campus recruiters and have got accreditations from almost all major players, for filling up the gap between Industry and Academia. A series of engagement modes have been worked out, including:
In campus, workshops and seminars by professionals from these companies of both HR as well as Technical Domain, to keep students and faculty updated with the requirements of Industry.

Yearly HR Conclaves are conducted wherein, senior HR professionals come down for 2 days and address students as well as faculty, and share their views on expectations of Industry from students as well as academia, to ensure that the students are Industry ready, by the time they pass out.

Accreditations by major Multinationals also provide opportunity to students to go for Industrial visits, get project mentoring, etc. Along with this, faculty also gets an opportunity to interact with these multinationals about the upcoming technologies.

Even during the lockdown period, our students are getting the opportunity to listen to professionals from Industry via a series of Webinars that are conducted every week on different topics including overview on latest technologies.
Careers360: Internships are now mandatory as per AICTE guidelines. Does the institute help students with this? If yes how?
Santosh: Internships are the best platform for our students to showcase their technical competency, hence, the T & P department maintains regular connections with industry, both within the State as well as in major metros. Depending upon the student interest, Internship opportunities are lined up. Companies like Amazon, SAP labs, Kony Labs, Byju's, Technovert, Keka etc have been offering Internships to Rungta Students on a regular basis.
Careers360: Can you please share details if there is any collaboration with universities abroad?
Santosh: Rungta Group of Institutions has very strong collaborations with various Universities abroad, that facilitate Faculty Development, Collaborative research, and Group also has tie up for twinning programs, wherein students will get opportunity to complete their couple of year studies in those universities. We are awaiting the grant of autonomy to move ahead in this direction. Universities Rungta has collaborated with include:
University of Pardubice

IGCHE – Indo German Centre for Higher Education

Federal University of Technology

UBIS University

Several more in Applied Sciences including Hochshule Bon-Rhein Sieg, Fachhochschule Kiel University, Bochum University of Applied Sciences etc.
Careers360: Please share placement statistics with information on the average package, highest and lowest package, number of students placed and details of companies that have recruited?
Santosh: Placement had always been the forte of the Rungta Group of Institutions. Accreditations with TCS, Accenture, Capgemni, Tech-Mahindra for Day 1 sharing, followed by companies like Wipro, Cognizant, Kony, SAP, Hexaware etc. ensure that almost all eligible student get placed before they pass out from the campus.
As far as the statistics are concerned, 300 + companies, 2500+ offer letters with 369 selections on Day 1 of campus placement, are highlights of campus placements.
Highest Package- 38 Lakhs in AMAZON,
Lowest Package- 1.8 Lakhs with SGS Technologies
Average package - 3.8 Lakhs.
Regular visitors for Campus recruitment also include companies like JustDial, Sony, Nestle, Axis Bank, Jaro, S&P Global, Global Logic, Mindtree, Robert Bosch, Tecmint, Big Basket, Webdunia, Vedanta etc.
Rungta College of Engineering and Technology, Bhilai Updates and Articles
Questions related to Rungta College of Engineering and Technology, Bhilai
Showing 6 out of 6 Questions