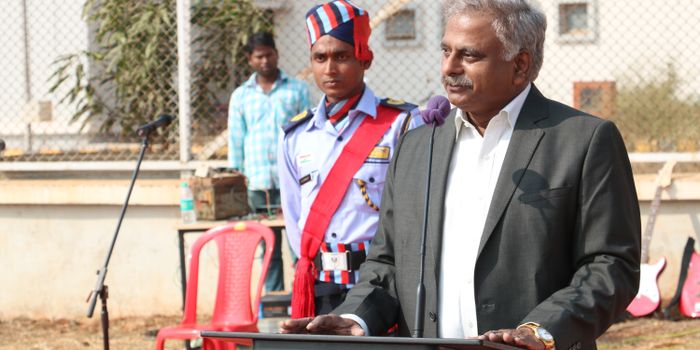 No other engineering institutes in the country have a better name recognition than the IITs. But even then some students have second thoughts about the newly established ones. Are these IITs good enough, do they offer enough research opportunities, is the faculty at par with other top IITs – are questions that cross the candidate's mind. That is why we decided that the candidate deserves to hear directly from Prof. Ratnam V. Raja Kumar, who is the Director, IIT Bhubaneswar. He answers many pertinent questions about his institute while also explaining how it has been able to make a mark for itself and is ready to take on the mantle of the top IITs. He stressed, the building blocks of a great institute is determined by the quality of its faculty, something he is trying to build at IIT Bhubaneswar. Prof. Ratnam also firmly believes that mediocrity must give way to excellence, and that there is no shortcut to success. Read the complete article to find what Prof. Ratnam has to say not only about his institute, but on a host of other issues concerning the student.
Compare Colleges
College Comparison based on Courses, Placement, Rank, Fee
Compare Now
Prof. Ratnam V. Raja Kumar received BE, MTech and Ph.D. degrees with specialization in Digital Signal Processing and Communication Engineering. He has been a member of the faculty of lIT Kharagpur since 1984. Presently, he is serving as the Director of lIT Bhubaneswar. He has also served as the Vice-Chancellor (VC) of Rajiv Gandhi University of Knowledge Technologies (RGUKT), Hyderabad. He was the Dean of Academic Affairs and the Chairman of the G. S. Sanyal School of Telecommunications at lIT Kharagpur besides holding many other assignments. He has been also serving on the Governing Boards of several other Institutions and organizations.
Excerpts from the Interview:
Q1. Since you have taken over, what transformation have you tried to bring about in the institute? How successful have you been in your efforts?
A. To create the right institutional ambiance and put IIT Bhubaneswar on course to become one amongst the global class of institutions is the one sentence agenda with which I took over the responsibility of Director. To be like a senior IIT of today, mid-course, is an intermediate step. I am the first successive regular Director of the institute from inception.
This one sentence agenda means a lot; there is no shortcut and the task is difficult, but not impossible if there is a strong will, which I have. It calls for application of the right vision, planning, defining new standards, improving the already set in standards, creating new systems at high standards, in all matters including teaching-learning, research, infrastructure, operations, .... An institution cannot ever become great with ordinary standards and there is no shortcut. Standards of even supporting systems like the campus, security and house-keeping that helps in sustaining the ambiance are important too. The right vision, innovation and diligence to achieve goal are the keys.
Though not at the speed at which I desired, during the last two and a half years, we have been able to plan and make things happen as planned. It is very encouraging and I am happy about it. If unfortunate breaks are not going to be applied, I am confident that IIT Bhubaneswar would be nothing short of a senior IIT and may be better in a number of ways, by the end of my tenure.
Q2. Are you planning any new initiatives for IIT Bhubaneswar under your tutelage?
A: There have been several innovative initiatives taken up and will be taken up to fulfil our agenda. Recruitment of faculty of international origin (foreign) aimed at providing education with international flavour to our students, is a personal and unique initiative taken up. Also of note are starting of very relevant and futuristic courses like Masters in Cyber Security and Forensics, creating and applying a novel engagement programme for fresh BTech students to orient them to education at IIT Bhubaneswar, reclaiming them from the effects of preceding usually unhealthy and burning out entrance examination oriented coaching. Launching of global search for quality faculty of the right standards, adoption of transparent and robust practices that fosters high standards in academics, research, and governance, encouraging research of relevance to society, participatory learning by students and participatory governance by faculty and staff have been some initiatives on best practices.
Q3. IIT Bhubaneswar is a relatively new IIT. Have you faced any teething troubles? Also, how do you plan to compete with the more established IITs?
A. There were many gaps and troubles that were faced by the institute. IIT Bhubaneswar was operating from 8 different transit facilities. The main contractor meant for building the Phase-1 part of permanent campus rescinded, construction work got stalled and relationship with the architect got prematurely severed. There were issues with teaching and learning standards, lack of ERP, Computerization, continuously falling closing ranks and placements, when I took over.
None of the academic buildings were in sight of completion at the permanent campus. Soon after I took over, a bold decision was taken to shift the students and a small fraction of faculty and staff to the permanent campus and a strong push was given to restart and complete stalled construction work. Construction work was accelerated and within two years the campus shifting went from zero to near 100%. Though it was difficult, I had to personally take up the task of improving the standards on my shoulders. New standards are adopted in faculty selections and accountability.
Q4. Are there any expansion plans in terms of building more infrastructure, campus, facilities like labs, innovation centres, etc?
A. The institute is embarking on an ambitious expansion plan in multiple directions. MHRD sanctioned Rs 850 Cr under Phase-2 for completing the infrastructure of IIT Bhubaneswar for catering to education of 2,500 student capacity. A detailed exercise is done in improving the master plan of the campus, and creating an outstanding lecture hall complex, student activity center, a 1500 seated auditorium, central research facility, some of the school buildings, hostels, quarters, commercial complex etc., making the campus full with a unique ambiance. We did a patient work, came out with best of designs amongst sister institutions and already construction work is in progress. We are determined to get this infrastructure ready by March 2019.
We are creating a Center of Excellence for Augmented Reality and Virtual Reality for research and entrepreneurial activity in this strategic area. Similarly, there are plans for establishing centers of research excellence in other areas like spectrum studies.
The institute is also creating unique and innovative courses like Cyber Security and Forensics, the first of its kind amongst sister institutions and planning to expand the student intake to create human resources of high calibre in good number and thus help in catering to the aspirations of the society. A design and innovation center has been set up in Mechanical Sciences and it is being expanded to all schools.
Q5. How was the last placement season? What type of companies are majorly coming for campus recruitment these days? Have you seen any shift in placements or the nature of companies which are registering for campus placements now?
A. I am very happy to share with you that last year, the institute had 85% of the jobs in core sector and we believe that possibly it is among the top few IITs. During the last two seasons the institute recorded a sharp rise by two and half times in placements and IIT Bhubaneswar is nothing short of any senior IIT, now. By the end of the current season, i.e., by end of December, campus placements are expected to be triple the placements of 2014-15. In the on-going season, we already achieved 60% of undergraduate placements with majority of it, yet to go.
As many as 46 companies visited the institute including both multinational companies and Public Sector Units like Goldman Sachs, Microsoft, Amazon, Tesco, ISRO, IOCL, BPCL, NCCBM, during the last one year. There is a rising tendency in placements for core engineering industry and students opting for the same.                     
Q6. The state of research in India is believed to be pitiful. How do you ensure that there is no such dearth at IIT Bhubaneswar and what suggestion do you have in this regard so that we as a country improve in this area?
A. For quality research output, we need the researchers to be passionate about it. Selecting faculty who has proven potential for research excellence and then encouraging quality than quantity is an essential requirement and that is what I have already embarked upon. Also research of high relevance to society and nature is being encouraged. In India too, there are several challenging problems and issues, be these are scientific, technological and social which need to be investigated, researched and solutions to be obtained. Such live problems are worth investigation and relevance of the research itself can motivate research, drive quality, innovation and excellence.
Q7. What kind of challenges do you face as the director of IIT Bhubaneswar? What are the aspirations?
A. An educational institution is recognized for its academic and research contributions and its culture. Therefore, consciously creating the echo system for these at global standards alongside creating the institute itself is in its depth and breadth is almost a necessity, when creating a global class institution is the mission. The biggest challenge at any new IIT is to build a competent faculty, the most important of all resources, and make them comparable to any senior IIT.
The position of a 1st successive regular director is a unique one. You inherit an institution in infancy with a primitive form. The advantage is that you are not starting with a zero. However, you need to take up most of the Institutional creation responsibility and preferably complete it, during your tenure. Also you do not have a choice, and cannot go back in time to redefine anything. You need to start from whatever position the institute is in, leverage upon its strengths, address the weaknesses, go ahead and create the institution forward and propel towards achieving the redefined goal. It is usually more challenging than beginning.
Having taken up the responsibility, the challenge has been to create a multi-dimensional and thriving institute from an infant stage wherein the institute was operating from multiple temporary facilities. It includes creation of infrastructure, the operations, setting up better standards, improving upon the standards of already created operations and the public perception from whatever position these are in.
Q8. Data show that around 80% of the engineering graduates in the country are not industry-ready and employable. What is your take on this and how do we address this challenge?
A. Going by the present scenario in the country, I agree with this statement. For making the students employable, there is no short-cut and we need to empower the students with the right knowledge, professional skills, problem solving and critical thinking capabilities. At an IIT the expectation from a graduate is much more than mere employability and there is nothing wrong in it. Therefore the first thing I had to embark upon soon after my joining was to attack the teaching-learning culture of the institute. Immediately putting up an electronic feedback system for courses and teaching, religiously taking feedback every semester, closely monitoring the academic operations, assessment of the graduation outcome, encouraging good teaching by rewarding those who performed well, orienting the faculty and getting personally engaged with students, are some of the important steps taken up towards improving the teaching-learning standards. This type of attention yielded very good results including a multi-fold rise in placements in general and in high profile core jobs in particular.
Q9. None of our institutes/universities figure in the global top 100. In your understanding, where do we fail? How can we ensure that our institutes are at par with the best institutes in the world?
A. In my opinion, as they are, IIT's should figure in the global top 100 for undergraduate education. Curricula and teaching at IIT's are of global class. However, we need to improve on some counts. For various valid reasons, we have not internationalized our education, an important count for ranking. Self-work by students is an important component of learning. Even in our premier institutions, we have not been able to make majority of our students do self-work and self-learning within and beyond the class room and solve real-world problems. For this to happen, we need to bring in certain changes in the academic culture and need participatory involvement from every faculty member. I have been personally engaged in and trying to motivate our faculty for their whole-hearted participation in this endeavour. I would say that I have been only partially successful and it will take time for the transformation to go farther.
There is yet another difficulty which got added to the problem at the IIT's, over the last decade and half. Most of our engineering admissions are entrance-test based and are very competitive. Almost all the students take coaching for success in the entrance tests. By and large, the coaching has been examination centric, the culture has not been healthy and typically, it may take out the taste for education from a student.
Q10. There are reports of a common engineering entrance on the lines of NEET? What is your opinion on this and what will be its impact?
Ans: It would be good to have one standard test for the whole country, for majority of admissions and certainly for the bulk. There may be some hiccups at the initial stages for a few years, but I am confident that the students will gradually adjust and benefit from it. However, such a test with its wide spectrum goal may not be able to serve the same purpose and replace robust, special purpose and reputed tests like the IIT JEE.
Q11. The IIT Council and MHRD are targeting 1 lakh engineering seats across IITs at UG, PG and research level. How feasible is that and what do we aim to address through this expansion?
A. The obvious reason for aiming at this target is to provide access of IIT quality education to a large number of our aspiring youth. As it is, already the present student strength in the IIT system is around 75,000-80,000, six more new IIT's have been started, it is not difficult to reach the targeted 1 lakh students and it is feasible. The only challenge that may delay the dream by a year or two is the scarcity of quality faculty.
Q12. Any message for engineering or IIT aspirants?
A. Engineering is creative, gives professional satisfaction and is a good choice. The real satisfaction an engineer can derive is when he/she could solve a challenging problem. The level of satisfaction goes up when the solution is creative, innovative and the stakes are high.
Education is very fulfilling for a knowledge seeker and examination oriented coaching is usually ritualistic. I call upon all the engineering and IIT aspirants to take cognizance of this fact, try to feel like a future engineer, develop engineering thinking, immerse themselves into a meaningful education in sciences and mathematics with objectivity and take it in its true form. Then, the chances of retaining love for education, and becoming an outstanding engineer in career would be much higher (whether it is in an IIT or not), compared to becoming an IIT graduate through examination oriented coaching. However, if you are able to retain taste for education and become a good IIT graduate, you need not look back for ever. Gaining worldly knowledge, development of physical and mental robustness, and a unique social personality of your own in its possible diverse forms and becoming a good human being are fundamentally important too.
More like Indian Institute of Technology Bhubaneswar
Questions related to Indian Institute of Technology Bhubaneswar