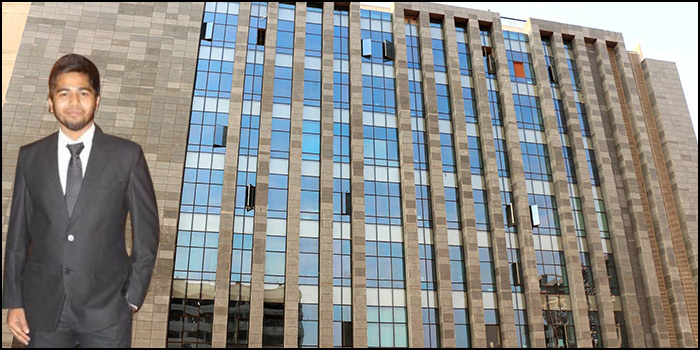 You may succeed in proving your mettle once you crack JEE Advanced, however, the battle does not end here. You may be the brightest of the minds in the country, but when it comes to freeze an IIT for admissions, umpteen doubts may creep in. For someone, the infrastructure would be of importance, while somebody else's priority would be the faculty-student ration. Aspects like programmes offered, innovation and the culture inside the campus are also the determining factors basis which a candidate zeros upon an institute. To help you get familiar with the inside story of the IITs, Careers360 brings this series of Campus Life Stories for you, covering almost everything about the IITs. In this article, Ambuj Sinha, President, Student Gymkhana (3rd Year Chemical Engineering student) takes us through the life at IIT Hyderabad. Let's know what does IIT Hyderabad offer to the students and experience Campus Life at IIT Hyderabad with Ambuj Sinha.
Compare Colleges
College Comparison based on Courses, Placement, Rank, Fee
Compare Now
Careers360: Tell us about yourself and your educational background.
Ambuj Sinha (AS): My name is Ambuj Sinha. I hail from Patna, Bihar and moved to various places for studies. Till 8th standard, my schooling happened in Delhi, after which I moved to FIITJEE World School in Hyderabad and studied there till the completion of class 12th.
Careers360: What was your feeling upon joining IIT Hyderabad and why did you decide to take up Chemical Engineering?
(AS): I would say this was beyond my expectation. Though I did hard work, however, IIT Hyderabad surpassed my expectations. I chose Chemical Engineering due to the ample scope the branch offers in therms of career building.
Careers360: Is there any difference in actuality about how you had imagined IIT Hyderabad would be?
(AS): My expectations were too high but the day I landed here, I found a huge gap in my expectations and the reality. To be precise, my concern was the infrastructure and the old campus whereas the IIT Hyderabad I has seen in pictures is quite different. I was not too happy with the old campus, which runs in an army area (not a permanent campus), where I had to spend initial 2 years, however, now I find the expectation and the reality matching, as I have been shifted to the new campus in the 3rd year. IIT Hyderabad runs in 2 campuses - Old Campus (In army area) and the New Campus (the permanent campus).
Careers360: Were there any initial hiccups or challenges at the institute?
(AS): I found that we have only 1 challenge at IIT Hyderabad and that is the state of sports. Till some time ago, we had to manage with only 2 coaches for Hockey and Football at the old campus, however, we are gradually improving in sports also with the New Campus now having coaches for all type of sports and games. The new campus houses all type of sports facilities too.
Careers360: How have your journey been so far at the institute?
(AS): The journey has been quite smooth. Everyone's too supportive. After I joined IIT Hyderabad, my preconceived notions were transformed. I would always think that IIT means all about academics, however, it's not.IIT Hyderabad is much beyond academics. You get to polish your life from all fronts here. I personally could develop so many qualities being a part of some or the other committee. Co-curricular activities are also given equal importance at IIT Hyderabad. Though, almost everything at the institute is good, I feel co-curricular activities and sports must be promoted more on a larger scale.
Careers360: Can you run us through a day at IIT Hyderabad (starting from how your day starts and how it ends)?
(AS): Though life at IIT Hyderabad varies from person to person, however, more or less we all remain in the same boat as far as studies and completing the projects are concerned. A typical day at IIT Hyderabad starts with our classes from 9 am, which end at 5.30 pm. Most of the students get up around 8 or 8.30 am, and as we are known for – most of us do not take a bath in the morning. We have 4-5 academic hours, while in between we get some breathing space in either first half or second half. Students are also given space and time to participate in sports and other club activities, while striking a balance with the academics. Every student has to take 17-18 credits per semester.
Careers360: What are parameters for earning Credit Points?
(AS): Every student at IIT Hyderabad has to register at AIMS Portal for the course he/she is interested in. Students enrol in the courses in way that it does not clash with their classes. If a student fails to secure the required credit points, then the remaining credit points for that semester will be carried forward. For instance, a student is able to secure only 15 credit points, so he/she can carry forward and score the remaining 2-3 credit points of that semester in the next semester.
Careers360: How do you balance your studies, projects, exams and other activities?
(AS): Campus life at IIT Hyderabad is not easy. We are always on a multi-tasking mode and it's very hectic schedule for all of us. However, it's easier for us to balance here unlike other IITs, as we don't have the concept of mid-sem and end-sem exams.   
Careers360: What type of companies come for campus recruitment and what percentage of students get placed every year? How is the recruitment process here?
(AS): 60-65% percent students get placed. However, Electrical Engineering and Computer Science & Engineering are the branches from where maximum students are recruited. Mechanical Engineering, Civil Engineering and Chemical Engineering do not get good packages. More core companies approach our institute and offer better packages.
Careers360: What all facilities does IIT Hyderabad offer to students?
(AS): The institutes houses the following facilities,
A Hospital with a doctor and 2 support staff members

Apollo Pharmacy

2 Ambulances

10 Scorpios for your rescue

A Salon

A Mess

Labs and Innovation Centres

Sports grounds

1 Stationary Shop

Dry and Wet Cafeteria

Laundry
Why you should pursue academics at IIT Hyderabad?
What would urge a student to take admission in a particular institute, leaving aside the ones which are at par with it is the unique element that makes it different from others. What different does an institute offers and what difference does it create to the students' life is the driving factor. IIT Hyderabad houses some unique offerings which candidates may look forward to.
Factal Academic System not to let the pressure take a toll on you
IIT Hyderabad and IIT Bhilai have this Factal Academic System wherein the students do not have mid semesters or end semesters. The academic semesters at IIT Hyderabad are of 4 months wherein every semester is divided into 3 segments. Under this system, a course can be completed in a month or 2 or 4. Students do not have to take exams, rather they have to take Written Quiz or Surprise Tests (of 10-15 marks). These surprise tests comprise of 30-50% of the total marks of the semester, while the remaining marks are given on the basis of assignments and attendance. "We study part by part and take tests part by part, which means that the same topics will not be asked or carried forward into the next test or semester," explains Ambuj. The unique element about this system is that it reduces the burden of the students which is built by the regular exams. The idea is a brainchild of a student at IIT Hyderabad which was then given a green signal by the Director of IIT Hyderabad. This academic system exists at the institute and is running very smooth since 2013.
Better exposure, more opportunities and excellent research centre
As the number of students at IIT Hyderabad (2,328 in UG and PG) is less as compared to the other IITs, Ambuj Sinha believes that students have more opportunities and larger exposure. The Research Centre of the IIT is also the second best after IIT Kanpur. 
Male-Female Ratio Highest amongst the IITs; Good Faculty-Student Ratio
In Chemical Engineering, the faculty-student ratio is 1:5. Almost everyone here shares a healthy relation with the faculty members. For any challenge/issue, the professors are just a call away. Students have to just write a mail to them and the concerned faculty responds within a couple of hours. Not only that, any student can reach out or meet the faculty within the campus till 5.30 pm. Even after 5.30, if a student needs counselling or wants to discuss something, in such a situation also the professors are accessible. However, post 5.30, the students have to follow a protocol to reach out to the faculty via emails. 
Amongst all the IITs, the Gymkhana President says, IIT Hyderabad tops the list when it comes to Male-Female student ration. Out of the total students here, 20% of the students are females.
State-of-the-art Infrastructure
Enjoy Radiant Cooling System at the Hostels
The infrastructure is developed as per global standards. The hostels are developed by German Architecture/designed, while the Chemical Department building is has been designed by a Japanese Architecture.
At the hostels, the students enjoy their stay with Radiant Cooling System by the Japanese Government wherein on the ceiling cold water runs through various fixed pipes, which keep the hostel rooms and the walls extremely cold. So, you do not need coolers and Air Conditions at IIT Hyderabad. The technology re-uses the water which is not wasted but is recycled.
Stay in Old Campus in first year; move to the New Campus in the 2nd year
Unlike IIT Madras, first year students go to Old Campus, while in 2nd, 3rd and 4th year, all candidates move to the new campus wherein all get a single room with a bed, cupboard, a fan, table and a chair. Every block of the hostel has a washing machine wherein students can wash their clothes. Those who wish are free to use the laundry service. At the hostels, candidates can iron their clothes if they posses an iron. However, one can neither cook nor use any other electric appliance/equipment in the hostel. The hostels have ample cleaning staff who maintain the hostels well. 
The 3-Phased Development Plan at IIT Hyderabad
Those of you who do not know, let us share that IIT Hyderabad is still in the developing phase. The institute is being developed in 3 phases in collaboration with Japan.
Phase A – Includes hostel blocks developed by the Indian Government. Department Buildings (Chemical, Mechanical and Civil) and the Mess.
Phase B – Is underway and is being developed by Japan wherein lot of Sports Facilities like stadiums, the internal systems including lighting the grounds, auditoriums, conference halls, etc. are in the pipeline.
Phase C – Nothing much is known about Phase C, but only that it's Vision 2030 wherein the institute will be developed in an area of 588 Acres with many latest facilities in all areas.
Polish the gem in you and have fun with various activities!
IIT Hyderabad has Cultural and Citek Council. Citek consists of 7 clubs and Cultural has 8 clubs, making it a total of 15 clubs. For instance, in the club Torque, students get to know about the cars and bikes they are passionate about. Robotics club, Dance and Movie Making clubs, LAMDA – a web developing club, etc. are a few to name. So, be a part of the respective club and polish the gen you carry inside you.
Medical Facilities you can avail
If an emergency occurs and a student has to be taken to a bigger hospital for further treatment, a hospital staff will accompany him/her and will stay with the student till the time the parents or relatives arrive. Not only this, IIT Hyderabad pays upto Rs. 50,000 for students' treatment in crucial cases. This is against Rs. 1,000 that the students pay every semester to avail medical facilities. IIT Hyderabad houses a hospital wherein a permanent Doctor with 2 staff members are deputed. The hospital also has 2 ambulances and 1 Apollo Pharmacy to cater to the students needs.  
The myth is not a myth, it's a reality – know what!
Every student at IIT Hyderabad is part of some or the other committee, so after the academic hours, the time they are left with, they are bound to complete some or the other task of the respective committees. These tasks are generally done in the late evenings or at night. For instance, someone is a part of the cultural committee, so he/she may be involved in budgeting or organising some event which keeps him/her busy all the while. Someone else would be responsible for maintaining a website or updating it, so he/she has to be constantly working everyday to keep the show running. And these all tasks can be completed only if the students work during nights and even sometimes wee hours. Thus, they are left with very less time to hit the bed in time. As a result, the sun rises late for most of the IIT-ians. And of course, if you hit the bed during wee hours, you are bound to rise up late in the morning. Thus, they myth that IIT-ians do not take a bath in the morning is a fact. They manage it during the day or when they find time in the evenings.
Cab/Buses at your service every 15 minutes
If you have to travel within the campus anywhere in case of any work, then take a cab from anywhere. Every 15 minutes there is a cab service available at any point of the campus. IIT Hyderabad also owns 20 buses which run from and to the campus every 30 minutes. These buses run between the old and the new campus.
How secure is IIT Hyderabad?
If you are at IIT Hyderabad, you should be last bothered about your security. At every 15-20 metres, there are 3 security personnel. Nobody can enter the premises without permission. Even if the parents of the students visit the campus, they have to undergo proper verification and are given ID cards to enter the premises.
10 Scorpios for Escorts Service
In case, you are stuck in a critical situation in the radius of 20 kms around the institutes premises, then you need to get in touch with the security department which will then send a Scorpio to assist and escort you.
Well-equipped Labs with latest technology
Ambuj Sinha tells us that the institute gets all the latest equipment and apparatus. Every month new apparatus and equipment is brought. The latest apparatus is available including from Japan. If a student finds some spare time and an idea is sprouting in the mind, the student can visit the Thinklers Lab wherein your dreams get wings. So, if your mind carries an idea, just the Lab is waiting for you to try your hands on the idea.
Think least about the Hangouts here! 
If you want to hangout at different places while being at IIT Hyderabad, then you need to think twice or thrice, as the nearest mall is 30-40 kms away from the campus. Some students would go to the mall on weekends, however, most of them prefer to remain in and around the vicinity of the campus. The most common hangouts for IIT-H students are the 3-4 dhabas near the campus. Except these dhabas, there is not much near the campus to hangout.
In the leisure time, generally the students go for sports. Sometimes, they also explore the other alternate - cycling wherein the candidates have to get a cycle issued on their name from the Green House for 24 hours.
What you will miss at IIT Hyderabad?
Most of the times the Sun does not shine here. So, you will miss the Sun at IIT Hyderabad.
Protocol You can not Break – Abide by the Law or face Penalty
Boys can roam in or around the campus at any time of the day or night, but the girls can not. They have to be inside their hostel rooms by 12 am. However, recently IIT Hyderabad made some amendments in the rule book and now girls are permitted to roam in the hostel premises even after 12 am.

If you are biker, you can't ride it for even a metre if you are not wearing a helmet. Even the Director of IIT Hyderabad is not spared. And mind you, not only you but the pillion rider also needs to wear a helmet or else you will be caught by the security which will not allow you to ride no matter what.

Ragging is strictly prohibited in the campus. If any student registers his/her complain against ragging, immediately the Disciplinary Committee takes action against the accused student.

Every B.Tech student has to complete, either in NSO (National Sports Organisation) or NSS (National Service Scheme), a minimum of 240 hours of their service without which they can not get their B.Tech degree. The activities in NSO and NSS include blood donation, teaching KV students, sports, books and cloth donation, etc.
What's upcoming and changing at IIT Hyderabad?
Earlier, girl students had to enter their hostels before 12 am, however, in a meeting recently, the former rules for girls have been revised. As per the new rule, they can roam in and around their hostels during any hour of the day or night, but they can not move out of the hostel.

Two new Cafe Coffee Day (CCD) outlets in the mess and in academic building are in pipeline.

A Basketball Court

A new doctor and an ambulance
Avoid coming to IIT Hyderabad at night or else shell out big bucks
IIT Hyderabad campus is far away from Secunrabad Station or from the Airport. And especially during nights, students have the only option of hiring a cab. So if you are coming to IIT Hyderabad, come during the day or else you may have to pay more to the cab during night. Even from the Airport, you have to shell out Rs. 1500 to 2000.
Suggestion Box
Ambuj suggests that the only trouble he finds at IIT Hyderabad is the pathetic state of sports and the related facilities. Students can only play during the day, but after the sun sets, it's hard to play as there is no lighting. Moreover, sports should be promoted and encourages more amongst the students. 
Stay tuned to engineering.careers360.com for more news and updates on Campus Life at IIT Hyderabad – Experience it with Ambuj Sinha.
Get real-time alerts on exam & colleges at your fingertips with Careers360 App! Click Here to Install or Give a missed call on 08080944727 to get app link