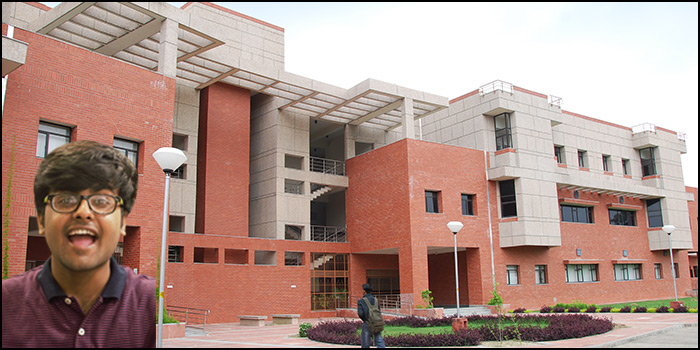 As a new undergradute student, starting life at an IIT can be bit of a rollercoaster. Take for example, your life as a candidate, before IIT, preparing for JEE Advanced with a full entourage waiting for your every move, ready to chip in and help in every possible way. The biggest privilege of course being having mom around, as apart from playing her part as the main pivot, she sends those powerful prayers for your success. Now contrast this with you arriving at the scene of the conquest – the IIT. There is no celebration when you arrive, as you are like any other soul who has got admission there. Also, you will soon find out, you have to fend for yourself. It can be a bit disorienting, but if you prepare for your life in campus beforehand, you don't have to be on the backfoot. Vinamra Rai, a Sophomore year UG student, says that campus life at IIT Kanpur is fun as they don't  have "in time" for either boys or girls, meaning students have sufficient freedom from day 1. He has a word of caution though: first-year students have to make do with rooms that are short on space, something he adds is going to be resolved shortly.
B.Tech Admissions Open 2019
Manipal Institute of Technology
JEE Advanced Sample Paper
Download Free Sample Paper for JEE Advanced
Download Now
So, if IIT Kanpur figures in your list of favourites, you will be happy that freshers are not harassed, though you might have liked to live in a more spacious room. In fact there are other interesting things about campus life at IIT Kanpur shared by Vinamra Rai that will set the facts straight and put newcomers at ease considering joining his institution. For example, he says the institute is not only about academics, but much more than that. In his own case, he is an active member of the Quiz Club of his Institute and was also a part of the college team for Nihilanth'17 (Inter IIT-IIM Quiz Competition) held in January 2017. 
Careers360: Tell us something about yourself.
Vinamra Rai: I am a Sophomore year Undergraduate student, currently studying at the Indian Institute of Technology, Kanpur, pursuing a Bachelor of Technology in Civil Engineering. My primary aim is to pursue a career in the field of Virtual and Augmented Reality.
Careers360: How has your journey been so far at the institute?
Vinamra Rai: Well, it has been full of ups and downs, to say the least. But needless to say, I have enjoyed every bit of it. During my stay at IITK, I have come across some of the most amazing and talented people in my life.
Careers360: Is there any difference in how you expected an IIT would be and how it actually is?
Vinamra Rai: Not really. Actually, I thought an IIT would be all about academics and stuff, but thankfully I was wrong. I accept the fact that academics are a bit more involved here, but there are tonnes of other stuff to do which kind of help students to unwind themselves.
Careers360: What all activities are you a part of in the campus?
Vinamra Rai: I'm a very active member of the Quiz Club of my Institute. I was a part of the college team for Nihilanth'17 (Inter IIT-IIM Quiz Competition) held in January this year.
Careers360: Can you run us through a day at your institute (starting from how your day starts and how it ends)? Also tell us about your schedule throughout the semesters so far?
Vinamra Rai: It's very difficult to have a fixed schedule because one could have different workload on different days. But generally, on weekdays we have classes starting at 8 in the morning until 1 pm, then a lunch break for an hour followed by Labs from 2-5 pm (generally 2-3 labs per week). Some departments also have classes from 5 pm to 6 pm, too. This might look like a pretty warped up schedule, but it's not that we have classes throughout the working hours. Like, for example, I currently have almost 24 hours of classes+labs per week.
Careers360: Tell us about the faculty-student ratio here and about the teacher-student relationship in your understanding.
Vinamra Rai: The faculty-student ratio here is very good and the exact number could vary across various departments. To maintain a one-to-one interaction between students and faculty, classes are generally divided into various sections for tutorials. Professors here are very supportive and their main motto is to develop the overall understanding of a particular topic in a student.
Careers360: What all facilities do you have on the campus? What do you like here the most which you feel is unique and differentiating? What are the challenges you had faced initially at the campus and now you might be facing?
Vinamra Rai: Almost everything in the Institute is overlooked by Students' Gymkhana, which ensures that we are never short on any facilities. A unique feature about campus life at IIT Kanpur is freshers share the same hall as second and third-year students, which ensures an early interaction. Moreover, we don't have any 'in time' for hostels, for both girls and boys which tells a lot about the freedom we get here on campus.
Careers360: What would you say about the state of infrastructure, labs, mess, hostels, and other facilities at the campus?
Vinamra Rai: It is a widely known fact that IIT Kanpur has one of the best infrastructures in our country. All the lecture halls are fully air-conditioned and labs are well equipped. The mess is well maintained and serves a variety of food (but is nowhere close to homemade food) and hostels are very spacious. We also have numerous food joints spread across the campus (From CCD to Dominos) which serves food till 4 am in the morning!
Careers360: Is there anything you miss here? What else do you expect from your institute? Any suggestions on areas where the institute must focus or work on?
Vinamra Rai: No, not really. Of course, there are days when one feels homesick or misses his/her school friends but apart from that, there are so many things to do on campus which keeps one involved and the institute becomes just like a second home for students.
Careers360: How comfortable are your hostels and how about the cleanliness factor over there?
Vinamra Rai: First-year students generally face a minor space crunch due to the size of rooms allocated to them but apart from it, everything else is quite up to the mark. Moreover, news Halls of Residence are coming which will solve the aforementioned problem in a couple of years.
Careers360: How do you balance your studies, projects, exams and other activities?
Vinamra Rai: No matter how many people tell you otherwise, time management is something which you learn with the passage of time. It takes everyone at least a couple of months to set their priorities right. But once it's done, things can be managed very well.
Careers360: Tell us about the clubs and societies at the campus and how significant are they from your point of view or from the students' point of view?
Vinamra Rai: The institute has 4 councils, each having numerous clubs and hobby groups. According to me and everyone in the campus, they play a huge role in overall personality development of the students and provides them with a much-needed escape from academics, which helps them to relax and unwind.
Careers360: Is there any in-house magazine or journal for the latest events or happenings at the institute?
Vinamra Rai: Vox Populi is the campus newspaper of IITK which covers all the basic happenings around the campus. We also have Nirvaak which is the opinion publication. Moreover, we also have our very own Radio Station, Radio 90.4 which keeps us updated about the campus community.
Careers360: What are the popular hangouts at the institute? What, according to you, are the most-visited places nearby?
Vinamra Rai: CCD, OAT (Open Air Theatre) and MT are the most popular hangout places in the institute. But one week before semester exams, Library and Computer Centres take the honors.
There are various malls and restaurants few kilometers from the Institute, which are often visited by students.
Careers360: How do you spend your leisure time at the campus?
Vinamra Rai: In my leisure time, I love to go cycling around the campus with my friends or have random discussions about various events happening around the world.
Careers360: Are you being equipped with everything at the institute that is required to meet your aspirations?
Vinamra Rai: Yes.
Careers360: What type of companies come for campus recruitment and what percentage of students get placed every year? How is the recruitment process here?
Vinamra Rai: Every year, numerous companies visit our campus for both recruitment and internship process. The percentage of students getting placed depends upon the department, but the majority of students who sit for placements get placed by the time the entire process ends.
The recruitment process is generally the conventional one, which consists of 3-4 rounds namely, Aptitude Test, GD, and Interviews.
Stay tuned to engineering.careers360.com for more news and updates on Campus Life at IIT Kanpur – Experience it with Vinamra Rai.
Get real-time alerts on exam & colleges at your fingertips with Careers360 App! Click Here to Install or Give a missed call on 08080944727 to get app link