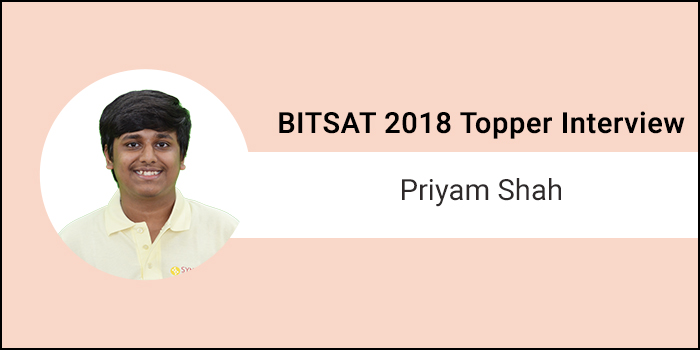 BITSAT 2018 Topper Interview Priyam Shah - Priyam Shah who secured 402 marks in BITSAT 2018 is on the cloud nine after topping the chart. The results brought in such a high measure of happiness considering that he is one of the topper of BITSAT 2018 with 402 marks. Priyam interacted with Careers360 about his success, his strategy to prepare for the entrance exam, his future goals etc. Currently seeking admission in BITS Pilani in Computer Science branch, Priyam attributes his success to his sheer determination and focus towards his goal. He believes that exams are just one of the ways for succeeding in life, one should not lose their peace clam behind them. Read his full interview to know more about BITSAT 2018 topper, Priyam Shah Journey:
BITSAT Sample Paper
Download Free Sample Paper for BITSAT
Download Now
Careers 360: Congratulations for your outstanding performance in BITSAT 2018! What was your reaction upon knowing your score?
Priyam Shah: First of all thank you. I was actually not expecting these scores so when the marks popped up on the screen I was on cloud nine at that time.
Careers 360: Tell us something about yourself. Which board have you studied under? Which school have you studied in?
Priyam Shah: I studied under the Maharashtra State Board that is the HSC for two years and was in Khar Education Society's Junior College of Science.
Prepare for BITSAT 2019 with concept and topic wise videos by exam experts. Get the complete course videos direct to your inbox. Click to Subscribe
Careers 360: What is your score in BITSAT 2018? Which other entrance exams have you appeared for? What was your performance in them?
Priyam Shah: I scored 402 marks in BITSAT 2018. Apart from BITSAT,I had appeared for JEE Main & Advanced as well as CET.
Careers 360: Why do you want to study engineering? When did you decided to study engineering? Which branch would interest you? Which college do you wish to apply for?
Priyam Shah: I was always interested in the application or the practical part of science in school and that's where seed for engineering germinated inside me. I would love to do my graduation in the field of computers or something related to it. Looking at my BITSAT score I wish to apply for the computer science field at BITS Pilani.
Careers 360: When did you start your BITSAT preparation? Tell us something about your preparation strategy and daily routine for the same?
Priyam Shah: Well the BITSAT portion is almost the same as that of JEE but only difference was the logical reasoning and English proficiency part. Apart from these two the major differentiating factor was the test taking pattern which could only be practiced by taking mock tests. I started practicing mock tests after my JEE Main exam. I didn't have any specific routine for BITS but I always tried to give 1 test every day in a week.
Careers 360: Was there a difference in the preparation strategy in the last months of BITSAT considering that the board exams and other entrance exams also are during this period? How did you manage preparation for both?
Priyam Shah: I had opted for the last BITSAT date so that I could give enough amount of time for revision. And therefore, I was able to focus more only on BITSAT after my JEE Advanced concluded.
Careers 360: Did you take coaching for BITSAT/for other entrance exams and if yes from where? What are the benefits of coaching according to you?
Priyam Shah: I took coaching for all the entrance examinations from SYNAPSE which actually helped me a lot, not only BITSAT but also for all the other entrance examinations.
Careers 360: Mock tests and sample papers, how extensively did you practise with the help of these? Do you think practising from the previous year papers help and how?
Priyam Shah: After my JEE Main exams I have only relied on mock tests given by Synapse. Yes of course practising from past papers help alot. You get an idea about the actual difficulty level of the paper which helps you in preparation of your exam.
Careers 360: Are there any special books that you feel have helped with your BITSAT preparation? Are the school text books adequate for preparing for BITSAT and Class XII?
Priyam Shah:  I haven't gone through any other book for my BITSAT preparation apart from class
XII books and sample papers.
Careers 360: Did you face any problem during the BITSAT examination? Which subject was the easiest and which was the toughest? What do you think is a tough thing to manage during the BITSAT exam?
Priyam Shah: Fortunately I didn't face any stress or nervousness issues while writing BITSAT. I felt chemistry a bit more easy than the level which was asked in past year papers. Other than that maths was a little bit lengthy.
Careers 360: How did you de-stress yourself during the preparation? What are your hobbies? How often could you pursue them?
Priyam Shah: Fortunately, I was under no such pressure of scoring because of the atmosphere that was maintained by my family as well as coaching class. But when I would get a little bit tired or bored I would sometimes resort to listening music, watching television and playing sports.
Careers 360: Who is your ideal or biggest inspiration in life and why?
Priyam Shah: I have never had a specific person as an inspiration in my life. Instead I have many people inspiring me for the small little good qualities that they possess.
Careers 360: You know you are an inspiration to thousands of students across the country. Do you have any message for future aspirants on tackling the BITSAT exam?
Priyam Shah: I would just advise all my friends to just stay happy and pursue what they are passionate about rather than just following the rat race. These exams are just one of the ways for succeeding in life and let's not forget that most of the big entrepreneurs are dropouts.
Questions related to BITSAT
Related E-books and Sample Papers