Principal Interview: Dr. Sanjay Jain, CMR Institute of Technology
Principal Interview: CMR Institute of Technology - Knowing about the facilities offered by a college, its infrastructure, etc. is important before choosing a college. Students often search to get details about various facilities offered by the college. Careers360 has been conducting campus interviews, principal interviews to inform students about various colleges. In the similar series, our team conducted an interview with Dr. Sanjay Jain, Principal of CMRIT Bangalore to know about the institute, its infrastructure, admission process, internships, collaborations with universities abroad and much more. Read the full interview here.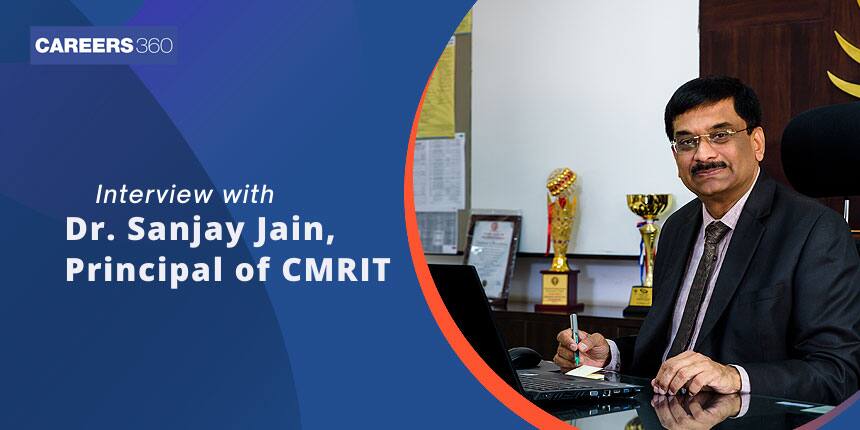 Careers360: Tell us something about the institute; when it was set up, vision and mission?

Dr. Sanjay: Established in 2000, the CMR Institute of Technology imparts quality, pragmatic education in engineering and management to help students hone their analytical abilities and develop their creative thinking skills. Situated in the very heart of South India's IT corridor, the CMRIT campus in Whitefield, Bangalore is centrally located, well connected and easily accessible.
Accreditation, Approvals and Recognition
Affiliated to Visvesvaraya Technological University

Approved by AICTE, New Delhi

Recognised by Government of Karnataka

Accredited by NBA (CSE, ECE, EEE)

Accredited by NBA (CV, ISE, ME)
Vision
To be a nationally acclaimed and globally recognised institute of engineering, technology and management, producing competent professionals with appropriate attributes to serve the cause of the nation and of society at large.
Mission
CMRIT seeks to realise its Vision with a Mission to:
Create the necessary infrastructure appropriate to the needs of the programmes and activities of the institution.

Attract and retain well-qualified faculty and supporting staff.

Create and facilitate an ambience for interdisciplinary engagement, leading to a healthy competition among students and staff, in pursuit of excellence through lifelong learning.

Develop and operate mutually-beneficial programmes, partnering with industries, institutes and individuals of national and international repute.

Create mechanisms to understand societal needs and provide solutions for the betterment of society.
Careers360: Tell us something about the CMRIT admission process?
Dr. Sanjay: The admission process at CMRIT - for all undergraduate, postgraduate, and doctoral programmes is completely online. Candidates can also walk in to the Admissions Office and apply online with the guidance of our academic counsellor.
For information related to CMRIT admissions, candidates can reach out on the Hotline number - 9342900666.
Careers360: What kind of infrastructure can students expect at the CMRIT? Please elaborate?

Dr. Sanjay: The CMRIT campus in Whitefield, Bengaluru is centrally located, well connected and easily accessible. Spread over 8 acres, the CMRIT campus is spacious and well laid out. There is a central library, spread across an area of 2400 sq.m, that provides an ideal environment for intellectual inquiry with its multiple Study Spaces, Research Assistance, Reading, Learning and Instructional Resources.
Then, there are well-ventilated classrooms, a hygienic canteen that serves both vegetarian and non-vegetarian food. Apart from these, the laboratories are state-of-the-art and come with all requisite micro-infrastructure.
Finally, Centralized fire alarm systems, CCTV surveillance, and RFID Gate are some of the security measures undertaken at the campus. This is in tandem with the campus being wi-fi enabled for rapid information exchange.
Careers360: There is a lot of stress that is being made with regard to interaction with the industry as well as companies that recruit. What are the steps being taken by the CMRIT in this direction?
Dr. Sanjay: We continuously interact and collaborate with industries, companies and professional bodies to understand Business and Technology needs and trends, visualize future Industry landscape and predict job opportunities. These learnings help us in creating training capsules that are embedded into the Placement Training programs that bridge the gap in current curriculum from industry's future expectations.
All students execute mini-projects working on a dedicated calendar time in every semester to get hands-on, practical, application, and problem solving experience along with curriculum theory and labs so that students are ready for corporate jobs and they are productive from day one at the organizations.
We help, encourage and support students in executing major projects in solving current industry and social problems using the latest technologies.
We encourage and mandate participation in Competitions, Hackathons, and Research paper submissions.
We look for industry internships and projects for our students and support them in getting experiential skills leading to placement opportunities. We continuously organize:
Awareness sessions on present and future career opportunities available to students in the Industry.

Industry and Technology trends awareness sessions through Expert talks from Alumni and Industry.

Workshops and Seminars by Industry and Professional bodies.

Readiness Talks from Company representatives and HR professionals to help students in preparing for placements.
Careers360: Internships are now mandatory as per AICTE guidelines. Does CMRIT help students with this? If yes, how?

Dr. Sanjay: Yes, CMRIT has a dedicated Internship Cell. Purpose of this cell is to assist the students in finding quality national and international internships along with processing applications of students for internships in governmental sectors. The cell also initiates in arranging visits to explore inter departmental internship opportunities.

Also, internships are mandatory at CMRIT. Students are guided in every step of their internships so that they curate real-world experiences.
Careers360: Can you please share details if there is any collaboration with universities abroad?
Dr. Sanjay: Yes, CMRIT has collaborations with Multimedia University of Malaysia. As a part of this collaboration, our faculty members - Prof. Velrajkumar P and Prof. Sanitha Michail along with students Ayesha Bansal, Chetan TN, Kiran S M, Panchal Viral Ashok, Pawan V, Sneha C, Spurthi Raj N, Jyotsna S , Alisha Kulkarni , and Anubhav Sharma of CMR Institute of Technology received a golden opportunity to take part in a student exchange programme for 14 days at Multimedia University in Malacca, Malaysia between July 28 to August 10, 2019.
CMRIT Bangalore Updates and Articles
Questions related to CMRIT Bangalore
Showing 250 out of 250 Questions