Alumni Speaks - Interview with Jilu Susan John, Saintgits College of Engineering
Choosing a right engineering college is a tough decision; that too when there are a number of colleges out there. It is important to know about a college properly like facilities provided by it, faculties, placements, etc. before choosing a college. In order to help students in making an informed decision, Careers360 have been providing details about different engineering colleges through the "Alumni Speaks" series and in the same series, we interacted with Jilu Susan John, an alumni of Saintgits College of Engineering. At present, Jilu is working as an Assistant Manager (Environment) at Coal India Limited. Read the full interview to know about Jilu's experience at Saintgits College of Engineering, its facilities, faculties, placements, extracurricular activities and much more.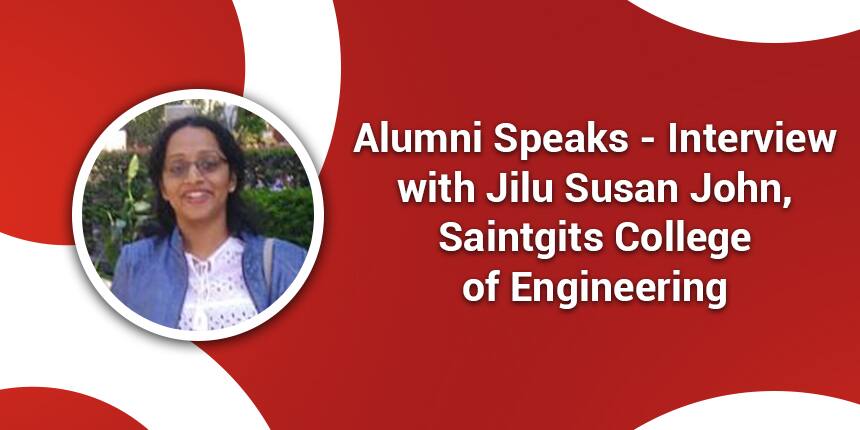 Careers360: Tell us about your domain and your work profile. At the professional level, did you pursue the same field you were interested in or you switched?
Jilu: I work as an Environmental Engineer at Coal India Limited. My responsibilities vary through obtaining environmental clearances from government agencies, ensuring legislative requirements are met, conducting environmental compliance audits, preparing technical reports, consulting with environmental regulatory authorities, monitoring the performance of environment pollution equipment, etc.
After pursuing B.Tech in Civil Engineering from Saintgits, I did my Masters in Environmental Engineering from NIT, Nagpur and got a job as an Environmental Engineer. So, basically I switched my stream after B.Tech but got a job in the same field in which I pursued my M.Tech.
Careers360: Can you briefly tell us about your career path so far?
Jilu: After completing B.Tech in Civil Engineering from Saintgits in 2011, I joined for M.Tech in Environmental Engineering at NIT, Nagpur in 2012. After this, I got a job from Coal India Limited as an Environmental Engineer in 2014. Since then I have been working with Coal India Limited.
Careers360: Is the Industry work different from what you learnt at SAINTGITS College?
Jilu: Industry work is different from what we learned in the college as many practical factors are needed to be incorporated in the industry. However, the fundamentals we learned in college always helps out in our day today life in industry.
Careers360: How do you think your time in college has added value to your life, both professional and personal?
Jilu: Being in Saintgits helped me to develop my interpersonal skills which later helped me in my professional as well as personal life.
Careers360: What was your initial thought process when you joined SAINTGITS College?
Jilu: I was excited to venture into a new phase of my life as it was the beginning of my college life. It was a dream come true moment for me.
Careers360: You must have spent a memorable time at your SAINTGITS College. Do you miss being a part of it? Share a few good memories.
Jilu: Of course, I miss being part of Saintgits. Still, I cherish the time I spent in college. I miss the time I have spent with my friends and batchmates a lot.
Careers360: Apart from academics, what were the other activities you were involved in and how did it enrich your life?
Jilu: I was part of a departmental technical fest which helped me with my interpersonal skills and gave me guidance in how to work as a team. I would like to say that extracurricular activities are very important as they help in your personality development.
Careers360: How did you keep updated with the industrial requirements and what was the role of the institute in it?
Jilu: Undertaking short term internships really helped in giving an insight about industries and work culture. The faculty members helped in referring us to those industries.
Careers360: You are a proud alumnus of this top College. What is the best part of SAINTGITS from a student's perspective?
Jilu: Dedicated faculty members and well-equipped laboratories are the best part of the SAINTGITS.
Careers360: What is your suggestion/guidance for the B.Tech aspirants?
Jilu: The more you learn during the college years, the better opportunities you will come across in the future. So, focus on learning during college time.
Saintgits College of Engineering, Kottayam Updates and Articles
Saintgits College of Engineering Placement Report 2019-20 - Ca...
25 May 2020
Read the interview of Principal of the institute, Dr. Soosan G...
22 May 2020
Questions related to Saintgits College of Engineering, Kottayam
Showing 3 out of 3 Questions
97 Views
What are the placements in saintgits
Hello jithin,
As you asked about the placement scenario of Saintgits in previous years. Placement there are too good espacially for core branch students like CSE and IT branch.
A large no. Of student got placed in Infosys last year and the number was around 40 -50 student.
Saintgaits tied up with a large number Of good companies and mass recruiters for placement purposes.
Hope it helps
Thank you :)