Life at Delhi Technological University- Explore DTU Campus with Samkit Jain


Leaving the comfort of home and stepping into college for further studies can be an amazing experience if you are wishing to pursue your engineering studies from Delhi Technological University (DTU). Delhi Technological University, formerly known as Delhi College of Engineering(DCE), is known for its state-of-the-art infrastructure, beautiful surroundings, friendly environment and of course, academics.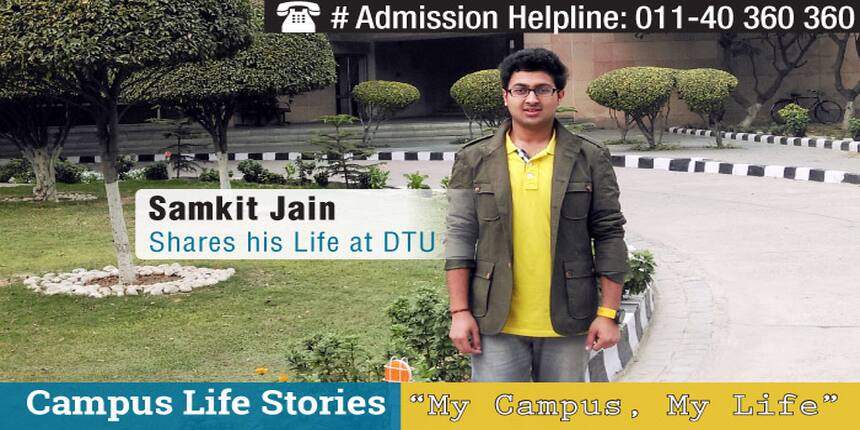 As a part of Campus Life Series, Careers360 brings an exciting close-up view from students living in the prestigious institution. This time, we bring you Campus Life@Delhi Technological University. Join Samkit Jain, who is a first year student of Mathematics& Computing Engineering, as he takes us around his Campus of DTU through photographs and descriptions.
Careers360: What is the best thing about the campus,something that differentiates it from other campuses?

Samkit: Delhi Technological University is a place to have the best time of your life. Here attendance is not an issue. There is a lot to do in terms of extracurricular activities. Sprawling lush green campus, friendly professors, amazing friends, and much more apart from these make my campus a fantastic place to spend four years of life.
Academics:


We are chilled out when it comes to exams. We read photocopied notes before the exams and pass with flying colors. Coming daily to classes is not at all necessary here.
The freedom, which we get at DTU, is at par with any other college in India according to me.We have enough time to pursue something out of the box here.The guidance, motivation and healthy relationship between seniors & juniors add to the quality of life we live here.


Teams and Societies:
Car Teams: Deltech BAJA, Hybrid, Solaris and Defianz are some tech teams in this segment that help the students get the drift. It works towards making high-speed car.
Tech Societies:There are computer societies like CSI and IEEE. There are societies for mechanical engineers like ASME and iMech-E, for civilengineers- ASCE, and for all other branches as well. UAS and DTU-CANSAT are of interest to students specializing in aerospace engineering.
Non-Tech Societies: DTU Dramatics Society Pratibimb, Photography Club, NSS-DTU chapter and Kartavya-DTU are very popular among students.
Enactus,a worldwide organization is an amazing entrepreneurial society here.It sets up a business in slum for under-privileged people and simultaneously trains the people to carry out the business afterwards. After they are trained successfully,the complete business is handed over to the slum.We have different projects running in Delhi.


Careers360: What are the best fun activities that happen in Boys/Girls hostel, especially in the nights? Any pranks or games or may be just running around that is loved by all and adds a life to the hostel?

Samkit: This is the best part of being at DTU. Whether you are confined to the walls of your room or go out on a long walk alone in the green campus, you will never forget this phase &this college for the rest of your life.
Let me show you why DTU is an incredible place.

You enter through this gate, skeptical and oblivious of what awaits you.


​We live in these hostels for four amazing years. You will love them for the fun and you will hate them for the strict rules. It is a love-hate relationship.
​This is where we vent out our frustration. This is where you will feel the rush- our playground.


​This is among the best hangout places in the campus where students spend their free time.
​
This is where we enjoy taking a walk in winters and rains, before and after dinner, with friends.
​
We eat Maggi at four in the morning in our campus when we are tired of playing enough of CS. Maggi Baba, who is serving here from the last 40 years, makes delicious Maggi. His devotion and love for you is immense, well unless you hear him hurl abuses at you for asking for a spoon or not having change :)
​


And then, there are fests in February to lessen the pressure of studies. Famous personality like Mohit Chauhan has also performed at DTU. Our college fests are the most fun-filled time for every student. 
Our Library


Seasons at DTU


Summer Season

Advent of Summer Season
Laburnum trees in full bloom during Summer Season
Advent of the Winter Season
Zero Visibility during winters
Or the fest frenzy that has an awesome feel!


The Indian Ocean band performing during Engifest
Nescafe shop at DTU
Sunset view at DTU
Careers360: Is there an informal grapevine communication that tells the campus students about the gossips or the latest happenings?

Samkit: Yes,we have a Facebook page called"DCE Speaks Up".It is a complete broadcast of DTU happenings and confessions. All the information related to fest,exams,sports,placements,food, etc.is covered in this.There are also other pages such as "DTU Confessions".Apart from this there are posters and information centers all around the college to exchange information freely. '


Other things you will witness at DTU:
I see students watching TV shows in their hostel rooms from dawn to dusk. I sometimes salute their passion and commitment. Unflinching zeal :)

I know guys, who will play badminton continuously for four hours a day. There are sports bugs and then there are FIFA boys too.

Then there are students, who are associated with different research projects under professors and working with several societies. This place is a mix of unimaginable varieties.

When it comes to chilling out,every student here tries something of his own.DTU has panel of honorable and successful alumni.Some of them include Vijay Shekhar Sharma(Founder ofPaytm),Vinod Dham(Father of Pentium Chip),Sanjiv Ahuja (Chairman of Orange SA) and many more.
Must Read:
Life at IIT Delhi- Experience it with IIT Delhi student Antriksh Johri
Life at IIT Bombay- Experience it with IIT Bombay student Keshav Kumar Gupta
Life at VIT- Experience it with VIT Student Siddharth Gumber
Click here to enroll for Expert guidance for UG Entrance Preparation, Counselling and college selection or call 011-40360360.
Delhi Technological University, Delhi Updates and Articles
Questions related to Delhi Technological University, Delhi
Showing 3203 out of 3203 Questions