Campus Life - Let's Explore IIT Madras with Vineesha Badabhagni
Like thousands of students and parents, I would always think that the Indian Institutes of Technology (IITs) are all about "Academics" till I got to converse with one of the final year students at IIT Madras, the institute founded in the year 1959. Apart from academics, the "Insti (Institute)", as the students here call it, promotes talents of all sorts. Be it cultural activities, contesting elections or building a foundation for your future dreams (which may not be Engineering only), IIT Madras is the place. In a candid conversation with Vineesha Badabhagni (VB), Secretary, International and Alumni Relations, IIT Madras, Careers360 decodes many such myths for aspiring students who dream to get into IIT Madras, however, are sceptical about various factors associated with the institute. Let's explore IIT Madras with Vineesha and find out what all is the institute about apart from academics.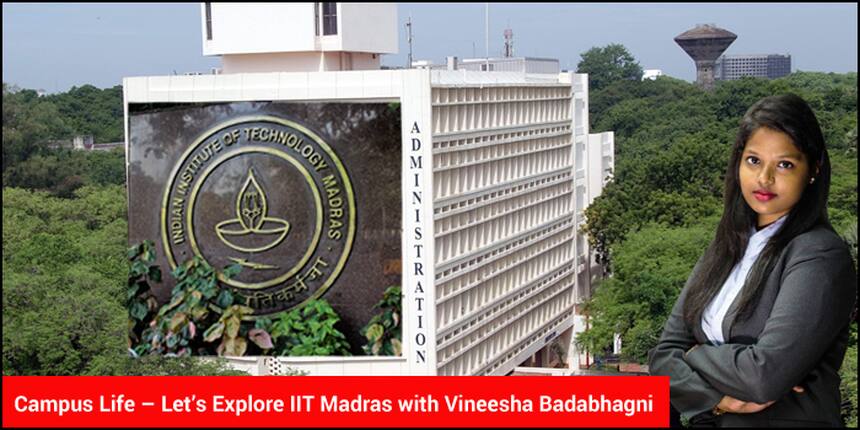 Excerpts from the interaction with Vineesha Badabhagni
Careers360: Tell us something about yourself. Where are you from and where did you do your schooling from?
VB: My name is Vineesha Badabhagni. I hail from Nellore, Andhara Pradesh (AP). In AP, we students come from these coaching factories. I come from Narayana factory where I studied for 4 years at the institute.
Careers360: Which branch are you studying in and why did you choose this? Was the institute and course your first choice or one of the options you had chosen during counselling?
VB: I am a final year student in Electrical Engineering at IIT Madras. With 962 rank in JEE Advanced, I would have got Computer Science, however, my first choice was Electrical Engineering and thus I ended up taking admission in this branch only. I was getting IIT Bombay and IIT Delhi too, however, after my mother's pursuance, I finally opted for IIT Madras which is closer to my home town.
Careers360: What were your reactions after getting the admissions and your expectations? Was the reality matching your expectations?
VB: Honestly, it was beyond my expectation in many ways, except for a couple of things. The first impression was jaw-dropping. As soon as we entered IIT Madras campus, I got lost in the beauty of the campus itself. There was a different level of excitement, however, the hostel was a little disappointing, as it was quite similar to our coaching institute hostel where we share rooms with other students. But despite a couple of things, the entire experience was amazing.
Careers360: Is there any difference in actuality about how you had imagined an IIT would be?
VB: Before coming here, we would just think that an IIT is all about academics only. We would just consider an IIT for good placements and exposure. But, once I joined IIT Madras, it was completely contrary to our imagination. With experience, I learned that IITs are not only about mugging and finishing the course. They are much more beyond that.
Careers360: How do you balance your studies, projects, exams and other activities?
VB: You have 5-6 academic hours in a day. Rest of the hours in a day, you may sleep, relax or anything. Nobody is going to check you. But as per their interests, everyone figures out their area where they want to go further. As per that, we all get ourselves involved. To be frank, everyone has a packed schedule, which goes down to even minute to minute. Even Vineesha has to rush quickly for her class once our conversation gets over.
Careers360: It is said rules for the male and female students are different. Do you feel any discrimination and what do you think should be done about it?
VB: Yes, there are incidences where girl students have to face discrimination. For example, when students contest elections, female candidates have to take so many permissions from the faculty, warden, etc, which is not the case with male students. This was the only area where I felt that boys have more liberal rights than girls. However, at the end of election campaign, I could exercise all the rights which the boys do. Though I feel we as girls face challenges in some areas more than the male candidates, but there is actually no discrimination as such. It is actually the girls who have to stand up.
Careers360: Describe a typical day at your institute – what do you do from the time you wake up till you go to sleep?
VB: A day at IIT Madras varies from person to person. However, majorly it is driven by the number of Credits you opt for.  We have 5 academic days in a week. In every semester, the students opt for 20-25 Credits. We have roughly 25 hours of classes per week for 25 credits. The classes start at 8 am and end at 5 pm. For instance, in my case I have opted for 2 lab courses, so 2 days in a week I have 3 hours classes, rest of the 3 days in the week I am free in the afternoon. Hardly any student at the institute is an early-riser. Most of us wake up around 7.15 am or so and rush rush to our classes.
Careers360: Why do you think there are fewer girls in engineering especially in IITs, NITs inspite of doing well otherwise in the higher secondary levels? Do you think this overlaps into the scant presence of women in the engineering sector?
VB: In my understanding,a lot depends on our parents and family members and second is that girls do not want to take the humongous stress the academics at IITs or NITs offer. When it comes to IITs, most of the girls' parents discourage them, looking at the amount of stress their daughter has to undergo. In my case, I received a lot of support from my family and parents to pursue my dream. However, the scenario is changing gradually. Back in 1980s, there would be hardly 2 girl students in an Engineering programme in a class of 250, whereas now, it;'s closer to the ration of 90:10, which I feel is far better. And this ration will further increase in the times to come.
Careers360: Describe in your words how IIT Madras is like?
VB: The institute acts a platform where you can give wings to your dreams. For instance, if one wants to join civil services, so the institute gives you so much of vast knowledge at all fronts that at the end you stand confident, making your own career choices in the 4-5 years you spend here.
Let me take you through what all IIT Madras offers to students:
What's Unique and Differentiating?
May be not many know, but IIT Madras is gradually moving towards becoming a University offering courses in Humanities, Social Sciences, etc. For example, IIT Madras has department of Management Studies, Department of Social Sciences, which are becoming quite popular. Even people like who are pursuing engineering, get attracted to these programmes, says Vineesha.
SAATHI to hold your hand
Once you start your academic journey at IIT Madras you may encounter various hiccups in your studies, but there is someone who takes care of your academic hurdles. SAATHI, as they call it, is an institute body which exists to help you out wherever in your academics, you feel stuck. You can choose a mentor from the SAATHI group who will help you clear all your doubts inacademics. Whenever you need that mentor, he/she will be there for your rescue in academics.
In-House Email Service - S-Mail
The institute has it own email system called – S-Mail. All the students and faculty use this email service which functions very smoothly. If you have got any issue, you can raise you concern through S-mail and your issue will be resolved.
Liberty goes Liberal at the Campus
Walk in and walk out of the campus any hour of the day or at night given you carry your ID Card. You are not pushed to wear what you do not want to. There is no dress code in the campus. One can walk freely wearing anything one feels comfortable in (including shorts and minis).
Faculty-Student Ratio
For Electrical Engineering fourth year batch, the faculty-student ration is 40:120, whereas, for the institute, it would be roughly 1:15. 
Feel Secure Inside
If you have got any security concerns, then walk down to or ask for Police help or reach out to the Security Guards available all around the campus. The institute also has its Security Section where anyone can complain regarding any security concerns. On top of this, you have C-Cash, a body responsible for handling sexual assault or harassment cases. Any male or female students can walk in freely and get their complaint registered.
Infrastructure – Classrooms, Mess, Labs, Hostels
IIT Madras boasts of having one of the best infrastructures which is a mix of traditional and modern elements. Classrooms and labs are quite cosy and modern, except a few which are non-AC. You will be taught with the latest teaching methodology and techniques. It's said that in the classrooms the interest will chase you itself. The institute has over 100 well equipped laboratories and 23 Research Centres of Excellence.
The campus houses a Centre for Innovation whose motto is – "Walk in with an Idea, walk out with a product". If you have an idea, you will find a mentor to guide you through. Entrepreneurial Cell and IITM Research Park act as stepping stones if you have an idea for a product, business or a start-up.
Dine as per your comfort at Himalaya, Vindhaya or Jain Mess
The institute houses 3 different types of mess complexes – Amega mess Himalaya, (where boys and girls dine together), Vindhaya complex, which is especially for girls who want to dine separately and Jain Mess, for people who eat Jain food. Enjoy multi-cuisine at Quark Food Court.
Do It Yourself (DIY) at the Hostels
Stay in a sharing room in the first year, upgrade to single/double room from the second year. You can even opt for an entire wing if you have a group of friends who want to stay together. Use you cupboard, table, fans, lights, but get your own bed. Do not use any high voltage electronic equipment (juicer, heater, etc) inside the hostel to avoid short circuit. Moreover, the electricity bill is paid by the institute. Wash your own clothes in the common washing area using the washing machines or use the laundry service. You have to yourself do dusting and cleaning of your hostel room. Getting some cleaner to do it for you is considered a crime, so be mindful. 
Eco-friendly Campus
IIT Madras offers a mesmerising view for nature and wildlife-lovers within the campus area of about 250 hectares. Home to approximately 300 species of trees and plants, the institute has a wide range of wild species including jackals, blackbuck, mongoose, monkeys, squirrels, toddy cats, wild cats, flying fox, reptiles, about 40 different species of butterflies and about 100 species of birds. IIT-ians here co-exist with the wildlife eco-system. Avoid carrying any eatables in open, as the monkeys will snatch it away. Keep your hostel rooms closed and locked.
Cycle around or use a Bus to Commute
Every 15 minute you will get a bus which takes you to different places in the campus. The bus service comes free for all students. Generally students are given cycles in the campus, but the students who do not have cycles, use the campus bus service. Any fault in the cycle, you need to get it fixed.
Hospital at your Service
The on-campus Hospital has good doctors. One just needs to walk down and get himself/herself treated free of cost. All tests, consultations, medicines are given free. For major illnesses, you need to show your past records. The Hospital ambulance is available 24X7 and just a call away. It even takes you to hospitals outside IIT Madras in case of an emergency.
Facilities for Sports & Health
IIT Madras believes that a healthy mind resides within a healthy body for which students can either exercise at the Institute Gymkhana or play games like Tennis, Basketball, TT or play cricket at the Chemplast Cricket Ground. You may also participate in various other sports at Manohar C Watsa Stadium or Sports Complex. 
Popular Hangouts – Relax at Besant Nagar Beach, watch a movie or go shopping in Phoenix Mall
Inside the campus, buy a laptop, pen drive or any merchandise at Gurunath Departmental Store or spend some leisure time at the Air-Conditioned (AC) Cafe Coffee Day (CCD), one of the most thronged places. Try various other restaurants in the campus as per your taste.
Outside IIT Madras, explore, relax or take a walk along Besant Nagar Beach, another popular hangout for IIT Madras students. You may go shopping or watch movies with friends at the Phoenix Mall, which is just walking from the campus. 
Clubs and Associations
IIT Madras has various clubs, associations and committees, including 12 cultural clubs and 12-15 technical clubs. Other bodies like pertaining to Career Development and Entrepreneurship Development, etc. look after various career development programmes for the students and encourages the entrepreneurs in the students. There are other associations and bodies like International Relations, Alumni Relations, Media Relations, Production Units for uploading videos, associations for cinematography and photography, cooking club, hiking club, etc. When a fresher comes in, the orientation is all about which club or association can one be a part of as per his/her interest.
Digital Presence through Blogs and Social Media
Read Interviews and experiences ofalmuni/students and get career advice at Chennai36 Blog. The Fifth Estate (T5E), the media blog is about life in the city and the campus. The insti also comes up with annual and quarterly magazines to be circulated amongst the alumni. The latest happenings and events go on IIT Madras Facebook Page. Each of the 9 Secretaries in the institute is responsible for the content being uploaded on their respective committee pages. Many student-members look after the FB pages.
Suggestion Box
According to Vineesha's experience, most of the things are right in place except for one – the old, manual functioning system of the "Academic Section". "The Academic Section still works manually as a typical government office. All the work is done manually on paper wherein nothing happens through mails. The students have to wait in long queues, which is a tedious process. I wait for the day when the system here goes digital and everything is done online," signs off the final year student.
Campus Rules You Must Ahdhere To
Do not use any high voltage electronic equipment.

Cooking in hostel is a complete no no.

Always carry your ID Card with you.

Do not get anyone to clean your room. Do it Yourself (DIY).

Meet your Credits at any cost in every semester.
Like Campus Life at IIT Madras, if you wish to know the inside story of more IITs and NITs+System, then log on to www.engineering.careers360.com.
Get real-time alerts on exam & colleges at your fingertips with Careers360 App! Click Here to Install or Give a missed call on 08080944727 to get app link
IIT Madras Updates and Articles
Questions related to IIT Madras
Showing 745 out of 745 Questions