Principal Interview: Saintgits College of Engineering "Strive to excel in studies and life"
Saintgits College of Engineering is situated in Kottayam district, Kerala. The institute offers UG and PG courses in engineering in various disciplines. The institute has highly educated and experienced faculty members, state of the art infrastructure and modern lab facilities for the overall development of students. The institute has a placement cell which organises the campus recruitment process. Students of the institute are placed in various organisations in different parts of the world with high pay jobs. Admission in Saintgits College of Engineering is through KEAM for 50% seats while the remaining seats are reserved for NRI and management, filled on the basis of marks in class 12. Careers360 interacted with the Principal of the institute, Dr. Soosan George T to have insights about the admission process, infrastructure and facilities, placements and other facets of college. Read more to know about Saintgits College of Engineering.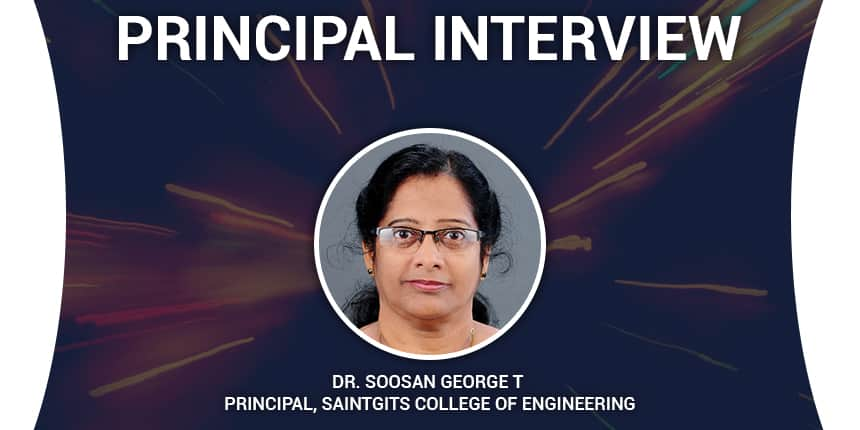 Q. Tell us something about the institute; when it was set up, the vision and mission of institution

Dr. Soosan- The college was founded by Mar Gregorios Educational Society. The primary focus of the institution is to expose the young minds to the world of technology and business, instilling in them confidence and fortitude to face new challenges that enable them to excel in their chosen fields. The college inculcates the development of all facets of the mind culminating in an intellectual and balanced personality. Their team of dedicated and caring faculty strives to widen the student's horizon of learning thereby achieving excellent results for every student.
With a scientifically planned methodology combined with a team of handpicked faculty, the best in the teaching profession and the state-of-the-art infrastructure, the quality of the education at Saintgits is unparalleled in the region. The institute has turned into a benchmark for others to emulate. With 100% seats filled from the year of inception itself, the institute feels confident that they can serve even better with every passing year. Saintgits is well equipped to bring out the inherent greatness in students because everyone here genuinely cares about them.
Mission of Saintgits College of Engineering
The Saintgits mission is to educate and train students for overall leadership in industry, research, and all other spheres of life through career-oriented courses and mentoring programs that:
Help students develop critical thinking abilities and a problem-solving approach

Emphasize development of confidence with versatility of mind

Prepare the individual for a lifetime of learning and professional growth
Vision of Saintgits College of Engineering
Saintgits vision is to be one among the globally renowned educational institutions by 2025. We will be known nationally and internationally for:
Highly experienced and trained faculty

Rigorous research culture

Academic freedom to pursue cutting edge technology applications

A strong focus on making our youth ready for promising careers

A value system with trust and empowerment at all levels
Q. Tell us something about the admission process?
Dr. Soosan- Seats in the institute are divided into three categories, government seats, management seats and NRI seats. Admission to all the seats is strictly on the basis of merit. 50% of the total seats in B.Tech course is set apart for centralized allotment by the Commissioner for Entrance Examinations (CEE Kerala) which are filled on the basis of KEAM exam.
Out of the remaining seats, 15% of seats are provided for NRI Category and given on the basis of marks obtained for Physics, Chemistry and Mathematics in 12th Standard.
The remaining 35% seats rank list is prepared on the basis of index marks obtained by combining the percentage marks of Mathematics and Physics in class 12 and the percentage score obtained in the Kerala Engineering Entrance Examination with 75% and 25% weightage respectively. The marks obtained in the State Board/CBSE/ICSE for each subject are normalized with reference to the highest marks obtained by applicants from the respective Board. There is no capitation or any other monetary consideration for admission. We have not authorized any agent or agency for admission.
Management Quota Seats
Admission to the 35% management quota seats are filled through the merit. Institute published the merit list of all applicants for the admission in the website/College notice board. Selection will be in the order of Merit through open counseling. The date of counseling will be published in the website and college notice board. Individual intimation for the open counseling will not be sent to the applicant.
Eligibility for NRI Quota Admissions
Candidates who have passed Higher Secondary Examination, Kerala, or Examinations recognized as equivalent thereto, with 50% marks in Mathematics separately and 50% marks in Physics, Chemistry and Mathematics (PCM), put together are eligible for NRI Quota admission. However excellent marks for PCM in qualifying examination is desirable.

KEAM (Kerala Entrance Exam ) rank is not mandatory to apply under this quota.

An NRI can sponsor the children or dependents and he/she will have to give an undertaking in the prescribed format. Also he should provide copy of Passport and copy of VISA , all self-attested
Government Quota
For getting allotment through Government Quota the students have to go through the centralized allotment process and enter their options in the Institution Code MGP on the date specified by Commissioner of Entrance Examination.
Candidates allotted in Saintgits College of Engineering through the Centralized Allotment process are requested to bring all the documents and college fees at the time of joining the college on the dates notified by the Controller for Entrance Examination.
Q. What kind of infrastructure can students expect at the institute? Please elaborate?
Dr. Soosan- We are providing several facilities to students for the all-round development of students. Some of the facilities as a part of institute is listed below
Saintgits Centre for Innovation and Entrepreneurship

LabView Academy

7 Research Labs

60+ well Equipped Labs

Auto Desk Centre.

Internet of Things Lab

Ansys Campus

FAB LAB

Language Lab

Hostel

Library

GYM

Bank & ATM

Canteen

Transport

Sports Amenities
Q. There is a lot of stress that is being made with regard to interaction with the industry as well as companies that recruit. What are the steps being taken by the institute in this direction?
Dr. Soosan-
We conduct regular interactions through webinars with industry experts .

We invite experts from various industries to campus for addressing the students .With the support of our recruiters we conduct workshops and seminars for all branches about the latest trends in technology.

We organize Industrial visits for the students to get pre professional training.
Q. Internships are now mandatory as per AICTE guidelines. Does the institute help students with this? If yes how?
Dr. Soosan-
We help our students in getting internships in reputed companies. We share the various internship opportunities to students and encourage them to apply for the same

We support our students to get internships in those companies that recruit from our campus.

We inform and encourage the students to register the students in intern Shala and other online internship portals.

Our Alumni are working in reputed companies ,they inform us the internship opportunities in their companies which we share with the students
Q.Can you please share details if there is any collaboration with universities abroad?
Dr. Soosan- We are collaborating with the University of Massachusetts,Lowell, USA
Q. Please share placement statistics with information on the average package, highest and lowest package, number of students placed and details of companies that have recruited.
Dr. Soosan-
| | |
| --- | --- |
| Lowest Salary | Rs.1.9 lakhs |
| Highest Salary | Rs.19.5 lakhs |
| Average Salary | Rs.3.6 lakhs |
| Number of students placed | 240* and continuing |
Top Recruiters 2020
| | |
| --- | --- |
| Name of the Organisation | Name of the Organisation |
| INFOSYS | IBM |
| Federal Bank | MIND TREE |
| Experion Technologies | AMAZON |
| TCS | Aspire NXT |
| CTS | 6D Technologies |
| SAP Labs | Innovature Labs |
| Mitsogo | Algomox Technologies |
| Indian Navy | Hexaware Technologies |
| CSS Corp | PROMATAS |
| IBS | FSS |
| Navigant | V M ware |
| Wipro | G 10 X |
| UST | POORNAM INFOVISION |
| VVDN | TECHNEURONS |
| Quest Global | Digital Core Technologies |
| Speridian Technologies | |
Saintgits College of Engineering, Kottayam Updates and Articles
Questions related to Saintgits College of Engineering, Kottayam
Showing 3 out of 3 Questions
145 Views
What are the placements in saintgits
Hello jithin,
As you asked about the placement scenario of Saintgits in previous years. Placement there are too good espacially for core branch students like CSE and IT branch.
A large no. Of student got placed in Infosys last year and the number was around 40 -50 student.
Saintgaits tied up with a large number Of good companies and mass recruiters for placement purposes.
Hope it helps
Thank you :)