Alumni Speaks: Interview with Prakhar Agrawal, GNIOT Alumni
Greater Noida Institute of Technology (GNIOT), Greater Noida offers various undergraduate and postgraduate engineering programs for the students. As Careers360 has been informing students about various features, facilities, placements, etc. of the colleges, we conducted an interview with Prakhar Agrawal, an GNIOT Alumni, to know about his experience at the college. Prakhar spoke about various facilities and campus placement of the institute. When asked about his career path, he informed us that he got placed in a private company as a support design engineer through the campus placement. Read the full article to know more about Prakhar's experience at GNIOT.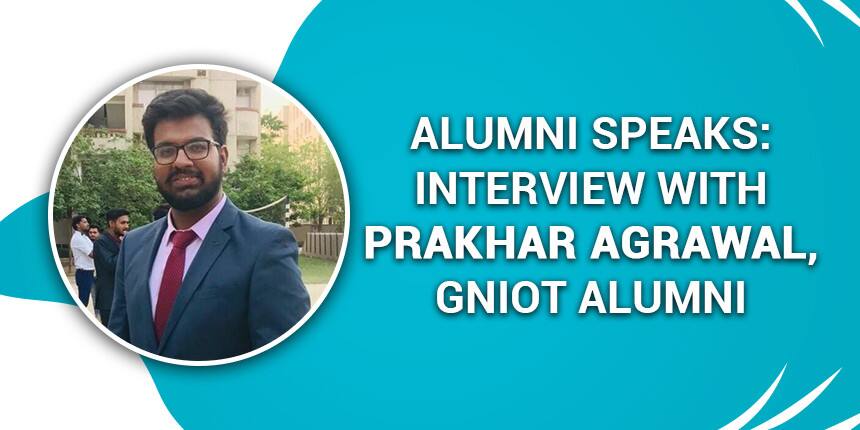 Careers360: Tell us about your domain and your work profile. At the professional level, did you pursue the same field you were interested in or you switched?
Prakhar: I'm a mechanical engineer, working in a private organisation as a support design engineer. I am solely interested in the design field so I didn't make any switch.
Careers360: Can you briefly tell us about your career path so far?
Prakhar: My career path at present is short and simple. I got placed in a company through campus placement.
Careers360: Is the Industry work different from what you learnt at GNIOT?
Prakhar: Yes, there is a little bit different in college and company work because in industry there is a complete approach to things. In college, we don't get entirely practical knowledge and we have theoretical parts too.
Careers360: How do you think your time in college has added value to your life, both professional and personal?
Prakhar: Yes, GNIOT added value to my life both professionally as well as personally. GNIOT helped me in my personal development and growth along with imparting professional knowledge. Public speaking seminars helped me gain confidence and also improved my communication skills.
Careers360: What was your initial thought process when you joined GNIOT?
Prakhar: My initial thought was just to get good knowledge and understand all concepts that can help me to get a good job.
Careers360: You must have spent a memorable time at your GNIOT. Do you miss being a part of it? Share a few good memories.
Prakhar: Yes, I have many memorable times in college. Actually you make memories everywhere be it seminars, functions or during classes. Yes, I miss being a part of GNIOT.
Careers360: Briefly take us through your life at the campus, the activities you used to do and your routine life.
Prakhar: Of course, during college, I had a systematic and routine life which included an early wake up schedule, breakfast time, lunch time & dinner time. Although it was systematic, we enjoyed it a lot during our college time.
Careers360: Apart from academics, what were the other activities you were involved in and how did it enrich your life?
Prakhar: Apart from academics, we learnt a lot of things at GNIOT like public speaking, discussions on topics other than academics. I actively participated in public speaking seminars.
Careers360: How did you keep updated with the industrial requirements and what was the role of the institute in it?
Prakhar: My institute played an important role in keeping me updated with the industrial requirements through faculty and team members. Social media also helped me a lot to keep myself updated.
Careers360: You are a proud alumnus of this top College. What is the best part of GNIOT from a student's perspective?
Prakhar: According to the students perspective, our farewell was the best part in the whole college time.
Careers360: What is your suggestion/guidance for the engineering aspirants?
Prakhar: My suggestion to all other aspirants is that they should make a goal first; know where they want to be after 4 years of college and stay focussed to achieve the goal.
GNIOT Updates and Articles
Questions related to GNIOT
Showing 13 out of 13 Questions
Greater Noida Institute of Technology Engineering Institute, Greater Noida (GNIOT)