Nourish your passion, there is no boredom to feel - Interview with Dr R T Goswami, Director, TINT
Dr RT Goswami, Director, Techno International New Town, Kolkata shares his views on the modern education system, his passion for teaching and some invaluable tips to the current youth on the edge of a new career in an exclusive interview with Careers360. Talking about his 24 years of academic career, Dr Goswami sheds light on how he looks at the whole education and knowledge-distribution system and how TINT is giving learning a new dimension. The director also spoke at length about how it is very important to build a healthy relationship with students and shared some qualities good students must possess. Careers360 got in an exclusive conversation with Dr Goswami, here is what went ahead: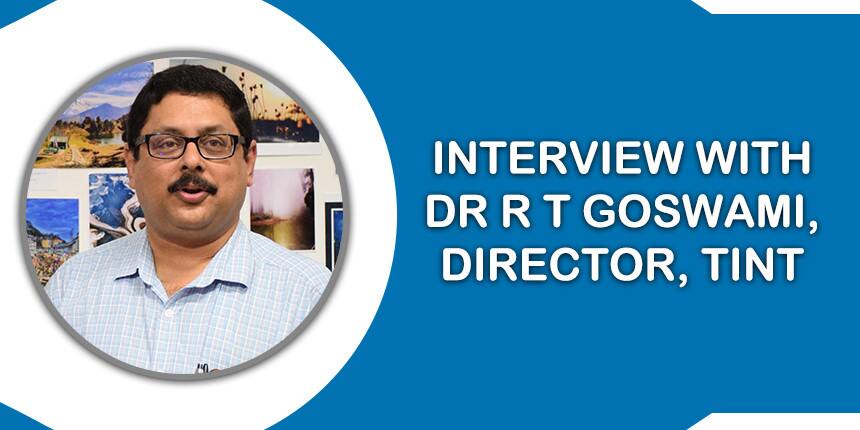 Careers360: Tell us about your experience in the education industry and what makes it the best industry to work in?
Dr. Goswami: I have started my journey in education industry since 1995. In this long 24 years of my career I have realized that teaching is always a very challenging field where every time you have to face different queries, different student batch with typical mind set. So every time you have to nourish your passion to guide them to their dream destination. There is no boredom to feel.
Careers360: Being an important Dignitary of your institute, what is your philosophy of leadership?
Dr. Goswami: To me, the leadership is essentially the art of creating, cultivating, and evangelizing a shared organizational vision in a fear free work environment, in which the workforce is encouraged, enabled and incentivized to become a collective force of willing and energized collaborators, continually motivated to move toward, and attain, the reward of that common vision. A leader's greatest success is ultimately measured by the achievements of the workforce and the number of leaders s/he has spawned.
Careers360: How would you describe your leadership style?
Dr. Goswami: My main motto is to delegate and find the strengths of my faculty members and engaging them to the right job for the betterment of my students. I try to give each person a chance to do what they're best at and create a team effort that delivers a result that's greater than the sum of its parts.
Careers360: Any of the significant challenges you faced handling the responsibilities at your institute and how do you motivate your team for continuous growth & enhancement?
Dr. Goswami: In many of the challenges which I have faced during my academic career, I want to mention a few. In TINT I have successfully neutralized the trend of student agitation which was a real challenge to the administration. Moreover, I have been able to create a healthy research environment within the faculty members and students which is always one of the main pillar of any academic institute. Both of these two success I have achieved by regular personal interaction with the faculty members as well as students to motivate them by listening their problems and suggesting a legitimate solution. Now we have a good number of Ph.D. holders are in my organization and within the remaining ones 50 % are engaged with their research work.
Careers360: How does your curriculum ensure best practice of industry?
Dr. Goswami: As our institute is affiliated to Maulana Abul Kalam Azad University of Technology which is the state technical affiliating university of the Govt. of West Bengal, our course curriculum is prepared by the university itself. Still we review the syllabus every time and maintain a strong liaison with the university to suggest them any realistic changes to meet the current industry needs.
Besides these we regularly implement Domain Knowledge Training and different brush-up courses on most cutting edge technologies to serve our students in a better way.
Careers360: Top qualities that a student must possess ?
Dr. Goswami: There are a few qualities that outstanding students possess, as per me they are
A strong in interest in existing technology and solving problems using it.

A good ability to understand math and physics

Self-discipline and motivation to learn new topics and study them

Team Player

Communication Skills

Logical Thinking and Reasoning

Natural Curiosity
Careers360: Ideal school environment and culture according to you?
Dr. Goswami: Physical Safety. The physical environment must be safe, and welcoming, and must support learning.
Social Relationships. The school must encourage positive communication and interaction among students, teachers, and the wider community.
Emotional Environment. Students must feel emotionally supported to encourage high self-esteem and a sense of belonging.
Academic Support. The academic environment must be conducive to learning and achievement for all students.
Careers360: How do you look to build a healthy relationship with the students?
Dr. Goswami: Improving students's relationships with teachers has important, positive and long-lasting implications for both students's academic and social development. Solely improving students's relationships with their teachers will not produce gains in achievement. However, those students who have close, positive and supportive relationships with their teachers will attain higher levels of achievement than those students with more conflict in their relationships.
Careers360: How do you look at the growth of students through placement opportunities available at your institute? How do you wish to push the envelope further?
Dr. Goswami: In last 3 years the placement record of our college has touched almost 80% in overall criterion and this is a very consistent rate we have been able to maintain. Bulk recruiters like TCS, Capgemini and Wipro etc regularly absorb a good number of students every year whereas the dream companies like Intel Corp., Microsoft, Thaughtworks, ABB etc. also recruited students from our campus.
Careers360: What goals do you have in your mind for your institute for the next few years?
Dr. Goswami: Right now, I have planned to setup an Industry Partnership Innovation Center in our institute which is a part of our ultimate goal to excel as a Center of Excellence.
Careers360: Any suggestions you would like to give to the current youth and the aspiring students?
Dr. Goswami: Unleash your ideas, whatever impossible it could be, and try to make it possible!! Our country badly needs innovative minds and you, the future engineers can be pioneer of new more powerful India.
Techno International New Town, Kolkata Updates and Articles
Careers360 brings an interview with Sugam Agarwal who pursued ...
05 Feb 2020
Careers360 presents Campus Life at TINT Kolkata: Experience it...
05 Feb 2020