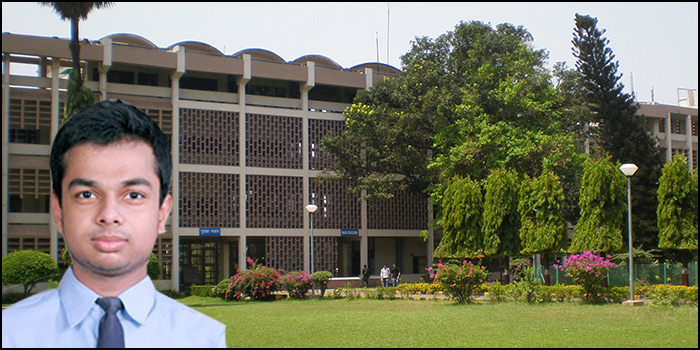 IIT Bombay is ranked among the top IITs of the nation. With most aspirants aiming for admissions into the institute, there must be many who are curious about the real campus life in IIT Bombay. We, at Careers360, had a chance to talk to Mohak Goyal, a student from the department of Electrical Engineering of IIT Bombay. An avid Tennis player, Mohak speaks about his journey at the institute so far, how different IIT Bombay was actually than what he had imagined, the various co-curricular activities provided and more details about IIT Bombay campus life. Giving insight into the campus life in IIT Bombay, Mohak Goyal provides a clearer picture for all aspirant who later wish to pursue their B.Tech studies in this instiute. Read the full article and experience the campus life in IIT Bombay with Mohak Goyal. 
Compare Colleges
College Comparison based on Courses, Placement, Rank, Fee
Compare Now
Careers360: Tell me about yourself?
Mohak Goyal: I am a fourth-year dual degree student in the department of Electrical Engineering at IIT Bombay. I am from Agra. My academic interests are in signal processing and mathematics. I like to play tennis.
Careers360: How has your journey been so far at the institute?
Mohak Goyal:  It has been an excellent journey so far in the campus of IIT Bombay.  I got to learn a lot in these four years.  I met a lot of good and interesting people. I got to know my strengths and weaknesses.
Careers360: Is there any difference in actuality about how you had imagined an IIT would be?
Mohak Goyal:  I had imagined that life at IIT Bombay would be just about academics and that there would be tremendous pressure. In actuality here you have ample opportunity to develop other skills and one has time to enjoy too.
Careers360: What all activities are you a part of in the campus?
Mohak Goyal:  I was part of IIT Bombay Racing team in my second year. We made an electric race car. Apart from that, I play Tennis and Chess.
Careers360: Can you run us through a day at your institute (starting from how your day starts and how it ends)? Also, about your schedule throughout the semesters so far?
Mohak Goyal:  All days are not the same. It depends on your lecture schedule. In this semester, I have 5 lectures on Mondays and Thusdays while on other days I have only two lectures. I have also taken up Teaching Assistantship and have to hold a tutorial session once a week. I find time to play tennis 2-3 times a week. Assignments are usually completed during the weekends. I usually stay up till late in the night.
Careers360: Tell us about the faculty-student ratio here and about the teacher-student relationship in your understanding.
Mohak Goyal: The faculty-student ratio depends on the branch of engineering. The batch is divided into sub-batches for labs and tutorials. The sub batches generally have 30-40 students. In certain courses there might be just 10 students while there can be upto 300 in another.
Most professors are extremely helpful and easily approachable for clearing doubts.
Careers360: What all facilities do you have in the campus? What do you like here the most which you feel is unique and differentiating? What are the challenges you had faced initially at the campus and now you might be facing?
Mohak Goyal:  We have a large sport complex, comprising of a football field, hockey field, cricket ground, volleyball, basketball, tennis, badminton, squash, Table Tennis courts and a central gym. The central library has almost every book a student would need or want to read. Most research labs have the best equipments in the country. The people are helpful and the environment is conducive for learning. In my first year I had trouble managing time but now I manage.
Careers360: What would you say about the state of infrastructure, labs, mess, hostels, and other facilities at the campus?
Mohak Goyal:  Hostels are old and the rooms are small. Apart from that all facilities are good.
Careers360: Is there anything you miss here? What else do you expect from your institute? Any suggestions on areas where the institute must focus or work on?
Mohak Goyal: The curriculum has a lot of redundancy. It needs revision to make it more relevant and reduce stress on students.
Careers360: How comfortable are your hostels and how about the cleanliness factor over there?
Mohak Goyal:  Hostels are definitely not the best part of the institute. Cleanliness is not not upto the mark.
Careers360: How do you balance your studies, projects, exams and other activities?
Mohak Goyal:  It is important to set the priorities right. One can give more time to the projects and other activities when exams are not approaching. The other important aspect is to pay attention in the class as it will help to decrease effort that you are putting in. One learns to balance things eventually. Sometimes one has to sacrifice some things to do well in other areas.
Careers360: Tell us about the clubs and societies at the campus and how significant are they from your point of view or from students point of view?
Mohak Goyal: There are clubs and societies for almost every activity one can imagine. These societies play a pivotal role in helping the students to enhance their talent. They also help the students to connect with each other in the campus. Having said that, one should be careful not to waste too much time in activities that are not fruitful.
Careers360: Is there any in-house magazine or journal for the latest events or happenings at the institute?
Mohak Goyal: Yes. The institute student media body, Insight, publishes journals for the latest events in the institute. 
Careers360: What are the popular hangouts at the institute? What, according to you, are the most-visited places nearby?
Mohak Goyal:  The eateries like Campus hub, Brewberries, Gulmohar Cafetaria etc., are the popular hangouts. Lakeside and Sameer hill are famous among the nature lovers. Just outside the campus we have the Hiranandani market with a lot of good places to eat at.
Careers360: How do you spend your leisure time at the campus?
Mohak Goyal:  I spend my leisure time playing tennis or chess or pool. There is a whole lot of things to do here. Having random discussions with people on a variety of topics is also a good way to pass time.
Careers360: Are you being equipped with everything at the institute that are required to meet your aspirations?
Mohak Goyal:  Yes. Nothing to complain on that front.
Careers360: What type of companies come for campus recruitment and what percentage of students get placed every year? How is the recruitment process here?
Mohak Goyal:  Both core and non-core companies come for the recruitment. The placement percentage depends on the department. The companies generally conduct an aptitude test followed by a group discussion, then the HR and the technical round.
Stay tuned to engineering.careers360.com for more IIT and NIT campus interviews.
Get real-time alerts on exam & colleges at your fingertips with Careers360 App! Click Here to Install or Give a missed call on 08080944727 to get app link