Student's Speak: Campus Interview at Sona College of Technology with V.Ajay Jorden
Selecting a college is not an easy task and students often come across many queries when it comes to selecting a college for higher studies. Careers360 team have been providing different campus interviews on college review, placements, faculty members, infrastructure, hostel life and in the same series, we conducted an interview with V. Ajay Jorden. Our team interacted with V. Ajay who is pursuing Bachelor's degree (3rd year) in Mechatronics Engineering from Sona college of technology. V. Ajay always begins his day with a quote, "Rise and shine" and strongly believes that. Read the full campus interview below to know more about V. Ajay's life at Sona college of technology.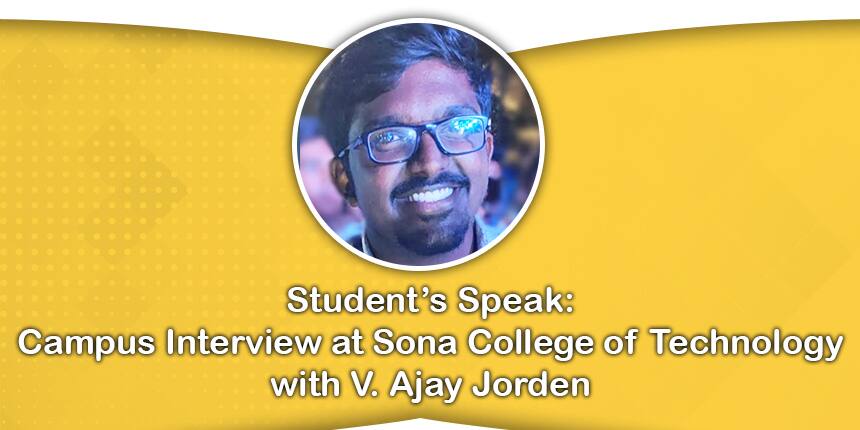 Careers360: Tell us something about yourself such as from which place are you from?
V.Ajay: I am V. Ajay Jorden pursuing my 3rd year BE Mechatronics from Sona College of Technology. I am from the Steel City ,Salem.
Careers360: Presently which course are you pursuing and in which year are you?
V.Ajay: Currently I'm pursuing my third year (3rd) Bachelor's degree in Mechatronics Engineering.
Careers360: Did you face any difficulty in the initial months when you joined the institute?
V.Ajay: I was completely nervous and anxious in the initial days, but the truth is, the institute played an amazing role in making me feel much better and very comfortable within a few days. It just took days for me to intermingle and socialize myself with the college environment . Because moreover a college, Sona is a family that enriched and elevated my knowledge, moral values and social skills
Careers360: What activities are offered in the institute? Are there any clubs etc for the various extracurricular activities? Which ones have you taken up and are a part of?
V.Ajay: To be honest Sona is the best place to explore ourselves and to find out what we are good at. Our College offers various facilities and opportunities with best guidance. It doesn't matter what field it is, either technical or non technical, humanities and social sciences., etc, it motivates & paves the way for the field that we are interested in. It helps to establish and succeed in that particular field. It is possible by setting up various development centers, R&D's, clubs, associations and cells. And among these I have taken part in various club activities and I'm a part of the Sona compering team as well.
Careers360: Describe a typical day at your institute – what do you do from the time you wake up till you go to sleep?
V.Ajay: I always begin my day with a quote, "Rise and shine" because I have a place to rise from my sleep and a place like my college, Sona ,to shine and bright as a better person. So I'm grateful to God for that ,so I begin the day with God's prayer, which gives me a positive energy and enthusiasm to face my challenges in a day. And then I will freshen up myself and will get ready for my college and reach there by 8:50 AM. Our college begins by 9AM and then I start up with my day-to-day college schedule.
Our classes are always interesting and exciting, which kind of makes our learning a celebration, and that's what our Motto says & stands for. And the college gets over by 5. Then I will get back home, freshen up myself and complete my day-to-day homework and assignments. At last I end my day with God's prayer , showing my gratitude towards him for giving me the blessings to explore a new day and for making me Shine.
Careers360: Tell us about the faculty-student ratio here and about the teacher-student relationship in your understanding.
V.Ajay: In General, a lecturer or a professor plays a very important role in a college student's life. As a teacher, one must bring out the best in students and inspire them to strive for greatness. And to be very lucky and blessed ,all these characteristics of a teacher are well obtained & acquired by our faculties at Sona. We have 600+ well experienced teaching and non- teaching staff. It includes around 180+ doctorates, research scholars, professors and associate professors, who have mastered and specialized in their respective fields. To be honest our bond with the faculties are more special for us. They give us the best education along with comfort & care. All the faculties are good-natured ,conversable and approachable as well. Our faculties impart knowledge, good values, tradition, modern-day challenges and ways to resolve them within us. We feel so fortunate to have a wonderful set of faculties to guide us to success.
Careers360: What all facilities do you have in the campus? What do you like here the most which you feel is unique and differentiating?
V.Ajay: Though the college is situated in the heart of the City, it is entirely eco- friendly planted with varieties of plant and tree species. This provides us a fresh and peaceful environment, free from pollution. This college is really striving hard to provide us a natural, eco-friendly and healthy environment. And about 90% of our College's power supply is obtained from the naturally available source of energy ie., Solar Energy. The college has world class infrastructure along with spectacular gardens , which adds beauty to the campus. We have well maintained , clean and hygiene restrooms along with boys and girls rooms separately for students to relax themselves. Also, we have 24/7 fresh drinking water on each floor of all the buildings at Sona. Most importantly, all the above Amenities are well maintained regularly by a team of workers to maintain perfect hygiene condition and cleanliness in the entire campus.
Careers360: How comfortable are your hostels and how about the cleanliness factor over there?
V.Ajay: Since I'm a day scholar, I'm not sure about the experience of hostels at sona but I'm aware of it. Some of my classmates have shared their experiences and all turned out to be good. The amenities , care and the food they provide in the hostel makes them feel comfortable. And they are also being guided by a set of faculties and wardens in academics as well.
Careers360: What about the medical facilities? Can you avail requisite medical attention if needed in an emergency?
V.Ajay: The college has set up a full fledged medical dispensary ,which works effectively 24/7 for the welfare and health of students & faculties. The medical services are provided efficiently by a team of skilled healthcare workers. All the checkups and first aid services are completely free for students and staff. The college has also tied up with one of Salem's hospitals called "Shanmuga Hospital" to develop multiple projects, where the medical field and engineering field comes together in action in integrating technology along with medicine.
Careers360: How do you balance your studies, projects, exams and other activities?
V.Ajay: It's absolutely a great challenge, but if we are well organized & scheduled about all of our works , then it's just a piece of cake. Most importantly, two things that I follow and believe that definitely will give good results in balancing the work are - prioritize work and complete the work as planned and execution of the work is very important than planning, so take more effort and hard work to execute the plans than scheduling. If one has this kind of clarity ,then it's very easy and simple for him/ her to manage both studies and other activities simultaneously.
Careers360: Tell us about the clubs and societies at the campus and how significant are they from your point of view or students point of view?
V.Ajay: College has set up various development centers, R&D's, clubs, associations and cells for the development of the students. This helps us to explore ourselves, and also helps us to gain knowledge, social & communication skills and basic moral values, which makes headway for us to be a better person in the society. Our college has 23 world class facilities filled R&D'. Each R&D is highly equipped with high standard Machineries & higher end Equipment. Also, each center is maintained and run by a team of research scholars,sce PhD doctorates & professors.
Students can access these centers at any time regarding their projects , research., etc . Now talking about clubs, the college also has up to 20 different clubs, empowerment cells and associations. In every semester each club conducts various activities and competitions to improve students skills.
Careers360: Is there any in-house magazine or journal for the latest events or happenings at the institute?
V.Ajay: Yes, we do have our own newsletter called, "The Sona Times". This includes content like achievements of college and students and further plans that are to be implemented in future and upcoming projects. It also has interesting crosswords, puzzles, and exciting riddles, drawings & portraits that are sketched by our students. And new facilities and opportunities that are available in college will be intimated in it. We also have opportunities to publish articles and to share our project ideas & thoughts in the journal, which is really helpful to improvise our content developing skills & writing skills. The newsletter is published four times a year.
Careers360: What are the popular hangouts at the institute? What, according to you, are the most-visited places nearby?
V.Ajay: As I have mentioned before, the college is situated in the heart of the City, so we are surrounded by numerous hotels , café, fast food restaurant., etc. Since it's also situated nearby the highway, there are motels and Dhaba nearby the college as well. Also, Salem's biggest mall, the greenfield mall is nearby and the list goes on. So there are many places to hangout, for lunch, birthday treats etc.
Careers360: How do you spend your leisure time at the campus?
V.Ajay: To make our leisure time useful and effective, we have a great treasure that our college has setup for us, it's the library. We have multiple libraries across the campus but the main library is the one which has a wide range of book collections. We also have a digital library, which makes reading a great fun. This happens only if there is any purpose & need for it and apart from this, I do my assignments, record works and complete my pending notes. Or else I will just hangout with my friends and we go to our college cafeteria to have a cup of coffee.
Careers360: Do you have any Facebook page of your campus where the students express their views, jokes or ideas, or maybe even a blog where they write about their experience of life at campus?
V.Ajay: Yes, we have a platform on Facebook, and other social media where we get a chance to showcase our talents. It's a great platform for students who feel introverted to present their ideas and views. This kind of pushes them to be confident. It also helps us to build our ideas and thoughts more effectively & confidently.
Careers360: What type of companies come for campus recruitment and what percentage of students get placed every year? How is the recruitment process here?
V.Ajay: At SCT, they always believe in equipping us with the right talent and personality to face the industry requirements. They focus on placement centers on creating new approaches to attract the best from the industry to our campus. They develop our technical knowledge and soft skills to meet the corporate recruitment process. Also motivates us to develop our overall personality in terms of career planning, goal setting and reskilling.
Each year around 70+ companies come for placements from various disciplines across the country and the world. Yes, the college has also tied up with many international companies to take up recruitments. We have manifold top companies that have recruited sona students, such as, Accenture Inc, Cognizant technologies, Amazon, TCS, Wipro, Infosys and the list goes on. International recruiters include Human Resocia, Japan; ETA Ascon Ltd, Dubai and etcetera. Even out of this pandemic, 40+ companies came for placements for recruiting our students and all the companies were completely satisfied & are well pleased with the performance of our students. We have got 100% placements this year, which shows the tireless efforts and hard work of our Sona placement cell in shaping our career and in craving our future.
Sona College of Technology, Salem Updates and Articles
Questions related to Sona College of Technology, Salem
Showing 75 out of 75 Questions