Alumni Speaks: Interview with Athira V.G, Easwari Engineering College
Becoming an alumni of a college is a great feeling all together. College life is often considered to be one of the best times and is always remembered. To understand this feeling in a much better way, Careers360 have interacted with one of the alumni of Easwari Engineering College. Athira V.G, Computer Science and Engineering, 2018 passout has shared her work experience with us. Currently, she is a senior resource at Vuram. She stated that she is working on a development platform that is associated with logical thinking and software knowledge. She further said that Easwari Engineering College has helped her learn the art of managing work and logical thinking. Read the complete article to know more about Athira's experience at Easwari Engineering College and work.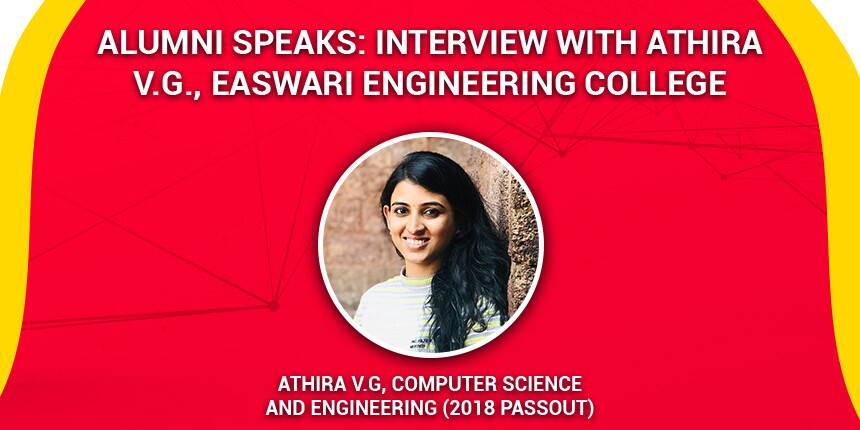 Careers360 : Tell us about your domain and your work profile. At the professional level, did you pursue the same field you were interested in or you switched?
Athira : I work on a development platform that involves logical thinking and software knowledge. I am able to put to use the core concepts that I learnt from my course. Yes, I went ahead to choose a career in the same field of study that I was interested in.
Careers360 : Can you briefly tell us about your career path so far?
Athira : It's been exactly two years since I joined Vuram and I have had a steady growth from being an associate to a senior resource now. Starting from developing to managing people and work, my career path involved more than what I had imagined I could achieve in this timeframe.
Careers360 : Is the Industry work different from what you learnt at Easwari Engineering College?
Athira : Industry work is basically a combination of various core subjects that I learnt in college. Database management, operating systems, data structures, cloud, software engineering and object oriented design play a vital role in the industry work I do everyday.
Careers360 : How do you think your time in college has added value to your life, both professional and personal?
Athira : On a professional level, college helped learn the art of managing work and logical thinking. It also helped my decision making capabilities. On a personal level, I got to become more outspoken and it helped me grow in the passion as well.
Careers360 : What was your initial thought process when you joined Easwari Engineering College?
Athira : My family has a number of people who passed out of the SRM group of Institutions. So, I did not have any questions on what my future would seem like.
Careers360 : You must have spent a memorable time at your college. Do you miss being a part of it? Share a few good memories.
Athira : I do miss certain parts or people of the college. Since I was a part of both educational and extracurricular activities, I shared an amazing bond with a lot of people including my seniors and juniors. Dance practices, rotaract club meetings , CSI meetings and symposiums will always have a place in my memory.
Careers360 : Briefly take us through your life at the campus, the activities you used to do and your routine life.
Athira : Starting from the school I studied, I was trained to be studious and never got any time to explore other extra curricular activities. It was in college that I got to be a part of various clubs and events.
Careers360 : Apart from academics, what were the other activities you were involved in and how did it enrich your life?
Athira : I was a part of professional clubs like IEEE, IET, CSI and had the experience of participating in their seminars. I was a part of the rotaract club of SRM Easwari and had been the treasurer and club photographer both at the college level and rotary level. I was the team lead of the classical dance team of our college. The list just goes on actually.
Careers360 : How did you keep updated with the industrial requirements and what was the role of the institute in it?
Athira : We had frequent seminars and guest lectures regarding industrial requirements.
Careers360 : You are a proud alumnus of this top College. What is the best part of Easwari Engineering College from a student's perspective?
Athira : Freedom to grow.
Careers360 : What is your suggestion/guidance for the Computer Science Engineering aspirants?
Athira : Take engineering seriously but don't forget the fun part of college life. Be social and outspoken.
Easwari Engineering College, Chennai Updates and Articles
Questions related to Easwari Engineering College, Chennai
Showing 30 out of 30 Questions