Interview with K S Dubey, Director, United College of Engineering & Research, Allahabad
Choosing a college is not easy. Candidates have different questions regarding faculty, courses, reputation, placement and much more while choosing a college. They always search for answers to these questions. Careers360 team always tries to provide such information to the candidates to help them in making their decision. In the same series, we conducted an interview with Professor K S Dubey, Director of United College of Engineering & Research, Allahabad to know about various courses, facilities, placements of the colleges. Read the full article to know more about College of Engineering & Research, Allahabad.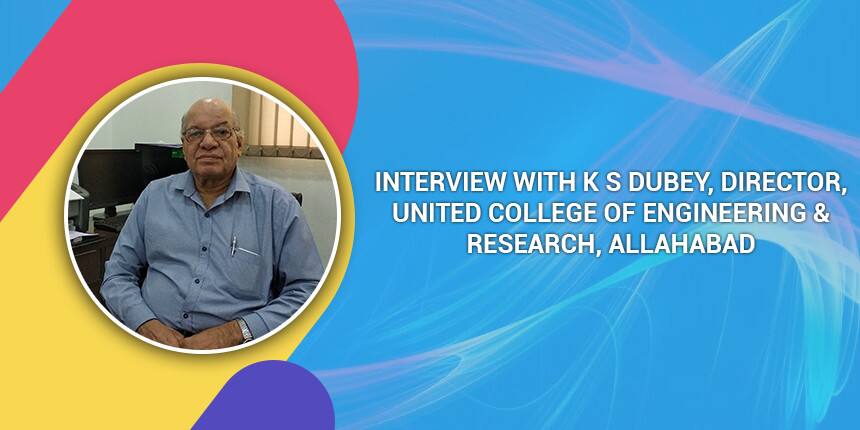 Careers360: What was the turning point and vision that made the transition of the group from transport to education?
K S Dubey: The United Group was founded by late Shri Shiv Ram Das Gulati in 1951 emerged from a transport business to the giants in the field of education, services, transportation and journalism. The group made a mammoth leap in the education arena in the mid 80s by being the pioneers in computer education. Now, with 9 well established institutes in Allahabad and Greater Noida, over 11200 students and more than 750 faculty members, the United Group of Institutions is poised to reach the next level providing the best education.
Careers360: Out of the 9 institutes of the group, which is the oldest and which is the newest one? Has there been any change in the way they have been designed in terms of facilities and infrastructure as the tendency to progress always starts at some point?
K S Dubey: Out of the 9 institutes of the group, the oldest institute is United Institute of Management, Allahabad which was established in 1997 and the newest United College of Education,Greater Noida which is established in 2018.
Yes there have been lots of changes in terms of facilities and infrastructure like:
Student Accommodation: The United institutes house a capacity of over 1200 students. Separate hostels for girls & boys are available at both Allahabad & Greater Noida Campuses. These hostels provide various facilities to the students like Gym, T.V. Room, Internet, Ambulance, mess, power backup and many others.

Food Courts: This is one area of the campus which never seems to be deserted. A popular hang out for the students, the food court offers a wide choice of items to cater to the student's tastes. A high standard of hygiene is maintained, ensuring the satisfaction and contentment of students.

Sports and Recreation Activities: A massive sports arena is built within the united campus. Spacious and sophisticated courts have been designed keeping in mind the benefits students can obtain from sporting activities. There are ample basketball, tennis, badminton, and volleyball courts to suit the precise interest of the student.

Medical Facilities: Medical services are provided round the clock at the campus. An ambulance is always at service in case of emergency. The girl's hostel also contains a self-sufficient clinic within its site. Moreover, there are tie ups with the neighboring hospitals of the region guaranteeing the well being of students.

Wi-Fi: Wireless hot spots are available at various locations in the institutions for students to access the internet on their laptops.

Transport: More than 25 buses operate everyday for the students and staff. The day scholars living in areas away from the campus are picked-up and dropped from their residences safely.
Careers360: What is the faculty-student ratio in various courses of the institutes? What are the parameters looked at by the management when the faculty is recruited?
K S Dubey: Faculty- student ratio in various courses of the institutes is 1:15 i.e. for 15 students 1 faculty is there.
Different parameters looked at by the management when the faculty is recruited are as follows:
Knowledge of and enthusiasm for subject matter

Skill, experience, and creativity with a range of appropriate pedagogies and technologies.

Involvement with and contributions to one's profession in enhancing teaching and learning.

Good communication skills

Self confidence

Positive attitude

Diligent

Sincerity & Dedication
Careers360: Internships are now mandatory as per the latest AICTE guidelines. How do you help the students with this aspect? Also, industrial visits are essential for students especially technical ones during their course of study. How do you support them in this?
K S Dubey: As Internships and Industrial visits are now mandatory as per latest AICTE guidelines, Industrial tours are regularly organized from time to time. These industrial tours give practical exposure to students and they gain first hand information regarding functioning of the Industry. Students are also encouraged to visit trade fairs like 'Elecrama', 'The Auto Expo', etc. to keep in touch with the actual practices carried out in organizations and new products of the companies. Students are required to submit a written submission related to their industrial visits. Recently UGI signed a MOU with SPHERE MI for the "centre of excellence" to provide industrial exposure, industry orientation training and practical knowledge to the students.
Careers360: Brief us with the placement highlights. Kindly give us details of the average placements course wise with details like the minimum package, maximum package, companies that recruited etc.
K S Dubey: At United Group, the Corporate Relations Center (CRC) functions more than just placing students. While our students are annually recruited by Infosys, TCS, Wipro, L&T and other industry giants, we go a step further. We ensure that every student is 360 degrees employable rather than just providing employment.
Corporate Relations Center of UGI believes on preparation for all placement activities through various endeavors like:
Sessions on Aptitude and Personality Development are taken to groom the students from 2nd year.

Customized Placement Preparation for major recruiters based on past test papers.

Session wise mock test before any drive.

Dedicated tutorials by professors for technical written tests and interviews.

Student's library in the Corporate Relations Center contains the books and worksheets on Quantitative analysis, Reading Comprehensions and Verbal Reasoning.

Compiled question bank for all students based on the past papers from the recruiters.

Actual Interview simulation before all the events.

Counseling on CV preparation, General grooming before facing the recruiters.

Group discussion with both general and technical topics.

Special monitoring for the summer training programs.

Industrial tours in order to understand the real requirements of the industry.

Collaborations with INFOSYS for hosting Campus Placements and LEARN programme.
More than 90% of our students get placements every year. Various companies visited the campus for B.Tech candidates are as follows:-
Software Companies: Infosys, Oracle, TCS, IBM, HCL(ISDN), Mahindra Satyam, Genpact, Technosys, Syntell, LG Soft, Francisian, Daffodil, Mphasis, SphereMI, Hexaware

Core Companies: Robert Bosch, L & T, Mahindra & Mahindra, TNS WorldWide, Precision, R G Teletech

Government Sector: Indian Army and Indian Air Force

PSUs: NTPC, Indian Oil, SAIL, PowerGrid
Details about package offered to candidates-
Minimum package- 2 lac per annum
Average package- 3.5 lac per annum
Maximum package- 12 lac per annum
Careers360: There has been mention of a global tie-up with Asian Institute of Technology, Thailand for academic exchange programmes. Are they only restricted to summer training programmes and workshops or are there others too?
K S Dubey: United Group of Institutions has academic collaborations with the International Universities/ Institutions, which has provided an umbrella for internationality, innovation, integration, information, technology and industrial partnership to all the bright souls of the group. Signing up of MoU (Memorandum of Understanding) with Asian Institute of Technology (AIT), Bangkok, Thailand, being the first initiative in this endeavor opened the doors for Global exposure and Global future of Unitians. More than 500 students participated in 'Summer Education Workshop' at AIT & Missouri. AIT collaboration provides an exchange platform for the students, faculty members with joint research projects, joint cultural programs/projects and joint conferences.
Careers360: In the same vein collaboration, Missouri University, Columbia, USA has also been mentioned. The first batch was scheduled in 2017. What is the nature of this MOU? Give us details of the eligibility and the nature of the programme, duration etc.
K S Dubey: MoU with the Missouri University, Columbia, USA, provides a framework for partnership agreement ensuring close cooperation and coordination of efforts concerning training, exchange of experts and scholars, participation in joint conference, etc. At University of Missouri, 15 Unitians participated in an exclusive 3 week summer program, which provided them exposure to the best of the facilities at the university.
Careers360: What is the United Innovation Centre and United Startup Cell? What is the role of students in this? How do they benefit?
K S Dubey: Innovation Centers at UGI are newly established units which have a prime objective of exploring and enhancing the creativity and innovation skills of UGI scholars and to pursue research that not only advances science and technology but also has a societal impact. Students with innovative ideas can approach the innovation centre for guidance and financial support. The Center is equipped with state of the art facilities for research and development and other facilities required for projects like Internet, Printers, Software, Circuit Components, Fabrication support, etc. Interested students can submit their applications along with the detailed proposal in the prescribed format and may get the funding from the institute after the project is approved as per the norms and criteria of the Innovation Center. At its seedling stage, the center has received enormous quality projects beyond its expectation.
Careers360: What are the various scholarships offered to new entrants? Also, give details of other scholarships awarded in the various institutes?
K S Dubey: Shiv Jyoti Scholarship is offered to new B.Tech entrants to motivate talent. The award under this scholarship ranges from Rs. 5,000 to Rs. 50,000 and the scholarship is awarded on the basis of UPSEE General Rank Details of Scholarship are as follows:-
| | |
| --- | --- |
| UPSEE General Rank | Scholarship Amount |
| From 1 to 2500 | Rs 50,000 |
| From 2501 to 5000 | Rs 25,000 |
| From 5001 to 7500 | Rs 10,000 |
| From 7501 to 10000 | Rs 5,000 |
Careers360: Tell us about the Employability skill enhancement program at UGI. Is it mandatory for students to participate in these or do they have to enroll as per their need and interests?
K S Dubey: Under the wide umbrella of Employability Skill Enhancement program (ESEP), UGI offers its students a set of 'transferable skills' that are not specific to one particular career path but are generic across all employment sectors. UGI knows the current market trend & its needs and also the interests & potential of its students. With this understanding and emphasis upon a mix of skills required, ESEP@UGI offers all the in-campus opportunities to the students-
GATEWAY to 'GATE (Graduate Aptitude Test in Engineering)'
Making the students aware about the GATE syllabus and exam pattern.

Reducing the burden at the time of examination through uniform distribution of subjects/ topics across the semesters,

Providing GATE reference books and study materials to the students.

Making the students practice and solve previous year' and sample question papers.
Verbal Ability Program (VAP)
VAP is another unique feature of UGI which gets motivation from the alarming need of improvement in English Proficiency/Communication and Aptitude along with the other Soft Skills. Our faculty members at United makes the students work upon their Intelligence Quotient (IQ) covering Numerical, Analytical and Reasoning skills along with English Proficiency and also their Emotional Quotient (EQ) covering their Attitude, Communication, Interpersonal and decision-making skills etc.
Campus Recruitment Training (CRT)
Campus Recruitment Training (CRT), a significant training lead by outsourced professional trainers is a solution to unlock students' verbal, numerical, analytical and logical skills. CRT@UGI is a very effective tool for empowering especially the final year students with the 'Attitude' and 'Ethics' and making them ready to face the interviews for various in-campus and off-campus drives.
Technical Trainings (TT)
Another new practice for 3rd year students is free of cost In-campus 'Technical/Industrial Trainings' for different streams/branches led by outsourced trainers. These trainers have industry experience and share their corporate experiences with the students.
Careers360: When students choose a college, what are the parameters you would advise them to look for?
K S Dubey: When students choose a college, there are different parameters we would advise students to look for:
Infrastructure

Pioneer in Group Placement

Global Exposure

Scholarships

Award and Recognition

Industry Tie ups

Development Programmes

Student Accommodation

Food Courts

Sports & Recreation Activities

Wi-Fi

Transport
United College of Engineering and Research, Allahabad Updates and Articles
Questions related to United College of Engineering and Research, Allahabad
Showing 17 out of 17 Questions