WBJEE 2017 Mock Counselling Help Centres Open from May 15!
The West Bengal Joint Entrance Examinations Board (WBJEEB) has announced the facility of help centres which will train students for the WBJEE counselling. The setting up of these help centres is to create awareness amongst the candidates and to enable them to have hands on experience on choice filling as well as the e-counselling process that will exist during the WBJEE counselling scheduled to be held tentatively in June 2017. The help centres for WBJEE mock counselling will be open from 11 am to 5 pm on all working days. They will be available from May 15 to May 30 only. It is advisable for all candidates to go to the centre nearest to them and understand the process of choice filling, counselling and seat allotment for WBJEE 2017 as well as JEE Main 2017.

LATEST – WEBJEE 2018 will be conducted on April 22. Candidates can fill WBJEE application form here from December 19, 2017!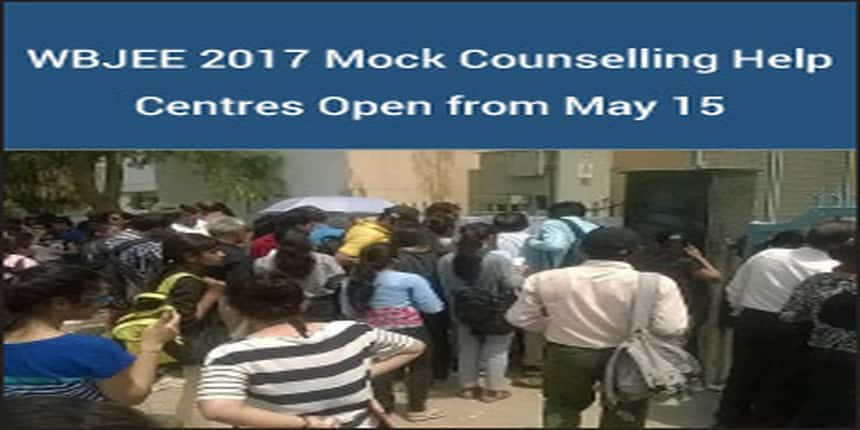 It is to be noted that these help centres for WBJEE 2017 mock counselling are to be used as awareness centres and in no way reflect the probable seat allotments that will take place through the counselling that will be held in June 2017
Dates for Mock Counselling of WBJEE 2017
Start Date : May 15, 2017

Last Date: May 30, 2017

Timings: 11 am to 5 pm on all working days
List of Help Centres offering WBJEE 2017 Mock Counselling
District

Name of Institution

Address

Landmark

Alipurduar

Falakata Polytechnic

Falakata, Dist-Jalpaiguri,  Pin -735  211, 

Phone (03563 )260642

Baganbari,

Kalimandir,  High

Road,  Birpara

Bankura, 

 

K. G.  Engineering Institute Bishnupur

Bishnupur College

Rd,  Bishnupur,  West Bengal

Pin – 722 122, 

Phone:0 324 4  252030

-

Burdwan

Golapbag,  Bardhaman -

Pin – 713 104, 

Phone:0 342  2658777

Golapbag

Durgapur Government

College

Jawaharlal Nehru A venue,

Durgapur-

Pin – 713 214,  Paschim

Bardhaman

Near MAM C

Asansol Govt.  Polytechnic

P. O.  South Dhadka,  P. S.

Asansol, 

Phone:0341  2270053 North Police Station,

Burdwan

Pin -713 302

North Asansol

Police Station

Birbhum

Bolpore College

Bolpore College Road,  School Bagan, Bolpur, 

West Bengal

Pin- 731 204,

Phone:03463 252290

Shantiniketan

Sree Ramkrishna Silpa

Vidyapith (Govt Polytechnic)

Suri,  Birbhum, 

Phone:03 46 2255571

Near ITI M ore,

Tilpara

Coochbehar

Harinchawra,  P. O.

Ghughumari,  Coochbehar

Pin- 736 170, 

Phone:0358- 2233044

Near Ghughu mari

BridgeDinajpur

Dinajpur

Balurghat B. Ed.  College

Dakshin Dinajpur

SH 10,  Mangalpur, 

Balurg hat,

West Bengal
Pin -7331 01, 

Phone – 0352 2271515

Opposite to Bharat

Sevashram Sangha

Raiganj Govt.  Polytechnic

Birnagar,  P. O.  Raiganj,  Dist. Uttar Denajpur, 

Pin -733 134,

West Bengal

Phone:03523 242410

Raiganj District

Hospital

Darjeeling

 

Darjeeling

Darjeelin g Govt.

Polytechnic

M  V Road,   Kurseong,

Darjeeling,   West Bengal,

734 203,

Phone:0354 2344434

New Parking area

 

University of North Bengal

Raja Rammohanpur,  P.O.

North Bengal University,  Dist. Darjeeling

Pin -734 0 13,

Phone:0353 2776313

 

Hoogly

12,  William Carey Roa d,

Serampore,  Hooghly

Pin -712 201,

Phone:033  26623156

Besides Serampore

College

Arambagh  A K P C

Mahavidyalaya

Subhash Nagar,  Bengai,

Arambagh,  West Bengal

Pin -712 611, 

Phone:03211  246235

Near Allahabad

Bank,  Bengai Br

Howrah

Howrah Uluberia College Uluberia,

 Howrah,  West

Bengal 711 315, 

Phone: 033 266 1 03 32

Near Uluberia Court

Institute of Engineering for

Junior Executive

Mahendra Bhattacharjee Road,  Dalalpukur P. O.  Santragachi, Howrah

Pin -711 104, 

Pho ne:033 26684561

Janbari dalalpukur

Jalpaiguri

P. O.  Jalpaiguri Govt.  Engg.

College, 
P. S.  Kotowali,

Jalpaiguri 735 102,

Phone: 03561 255131

Near Jalpaiguri Govt.

Polytechnic College

Kolkata

73,  A. C.  Banerjee Lane,

Kolkata-10, 

Phone:03 3  2370126 3

 

Plot 11, Block LB,  Sector III. Salt Lake City, Kolkata

Pin - 700 098

 

Chinghreegata,  NUJS

Jadavpur, 188,  Raja S.  C. Mallik Road,

Kolkata-700 032,  Phone:033 24146666

Near 8B Bus stand

Jadavpur University,  Salt

Lake Campus

Plot 8,  Sector III,  Salt Lake,

Kolkata 700  098, 

Ph: +9 133 - 24146666

Chingrighata Bus Stop

Malda

Malda Govt. Polytechnic

P. O.  Maliha, Dist.  Malda, Pin - 732  102,

 

Adjacent to Kendriya Vidyalaya

Medinipuri

Contai Polytechnic

Darua,  P. O -Contai,  Dist -

Purba  Medinipur, 

Pin -721 401

Contai Sub Divisional Hospital

Dr.  Meghnad Saha Institute of Technolog y,  Haldia

Kshudiram Nagar,  Haldia,

West Bengal 721631,

Phone:03224 253064

Haldia Municipality

Office

Vidyasagar University

Vidyasagar University  Road, Rangamati,  Paschim

Medinipur,  West Bengal

Pin - 721 102, 

Phone:032 2  276554

Vidyasagar University

Mursidabad

Berhampore 4, Cantonment Road,  P.O.  &

P. S.  Berhampore,

Murshidabad, 

Phone:03 482 250142

Barrack Square

Nadia

P. O.  & P. S.  Kalyani,  Nadia

Pin -741 235, 

Phone:0332 5821309

University of

Kalyani

Krishnagar Polytechnic

(BPC Instt.  of Tech. )

Haripada Chatterjee Road,

District Nadia,  Krishnagar,

West Bengal 741 101,

Phone:03472 272452

 

Purulia

Vill: A gharpur P. O. Ramamoti, P. S.  Joypur  Purulia -72 3 103,

Phone No.  9830656371

Chas Road railway

station

24 -Parganas

Diamond Harbour

Fakirchand College

Naiya Para,  Lalpole,  Diamond Harbour,  West Bengal - 743 331, 

Phone:0 3174  255230

Near Diamond

Harbour Rly.  Stn

A J C Bose Polytechnic Berachampa

P. O. –Devalaya,

Berachampa, 

24 Pgs. (N) –743 424,  Phone : (03216) 242227

Near Block

Development Office

Habra Sri Chaitanya College

NH-35,  Prafullanagar,  North 24 Parganas,  Habra,  West Bengal 743 268,  Phone: 032 16 237020

Habra Rly.  Gate No. 2

Tripura

Tripura Govt.  Womens'

Polytechnic

Hapania,  P. O.  Amtali via

Shekerkote, Agartala,  Tripura

Pin -799  130, 

Phone:0 381  2 376814

 
WBJEE counselling 2017: The actual counselling is scheduled to start in June 2017 after the declaration of the WBJEE result 2017 on June 5 tentatively. Once the results are announced, all qualified candidates will be invited to apply for the counselling which will consist of applying, choice filling, verification of documents, seat allotment and payment of fees for confirmation of seat followed by reporting to the allotted college.
Keep tuned to engineering.careers360.com for all the latest updates and news on
Get real-time alerts on exam & colleges at your fingertips with Careers360 App!
Click Here to Install or Give a missed call on 08080944727 to get app link.
Questions related to WBJEE
Showing 6581 out of 6581 Questions