Students of 202 VTU affiliated Engineering colleges to get free assessment from HireMee
Visvesvaraya Technological University (VTU) and HireMee have signed an MoU for free assessments of final-year students from 202 affiliated colleges, with a view to connecting them to talent seeking companies. The collaboration is likely to bridge the gap between recruiters and fresh graduates, especially in tier II and III towns, and urban areas. The coming together of VTU and HireMee will also abridge the gap between the graduating freshers and the industry, which is missing many of the rural 'diamonds' as the reach to remote parts of the country is just not easy.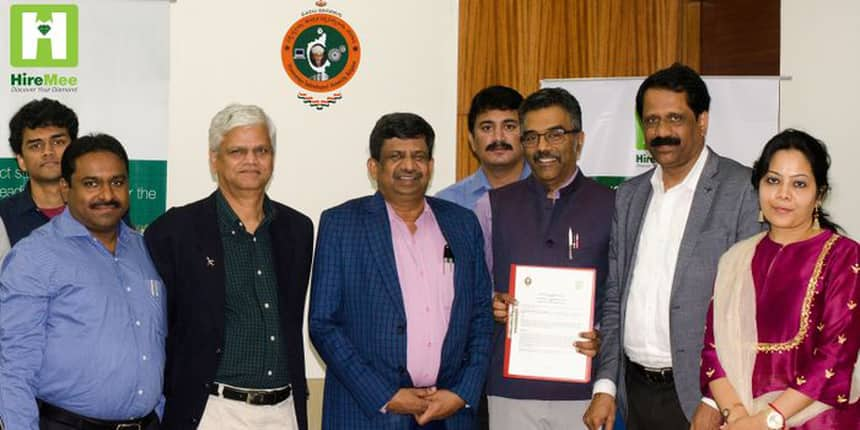 "As part of our CSR effort, HireMee will provide an opportunity to all students by connecting them to the right jobs. The goal is to help recruiting firms discover diamonds among students in rural and urban colleges without any cost to the students, recruiters or the colleges," says Chockalingam Valliappa, Founder, HireMee.
As part of the agreement, VTU will support HireMee in extending its services to all its affiliated institutions by increasing awareness about HireMee among the student community.
"HireMee teams will administer a 100-minute proctored computer-based test for graduating students on college premises using its proprietary assessment application. This will enable students to identify improvement areas, bridge the skills gap and to further their employability," says Prof Karisiddappa, Vice Chancellor, VTU.
The apex technical education regulatory body, All India Council for Technical Education (AICTE) has signed an MoU with some of the leading job portals like Monster and HireMee under which they will offer their web and mobile application to graduating students of over 11,000 AICTE accredited institutions in the country.
"By offering free assessment to a million students and pro bono recruiting services to 1000 companies this year, HireMee aspires to enable students to get 100,000 jobs this year," says Krishnan Kuppusamy, Chief Advisor, HireMee.
VTU is one of the largest technical education institution in the country with four regional centres located in Belagavi, Bengaluru, Kalaburagi and Mysuru. VTU is the first university in the country to adopt innovative steps in the examination reforms by adopting Digital Evaluation System in the year 2011-12 followed by online services like delivery of question papers to affiliated colleges (Question Paper Delivery System-QPDS) among others.
Questions related to VTU
Showing 149 out of 149 Questions