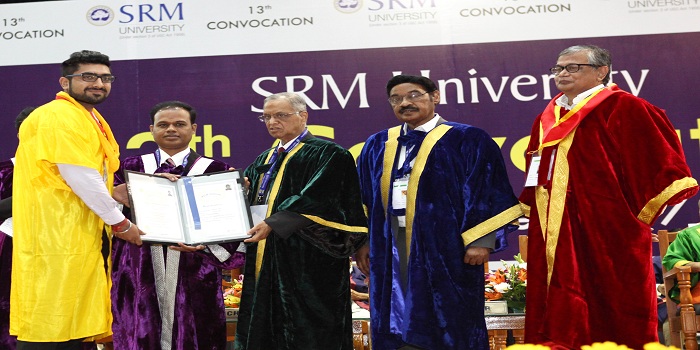 SRM University's 13th Convocation was held at the Kattankulathur Campus where Padma Vibhushan Mr. N.R. Narayana Murthy, Founder of Infosys was the Chief Guest. Speaking on the occasion, Mr. Narayana Murthy advised the graduates to develop their own ideas and innovate faster than their competitors as corporations are facing extreme competition in the face of the globalization and the pace of innovation is getting faster each day.
B.Tech Admissions Open 2019
SRM Institute of Science and Technology
Compare Colleges
College Comparison based on Courses, Placement, Rank, Fee
Compare Now
About 6150 undergraduates in all disciplines of the Faculty of Engineering and Technology and 47 Doctoral students received their degrees. More than 50 students were recognized for their academic achievements with awards of Gold, Silver and Bronze medals.
Citing the example of Mahatma Gandhi who walked the talk, won the trust, confidence and support of every Indian, Mr. Murthy called upon the students to focus on developing into able managers with crucial attributes such as leadership by example and no suspect value system. He further suggested that students should develop a strong value system by being open to new ideas, learning them and unlearning outdates ideas in the process. This would help energize people around them. He said that learning about new cultures, paradigms should be ingrained as age should not be a factor for learning and everyone should learn to question as the hierarchy of ideas is more important than that of men and women.
Mr. Narayana Murthy asked the graduates to embrace team work and hard work as well as to practice meritocracy and transparency in every one of their transactions. He said that performance which should be a mix of hard work, smartness, honesty and integrity would lead to recognition then  respect and finally power. The Infosys Founder also stressed on the need for good communication skills for it was important that others understood and that would be the key to their success.
A highlight of the event was the conferment of the Honorary Degree of Doctor of Science (D.Sc.) (Honoris Causa) on Padma Shri Dr. Sekhar Basu, Chairman, Atomic Energy Commission and Secretary, Department of Atomic Energy, Government of India. Dr. Basu maintained that he was receiving the Honorary Degree on behalf of all his colleagues.
In his welcome address the President of SRM University, Dr. R.P. Sathyanarayanan referred to Mr. Narayana Murthy as a "true inspiration" and the "Father of the Indian IT sector". "The Chancellor of SRM University, Dr. T.R. Paarivendhar presided over the Convocation.
More like SRM Institute of Science and Technology, Chennai
Questions related to SRM Institute of Science and Technology, Chennai