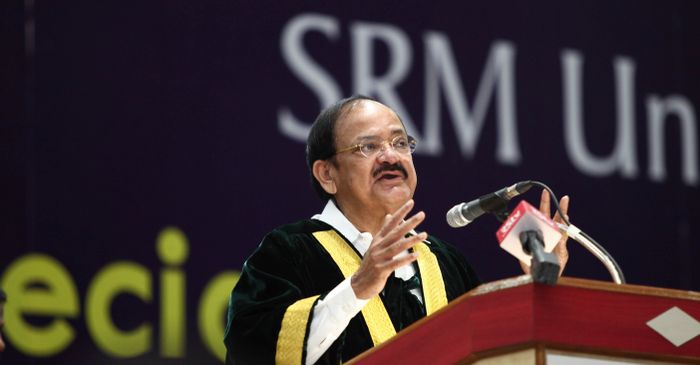 Vice President of India, Venkaiah Naidu addressed the young graduates during the SRM special convocation 2017. "You must have character, caliber, capacity, conduct and compassion. These five 'C's' are very important. Instead what we often see are three 'C's': caste, community and cash", said Naidu at the Kattankulathur campus of SRM.
B.Tech Admissions Open 2019
SRM Institute of Science and Technology
While congratulating the young graduates at SRM University, Naidu emphasized on the Indian higher education System and said that it is passing through a phase of unprecedented expansion. "Higher education in India is passing through a phase of unprecedented expansion marked by an explosion in the volume of students, a substantial expansion in the number of institutions and a quantum jump in the level of public funding. The enormity of the challenge of providing equal opportunities for quality higher education to ever-growing number of students is also a historic opportunity for correcting sectoral and social imbalances, reinvigorating institutions, creating new benchmarks of excellence and extending the frontiers of knowledge", opined the Vice President.
Compare Colleges
College Comparison based on Courses, Placement, Rank, Fee
Compare Now
During his speech, he highlighted on the fact that education is the one thing that mould the character and if does not mould it is absolutely worthless.
Speaking on the same lines, Governor of Tamil Nadu, Banwarilal Purohit said, "Tamil Nadu is a frontline state in higher education with an array of specializations and if people are making a beeline to this state it is because of the quality of education."
As many as 6000 diploma, under graduate, post graduate and doctoral students in various disciplines from the Faculties of Engineering and Technology, Science and Humanities , Medical and Health Sciences and Management received their degrees. About 185 students were presented Gold, Silver and Bronze medals for their academic achievements.
The guests of honor at the event were the Governor of Tamil Nadu, Banwarilal Purohit, and the  Minister for Higher Education of Tamil Nadu,  K.P. Anbalagan.
Earlier, SRM University conducted its 13th Convocation at the Kattankulathur Campus where Padma Vibhushan and Founder of Infosys, N.R. Narayana Murthy was the Chief Guest.
More like SRM Institute of Science and Technology, Chennai
Questions related to SRM Institute of Science and Technology, Chennai