SRM Sonepat organises 1st convocation ceremony; Vice President addresses students
October 29; NEW DELHI: SRM University Delhi-NCR Sonepat (SRMUH) conducted its first convocation ceremony on October 22, 2019, at Jawaharlal Nehru Stadium, New Delhi. Founder Chancellor, Shri T.R. Paarivendhar and Chancellor, Shri Ravi Pachamoothoo extended their invitation to the Vice President of India, Shri Venkaiah Naidu as the honoured guest for the ceremony. During the convocation, SRMUH conferred on the degrees to over and above 600 graduates from multiple branch of knowledge which includes nine doctorate holders from various fields of study.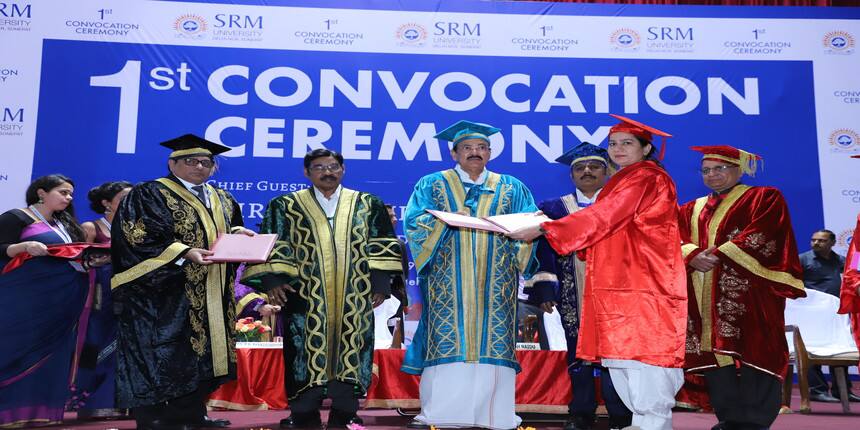 Latest: Fill SRMHCAT Application Form Below or Click Here
In his addressing speech, the Vice President accentuated on the need of private universities to contribute in the better higher education across India. Knowing the significance of healthy lifestyle, the guest of honor also requested the youth to participate actively in games and sports to evade the cause of non-communicable diseases (NCD). Referring to SRM University, Sonepat, Mr. Naidu enunciated his ideology on importance of private universities in India for better education, learning and research.
SRM, Sonepat grants admission in wide range of courses across disciplines of Science and Humanities, Engineering, Management, Law, Commerce and Hotel Management. Not only academics, SRM University Delhi-NCR, Sonepat, also prompts the sports achievers through Chancellor's scholarships as well as the Haryana Domicile scholarship programme.
With 4 universities, 7 campuses, 18 institutions, around 4500 teaching personnels and more than 70,000 students have set the stage for SRM Group of Institutions, which has extended over a period of five magnificent decades. Established in 2013 under the UGC Act of 1956 u/s 2(f), SRMUH has buld up a strong academic bonds with BCI (Bar Council of India), NCHMCT (National Council for Hotel Management and Catering Technology), DSIR (Department of Scientific and Industrial Research) and AIU (Association of Indian Universities).
SRM University, Delhi-NCR, Sonepat Updates and Articles
Questions related to SRM University, Delhi-NCR, Sonepat
Showing 38 out of 38 Questions