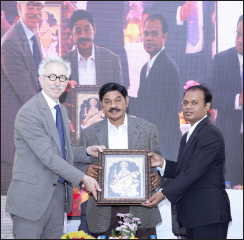 SRM-AP Amaravati academic programme for the year of 2017-18 has been inaugurated by Dr. TR Pachamuthu, Founder Chancellor, SRM University on Monday. The inauguration took place at the newly constructed premises in Neerukonda village in the capital region of Andhra Pradesh.

The inaugural session was attended by Dr. D Narayana Rao (Pro Vice Chancellor) along with the students and their parents. Professor Nicholas B Dirk, former Chancellor, University of California (Berkeley, USA), Professor MS Vijay Kumar from MIT (USA), Professor BVR Chowdari, Professor Prasant Mohapatra, Dean of Graduate Studies, University of California (Davis, USA) and other dignitaries were also present in the occasion.
Compare Colleges
College Comparison based on Courses, Placement, Rank, Fee
Compare Now
The University is the fourth one of the SRM Group, where about 65,000 students are pursuing various courses, according to to Dr. TR Pachamuthu. Among all the states that offered to set up SRM University, Andhra Pradesh was selected on account of the ample support provided by the state government. The University buildings were constructed in 150 days. Another important preference aspect was that most of the SRM students belong to Andhra Pradesh. This is accompanied by Dr. Pachamuthu's ambition to develop SRM-AP Amaravati as a world class educational institute. With a promise to create a right place for the students which has partnerships with prestigious foreign Universities, Dr Pachamuthu has requested the first batch of students to give their best effort to create the future image of the University.
Dr. P Satyanarayanan, Managing Trustee (SRM-AP Amaravati) also advised the students to develop their creativity with the support from the highly qualified and international faculty. The Senior Executive Director of Nanyang Technical University, Singapore, who was also present in the ceremony, has stated that the ties between Singapore and Andhra Pradesh have been improving and that the University is willing to have a partnership with SRM-AP Amaravati.
For the latest engineering news check engineering.careers360.com
Get real-time alerts on exam & colleges at your fingertips with Careers360 App! Click Here to Install or Give a missed call on 08080944727 to get app link
More like SRM University AP, Amaravati
Questions related to SRM University AP, Amaravati