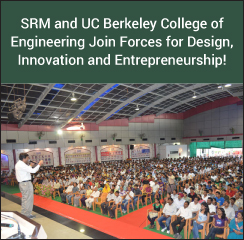 SRM University (Chennai and Amaravati) have announced their strategic partnership with College of Engineering, UC Berkeley. The two Universities have joined hands through global partnerships with the Dado and Maria Banatao Centre for Global Education and Outreach from Berkeley Engineering (GLOBE), the Sutardja Centre for Entrepreneurship and Technology (SCET) and the Jacobs Institute for Design Innovation. Bi-directional information exchange in the areas of engineering education, particularly in the areas of technology based entrepreneurship and design innovation will be done through the formed partnership.
Compare Colleges
College Comparison based on Courses, Placement, Rank, Fee
Compare Now
As quoted by Dr. P. Sathyanarayan, President of SRM University "We aim to bring a confluence of international ideas, technological innovation and social impact to the region. Thus creating an ecosystem of innovation for the entire cities of Amaravati and Chennai and building a second Bay Area".  The main aim of the strategic partnership between the two Universities is to study and practice "Technology-Centric" innovations which brings together technical depth, design methodology and a focus on societal impact.
The students and faculty will be deeply involved and also reap the benefits of this partnership. Faculty visits to the US for capacity building will be facilitated. Along with the faculty, the students will also be given an opportunity to spend a semester abroad to learn engineering at Jacobs Institute and SCET. Boot camps will also be organized for selected candidates. UC Berkeley will work towards providing support in design and development of courses to bring concepts of design thinking and innovation to SRM.
Dr. Shankar Sastry, Dean of Engineering at UC Berkeley has explained that the main focus will be on design and innovations which will lead to the creation of an environment for advancing knowledge in students that will impact a diverse society.           
Check https://engineering.careers360.com/ for more news about SRM University.
Get real-time alerts on exam & colleges at your fingertips with Careers360 App! Click Here to Install or Give a missed call on 08080944727 to get app link
More like SRM Institute of Science and Technology, Chennai
Questions related to SRM Institute of Science and Technology, Chennai