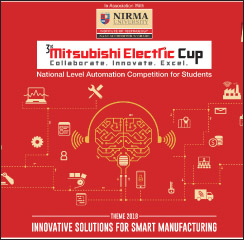 If you are crazy about innovation and engineering and also have the skills to match it, you now have the right opportunity to prove your mettle at the Mitsubishi Electric Cup. In its third edition, the competition seeks to give participants a much-cherished opportunity to mingle with industry giants, learn sraight from the horse's mouth what goes into the making of successful products, and the practicality of working in an innovation driven industry. During the competition, participants will be provided Mitsubishi Electric factory automation products. Using these products, the participant has to develop advanced models and devices independently. A total of 35 teams will be contesting for the top prize in the competition. Also, a participating institute can send a maximum of two teams only.
Speaking of the competition, Mr. Makoto Yokoyama, Director and Division Manager, Factory Automation and Industrial Division,  Mitsubishi Electric India, said that the company takes it as incumbent upon them to inculcate industry expertise and practical knowledge among the up and coming student community of today. This he believed will help the country produce better and more capable engineers in the future. He added that students can use the competition as a springboard to give wings to their innovative ideas,learn nuances of engineering and get technical expertise.
It may be mentioned that the national-level automation competition was held for the first time in 2016.
3rd edition of Mitsubishi Electric Cup: Quick Facts
Theme of the competition this year is Innovative Solutions for Smart manufacturing

The competition -Using automation products supplied by Mitsubishi, students have to independently design and craft a complete set of devices and models

A total of 35 teams will be selected for the competition

Participating institutes can send a maximum of two teams each

The competition seeks to build a bridge between budding engineers and the industry, and in the process encourage students to think out of the box

Being a team competition, it will also highlight the ability of participants to work seamlessly in tandem
Important Dates
Last date to register online and submit proposal: September 1, 2017

Annnouncement of Selected Teams: September 15

Dispatch of  Mitsubishi Electric FA hardware: September 30

Submission of Intermediate Report online: December 15

Final Competition: February 17, 17 - 2018
Stay tuned to engineering.careers360.com for more news and updates.

Get real-time alerts on exam & colleges at your fingertips with Careers360 App!
Click Here to Install or Give a missed call on 08080944727 to get app link.