NIT Trichy's E-cell organizes Ventura'18 to foster entrepreneurship & Innovation in India
The Entrepreneurship Cell (E-cell) of NIT Trichy is going to organize Ventura'18, an international business model competition for the budding entrepreneurs. The last date to register for the competition is November 30, 2017. Ventura'18 is a platform that will provide aspiring entrepreneurs to innovate, network, learn, grow and turn their dreams into reality. The event will be accompanied by the mentoring sessions by leading entrepreneurs, venture promoters; webinars and networking with resource providers. The winner of the competition will be awarded with prizes worth Rs 2 lakhs along with the resources worth of $1 million. With 225 colleges from 22 states participating year in year out, Ventura'18 is back with a stronger edition to revolutionizing the startup ecosystem.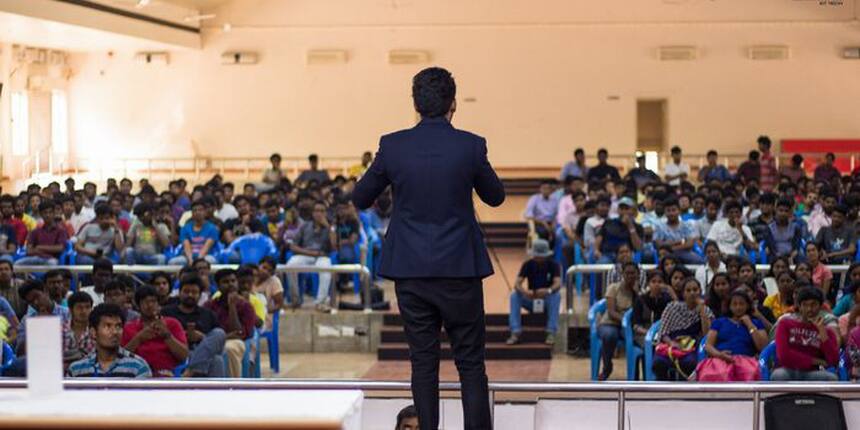 Speaking on the development, Arpit Agarwal, Principal, Blume Ventures said, "I've been in touch with NIT Trichy E-Cell for three years. I've seen that through successive batches they have worked very hard to bring together a set of high quality startups to the platform. As a result the events become very useful to participate as an investor. For the students on campus, presence of investors and high quality startups is inspiring. Ventura also allows budding entrepreneurs to interact closely with mentors and validate their ideas. I think it gives NIT Trichy entrepreneurs a great boost and I wish them all the very best."
What it offers?
Business Track: The 10th edition of Ventura'18 invites students with their startup ideas and give them an opportunity to present their products/services infront to leading venture capitalist (VC) and angel investors along with the one-on-one mentoring session with industry leaders.
Social Track: Apart from business opportunity, Ventura'18 will promote social entrepreneurship among students and recent graduates. Ventura along with Upaya Social Ventures and Sattva has introduced the 'Social' Track. Acording to their website, Ventura have extended their over 150 strong mentor network to cater to their new track, creating a platform for social innovations to access funding and resources.
Perks Budding Student Entrepreneurs will get:
Coverage of top ideas in leading media.

Comprehensive two month mentoring period (Product Development + Business Development) with industry experts and entrepreneurs for top 50 teams.

Social consulting support for the top startup in Social Track.

Free legal advice for top 15 teams.

Networking opportunity with India's most reputed VCs, entrepreneurs and angel investors.

Opportunity to secure incubation for their plans from the judges who visit the final round

A chance to pitch in Chennai Entrepreneurship Conclave to top VCs, and Angel Investors for top 50 teams.

Hasura- Free hosting and access to developer plans to help teams rapidly develop softwar

F6S- Access to Resources worth $1 million dollars for the winner

Gridle- A chance to win $1000 worth credit for team collaboration software

Digital Ocean- A chance to access free credits on the Digital Ocean cloud hosting platform

iCreate- Best ideas from breakthrough receive an opportunity for investment from the Spark up Idea fund for up to Rs.50,000 from iCreate, a leading Startup Incubator in Ahmedabad\

Balsamiq- Discount and free access to the leading international wire framing and prototyping app

JustVideos - Video Promotion services for your startup
Mentors of Ventura'18:
1. Adarsh Natarajan, CEO, Aindra Systems
2. Arun Venkatesh, CTO, Villgro Innovations
3. Ashish Sharma, CEO, Paysense
4. Bipin RR, VP and Head, Digital ServicesTata Elexsi
5. Deepak John, CEO, PupaClic
6. Mrinal Kumar, COO, Navriti Technologies
7. Namrata Chauhan, Fintech Lab lead, Virtusa
8. Naveen Balani, IOT and Cognitive Leader, Accenture
9. Vipul Kumar, Global director, Ennovent
10. Arpit Agarwal, Principal, Blume Ventures
11. Shanti Mohan, Founder, LetsVenture
12. Priyanka Mohanty, Associate, IDG Ventures
These kind of events boost the moral of a student and encourage them to turn their dreams into reality. 
NIT Trichy Updates and Articles
Questions related to NIT Trichy
Showing 1414 out of 1414 Questions