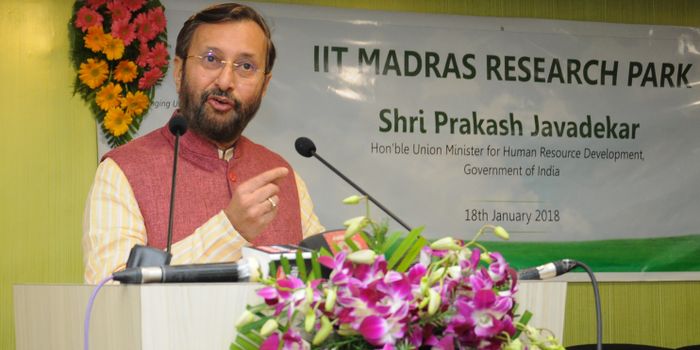 The Minister of Human Resource Development (MHRD) will constitute a committee to look into the working of research parks established at the Indian Institutes of Technology (IITs).
The Union Minister for HRD, Prakash Javadekar while inaugurating new facilities at the IIT Madras Research Park said, "The IIT Madras Research Park is a modern temple, which will guide the society for years together. The IIT Madras Incubation Cell and Research Park is a real collaboration between Industry and Academia."
Compare Colleges
College Comparison based on Courses, Placement, Rank, Fee
Compare Now
"We've provided funds for several IITs to set up such research parks. We'll set up a committee to ensure the efforts of IIT Madras is replicated everywhere else," he said.
Admissions Open Now
MIT World Peace University- B...
Admissions open for B.Tech at MIT World Peace University
Apply
"Industry-Academia collaboration has been talked about a lot but here it is being done effectively. There are startup companies, innovators and corporates in an ecosystem of innovation. They're enthused by the innovation of others in this ecosystem," Javadekar said.
Home to India's first university-driven research park, the research park at IIT Madras is modeled along the lines of successful research parks found in top institutes like Stanford, MIT and Harvard.
Javadekar said that Incubation Cells, like the one at IIT Madras, are the real key to 'Make in India.' Encouraged by the success of the IIT Madras experiment, many Indian companies and universities are now starting to fund research in India rather than funding research abroad. The Minister also lauded the facilities at the IIT Madras Research Park, which was completely eco-friendly.
The HRD Minister said, "We're having a big campaign of 'Smart Campus,' which aims to 'Save, Conserve and Recycle Water' besides 'promoting water harvesting.' The objective of research being done at such premier institutes is to carry out 'Relevant Research.' The second aspect of this Smart Campus is 'Save and generate electricity.'
The research park at IIT Madras seeks to catalyze collaborative research between industry and academia and enable technological innovation and nurture entrepreneurship. It houses the R&D and innovation wings of industry majors engaged in collaborative research and technology transfer with the faculty.
Speaking on the occasion, Prof. Bhaskar Ramamurthi, Director, IIT Madras, said, "The research park is a game-changer for the faculty and students of IIT Madras as well as the companies collaborating with us. The alchemy created by the coming together of faculty, students and professionals from industry has led to many disruptive innovations, exemplified by the award-winning start-ups emerging from the Incubators at the research park."
Prof. Ashok Jhunjhunwala, Faculty-in-charge of IITMRP, and Principal Advisor, Ministry of Railways, Government of India, gave a presentation on the research park and its achievements since its inception. He also outline its future plans.
"An important component of the eco-system to make India a nation which designs, develops, owns, manufactures and commercializes products, will be undertaken at the university-associated Research Parks (RPs). These research parks could take the industry-academia interaction to a new height," he added.