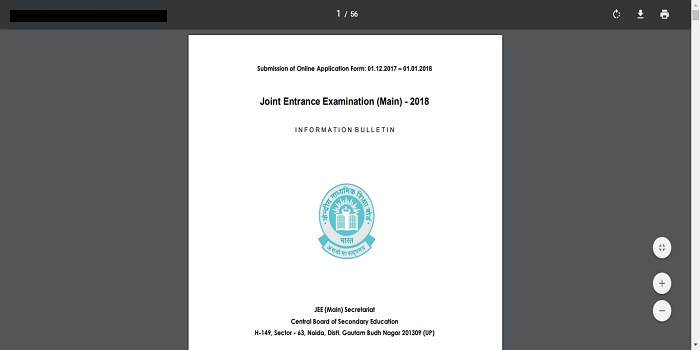 The JEE Main 2018 brochure was released on November 22, 2017 by CBSE. The complete JEE Main schedule along with relevant information has been announced with the CBT dates announced as April 15 & 16. The admit card of JEE Main will be available for download from the second week of March. Earlier the pen and paper based test date was announced as April 8, 2018. Answer Keys of JEE Main 2018 will be available from April 24 to 27, 2018. The JEE Main result 2018 will be declared on April 30 for Paper I while the result for JEE Main 2018 Paper II will be declared on May 31. Candidates can check the complete details of JEE Main 2018 below along with the detailed date schedule, salient features and also access the brochure here.


CBSE has failed to incorporate the additional 4000 candidates who are now eligible for JEE Advanced 2018 in its information bulletin of JEE Main 2018. This year, IIT Kanpur has announced that an additional 4000 students will be eligible to appear for JEE Advanced 2018 making the total number of eligible applicants to 2,24,000 from the 2,20000 in 2017.


The application process will start from December 1, 2017 when candidates can register themselves for the entrance test. The last date for JEE Main 2018 registrations is January 2 and the last date to pay the fees is January 3, 2018. A correction window may be provided for mistakes but the dates for that are not yet declared. The offline exam will be held on April 8 and the CBT on two days- April 15 & 16, 2018. The JEE Main 2018 admit card will be available for download from the second week of March. Candidates who appear for the exam can check the JEE Main answer key 2018 from April 24 to 27. The JEE Main Result 2018 for Paper I will be announced on April 30 while Paper II result will be available on May 31, 2018


What's New in JEE Main 2018?
The number of JEE Main 2018 exam centres have been increased to a very large number of 258 centres inclusive of those outside India as compared to 113 in 2017. The total pen & paper based centres are 111 and CBT centres are 258. The number of test centres outside India has seen an increase of 1 centre from 9 to 10 with Qatar being the latest entry.

Scanned image of Parent's/ Guardian's Signature must be uploaded as specified.

CFTIs participating in JEE Main 2018 have increased by 3 making the count to 23
Salient Points of JEE Main 2018:
Aadhaar card is mandatory for all candidates except for students from J&K, Assam & Meghalaya who have to give details of their passport number, ration card number, bank account number or any other valid Govt. identity number.
While all exam centres will have the JEE Main 2018 question paper in English or Hindi as per the candidate's choice, the students appearing from Examination Centre Cities in Gujarat, Daman & Diu and Dadra and Nagar Haveli have the additional choice of appearing for the paper in Guajarati.


The application fees are the same. Payment mode is through Debit/Credit card or Echallan.


The JEE Main Eligibility Criteria 2018 specified have to be met by candidates to be able to appear for the exam. Candidates are advised to look up the detailed eligibility criteria of JEE Main 2018 before applying.


JEE Main Application Form 2018 – Candidates must register. Aadhaar card details have to be entered in and will be matched before candidates can fill the application form. They have to also upload a recent passport size photograph and signature as specified. Next the payment of the application fees has to be done. Candidates whose application fees are received will be able to print their JEE Main 2018 confirmation page.