JEE Main 2018 Application Form - Facility to remove discrepancy in uploaded images available now
CBSE today, December 8, activated the facility whereby candidates who have filled the JEE Main 2018 application form can remove any discrepancy in uploaded images, which includes photograph and signature of the candidate and parent/guardian. For making corrections to the uploaded images, the candidate has to go to the image-correction portal and log in using their JEE Main 2018 log-in credentials like application number and password. JEE Main applicants who have incorrectly uploaded their images when filling the application form are urged to make the necessary corrections, as otherwise their applications will be rejected. The competent authority hasn't yet announced until when the discrepancy removal facility will be available; the information will be updated on this page once and when it is announced.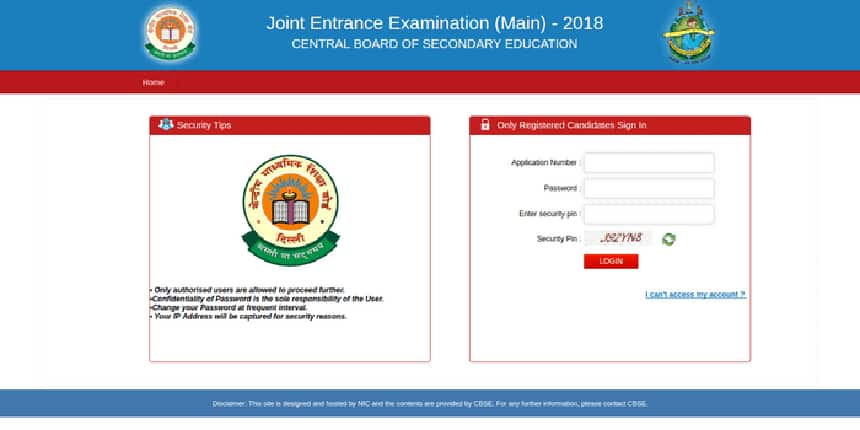 Check the step-by-step process to remove discrepancy in uploaded images:
To remove discrepancy in the uploaded images of JEE Main 2018 application form, the candidate must follow the step-by-step sequence listed below.
Step 1: Go to JEE Main 2018 home page and click on "Remove Discrepancy in Uploaded Images" tab
You will be redirected to the image dicrepancy removal log-in page.
Step 2: Log-in to the Image Discrepancy Removal Portal
The candidate can log-in to portal using the following details
JEE Main 2018 Application Number

Password

Security pin displayed on screen
Step 3: Click on Step 2 under Application Progress Form
Upon successful log-in, the candidate will be taken to a page that will have Three Steps – Step 1, Step 2, Step 3, below the Application Form Progress section.
You need to select Step 2 ( View Scanned Images tab) to access the "Edit Upload Images" option
Step 4: Edit Uploaded Images
The candidate has to next click on the "Edit Upload Images button" which will display the scanned images uploaded by the candidate at the time of filling JEE Main 2018 application form.
-->
Candidate Photograph

Candidate Signature

Parent/Guardian Signature
The candidate needs to select the image he/she wants to edit, and replace it with a correct one.
Step 5: Click on Submit after making the corrections. 
To remove discrepancy in the uploaded images  - Click here
The application form of JEE Main 2018 opened on December 1, with the last date for submitting completed application form being January 1. The application fee though can be filled till January 2. 
Questions related to JEE Main
Showing 112258 out of 112259 Questions