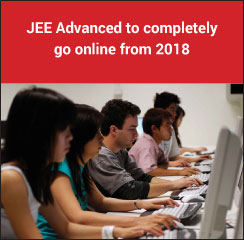 Joint Entrance Examination (JEE) Advanced, the entrance test for admission to Indian Institutes of Technology (IITs) will be conducted in online mode from 2018. As per a report by The Indian Express, JEE Advanced 2018 will be conducted by IIT Kanpur, while in the year 2019, the national level engineering entrance test will be held by IIT Roorkee. However, official confirmation on which IITs will conduct the test for 2018 and 2019 is awaited. The decision of conducting the test in online mode has been taken recently in Joint Admission Board (JAB) meeting held at Indian Institute of Technology (IIT) Madras on August 20. However, apart from the examination going completely online, no other details related to the national level engineering entrance test are known yet.
JEE Advanced Sample Paper
Download Free Sample Paper for JEE Advanced
Download Now
In a written reply to Careers360, IIT Madras Director and Chairman, Joint Admission Board (JAB), Professor Bhaskar Ramamurthi has confirmed that JEE Advanced 2018 will be held in online mode. According to Prof. Ramamurthi,"The Apex Body for conduct of JEE Advanced, at its meeting on August 20, has decided that the examination will be conducted in online mode from 2018 onwards. Further information regarding the examination will be provided by the JAB in due course."
JEE Advanced has been conducted in offline mode every year for IIT admissions.2018 would be the first year when the entrance test would be held in online mode.
The decision of making JEE Advanced online will have its advantages for the candidates as well as for the test conducting authorities. With the online exam, printing of papers is not required, which further reduces the chances of printing errors. For candidates, changing their answer options would also be easier, which was a challenge in OMR sheet. The move may also lead to an early declaration of the result.
In 2017, JEE Advanced was held in offline mode on May 21. Paper I of the test was held from 9 am to 12 pm, while Paper II was conducted from 2 pm to 5 pm. As per Professor Prem B. Bisht, Organizing Chairman, JEE Advanced 2017, as many as 1,59,540 candidates had taken JEE Advanced 2017 whereas 2,20,000 were eligible. Out of the total candidates who had taken the test, as many as 50,455 candidates had qualified the entrance test and made it to the rank list across all categories.
Out of the total qualified candidates for IIT admissions, 43,318 were male, while 7,137 were female candidates. This means that out of the total qualified candidates, 86% were boys and 14% were girls. In the list of successful JEE Advanced 2017 candidates, 23,390 were from General Category, 9,043 from OBC-NCL, 13,312 from SC and 4,710 were from ST Category. Apart from this, 7 candidates qualified in foreign category.
Also read:
JEE Advanced 2017 Post Result Statistics: 22% eligible candidates skip registration
Keep tuned to engineering.careers360.com for more updates on JEE Advanced 2018.
Get real-time alerts on exam & colleges at your fingertips with Careers360 App! Click Here to Install or Give a missed call on 08080944727 to get app link
Questions related to JEE Advanced
Related E-books and Sample Papers