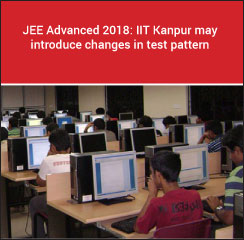 IIT Kanpur, which is the exam conducting authority for Joint Entrance Examination (JEE) Advanced 2018 may do away with the existing exam pattern which carries only Multiple Choice Questions (MCQs) in the national level engineering entrance examination for IIT admission. After the official announcement that JEE Advanced will be conducted in online mode by IIT Kanpur in 2018, it is reported that the paper of JEE Advanced 2018 may include short-answer type questions too. Till 2017, the JEE Advanced question paper had MCQs with either single or multiple correct answer options wherein the candidates had to shade the correct answer bubbles in the Optical Response Sheet. However, from the academic year 2018-19, the pattern may incorporate new type of questions.
JEE Advanced Sample Paper
Download Free Sample Paper for JEE Advanced
Download Now
A Times of India report quoted a JAB official saying, "Since there is no order about framing questions in a particular way, question-setters will be at liberty to introduce a variety of questions, breaking trends. Examinees will be required to think harder, and not just rely on techniques or memorisation to crack the questions. Concept-based questions will increase and the question pattern will change."
Apart from the change in type of questions, to address the fear or difficulty which rural candidates may have in taking the test online or accessing computers, a sub-committee has been set up which will reportedly release mock test a week before JEE Advanced 2018. The purpose would be to make the rural candidates acquainted with the new test pattern. More details about the changes in exam pattern are yet to come out in the due course of time. 
Earlier, Careers360 had reported that JEE Advanced 2018 will be held in online mode. The decision to conduct the test in online mode was taken recently in Joint Admission Board (JAB) meeting held at IIT Madras on August 20.
In a written reply to Careers360, IIT Madras Director and Chairman, Joint Admission Board (JAB), Professor Bhaskar Ramamurthi has confirmed that JEE Advanced 2018 will be held in online mode whereas so far, JEE Advanced has been conducted in offline mode every year for IIT admissions.
JEE Advanced 2017 was conducted on May 21 in offline mode. As per the Organizing Chairman of JEE Advanced 2017, a total of 1,59,540 candidates had taken JEE Advanced in 2017 out the total 2,20,000 candidates who were eligible. Out of the total candidates who had taken the test, as many as 50,455 candidates had qualified the entrance test. The total qualified candidates included 43,318 male and 7,137 female candidates. In other words, the total qualified candidates included 86% boys and 14% girls.
Keep tuned to engineering.careers360.com for more updates on JEE AdvancJEE Advanced 2018: IIT Kanpur may introduce changes in test patterned 2018.
Get real-time alerts on exam & colleges at your fingertips with Careers360 App! Click Here to Install or Give a missed call on 08080944727 to get app link
Also read:
JEE Advanced 2017 Post Result Statistics: 22% eligible candidates skip registration
Questions related to JEE Advanced
Related E-books and Sample Papers