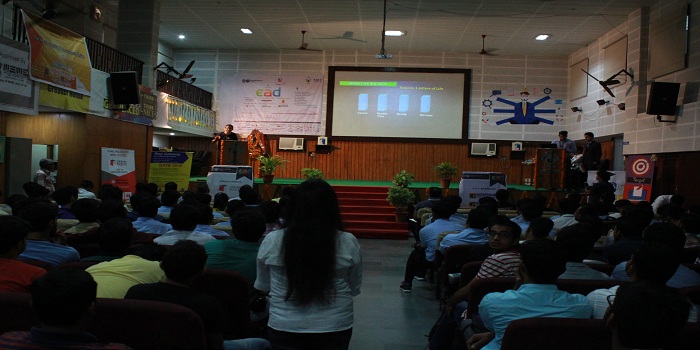 The Indian Institute of Technology (IIT) Kharagpur in association with Noida Institute of Engineering & Technology, Greater Noida organized the ninth edition of Entrepreneurship Awareness Drive (EAD) at Greater Noida in order to stimulate the spirit of entrepreneurship and encourage students to embrace the idea of starting their own venture. This is one of the most massive flagship events undertaken by the Entrepreneurship Cell, IIT Kharagpur and is a one of its kind initiative held in 22 cities across the nation.  EAD provides a varied range of past experience of entrepreneurs, who have faced same difficulties, and yet overcame them to become one of the iconic figures in their arena. The event was an insight about how a student could get through the difficulties of being a real entrepreneur. The event saw a participation of over 1000 students coming from various colleges across the city. 
Compare Colleges
College Comparison based on Courses, Placement, Rank, Fee
Compare Now
The Entrepreneurship Awareness Drive, conducted by the E-Cell, IIT Kharagpur, is an annual event held to reinstate the spirit of Entrepreneurship among the college students of India. Starting from 10 cities and 15,000 students it has grown exponentially to 23 cities and over 30,000 students in its 8th edition held in 2016. And the impact of this very Drive can be understood through the number of college-student-startups that participate in the annual global business model competition, Empresario which is conducted by E-Cell itself.
Raman Batra, EVP, NIET said, "NIET proudly acclaims to nurture the ideas and startup plans from our own as well as from off the campus students through ideation camps wherein the best ideas are awarded with prize money and an invitation to incubate their idea at our in-house Incubation Centre."
From the talk given by celebrated entrepreneurs and industrialists like Manmohan Gupta, C-Founder of Naggaro Software and Vidyamandir Classes & Coding, Sourabh Sharma, AVP (Products), Paytm, Nakul Pasricha, President & CEO, PharmaSecure, and many more, the startup enthusiastic students could realize that a real entrepreneur is one who does not just dream or wait for the opportunity to knock the door; rather he/she builds the door. Manmohan Gupta shared his views on "Understanding Entrepreneurship", whereas Nakul Pasricha discussed about "Accidental Entrepreneurship" which was extremely interesting for the enthusiastic audience. A panel discussion on the topic of "A SECURE JOB VS A RISKY STARTUP" gave the students an insight on entrepreneurship.
Questions related to IIT KGP