GATE 2018 Mock Test Released !
IIT Guwahati has released the GATE 2018 Mock Test for all the 23 papers. Candidates who will be appearing for the entrance exam to be held on February 3, 4, 10 & 11, 2018 can now use the mock test of GATE to practise and perfect their exam preparation. The entrance exam which is conducted for 23 papers will be held in the online mode in two sessions per day – one in the forenoon and one in the afternoon. Candidates can use the virtual calculator that is part of the test system for performing any calculations. The admit card of GATE 2018 can be downloaded by candidates through GOAPs from January 5 onwards. Check the latest updates and details of the GATE mock test released by IIT Guwahati.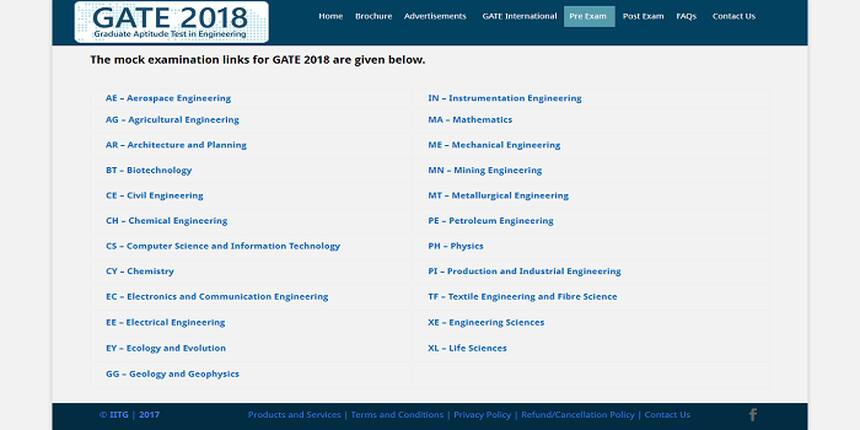 To check GATE 2018 Mock Test click here
Salient features of the GATE Mock Test:
The mock test has been released for each of the 23 papers. Candidates can just click and use the GATE 2018 mock test for the paper they have applied for.
The mock test is an exact replica of the actual GATE 2018 test.
The GATE mock test is for 180 minutes and carries questions for 100 marks.
There is the facility of the inbuilt virtual calculator as well as the timer just like the actual exam
Candidates may note that there is no login for the mock test of GATE. Candidates just need to click on the login and press enter to start the test
Advantages of the mock test of GATE 2018
Candidates can get an idea of the GATE 2018 exam environment with the help of the mock test.
They can also use the virtual calculator to get an idea of its working
They can know and understand the instructions as well as the working of GATE system
Mock tests will create a familiarity with the exam such that candidates will feel comfortable on D-Day
GATE 2018 Exam Pattern - It is important to understand the GATE 2018 exam pattern before attempting the exam. A better performance is the outcome if candidates prepare and understand all aspects of the entrance exam. GATE will be held for 3 hours with a mandatory section of General Aptitude and the paper chosen by the candidates. The paper will be for 100 marks with multiple choice questions and numerical answer type questions. Questions will be for 1 mark as well as 2 marks. There will be negative marking.
GATE Syllabus 2018 - Candidates can refer to the syllabus of GATE officially announced by IIT Guwahati. The syllabus had been announced separately for each paper. The GATE syllabus for General Aptitude which is mandatory for all papers had also been announced.
In addition to the mock tests, candidates must also use the past year question papers as well as the GATE sample papers to hone their preparation.
Questions related to GATE
Showing 15338 out of 15338 Questions