Focus on NCERT concepts for preparations; says JEE Main 2020 Topper Akhil Jain
"The most successful people in the end are those whose success is the result of steady accretion" - Akhil Jain the JEE Main topper from Rajasthan is a clear example of how one can conquer any milestone if they have eyes on the goal and hard work is their path to success. The 18 year boy is one among the 9 students who scored 100 percentile in the JEE 2020 examination conducted by the National Testing Agency (NTA) from January 6 to 9. Akhil is not the one who runs at a higher pace, instead, he believes in moving slowly but concretely from one stage to another. In the era of modernisation, where the youth is fascinated towards the social media, Akhil Jain, one of the toppers of JEE Main 2020 January session has prefered books over social media. Currently, he has decided to only focus on JEE Advanced, which will be held on May 17, rather than celebrating the JEE Main January 2020 success. JEE topper Akhil Jain will also be appearing for BITSAT 2020, which will begin from May 16 to 25.
Stay up-to date with JEE Main News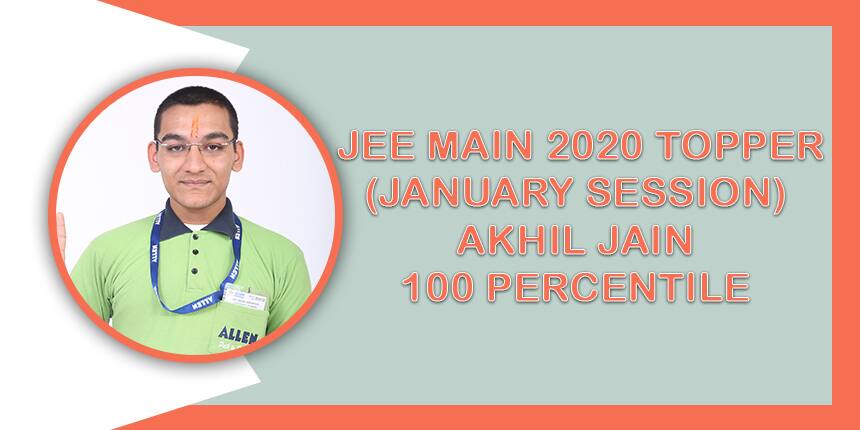 Coming from a business family, the Kota topper is the first from his family to pursue engineering as a career. Jain is a scholar from his school life and remained topper throughout his academic careers. It is his love for Physics and Mathematics that inclined him towards engineering. Earlier, he wanted to become a scientist but later it was shifted towards engineering. For students facing problems in balancing their preparations for both Boards and JEE Mains, in his interview Jain said that, "There is not much difference between the preparations of both these exams. You need to thoroughly read NCERT books. The only difference is that JEE preparation demands more in-depth reading and analysing". Alike experts, Akhil advised every upcoming JEE aspirant to read NCERT thoroughly for the preparations.
It should be noted that the JEE Main April session will be conducted on April 5, 7 to 9 and 11, 2020. JEE Mains registration for April sessions will begin from February 7 to March 7, 2020.
Questions related to JEE Main
Showing 126241 out of 126241 Questions