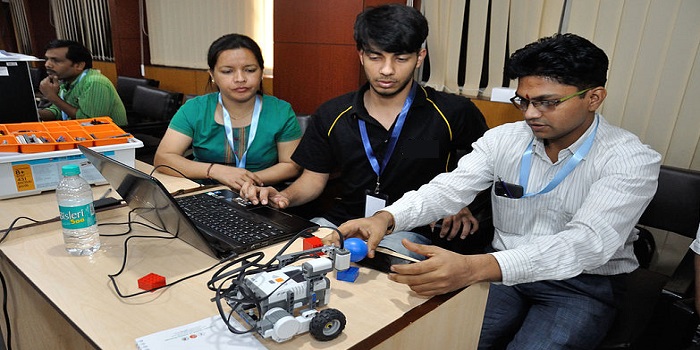 In order to improve quality of education, especially in the backward areas of the country, here comes another step from the Governments end. The Ministry of Human Resource Development (MHRD) has announced that they have recruited more than 1200 highly qualified and motivated graduates from India's premier institutions, i.e, IITs, and NITs to teach in engineering colleges.
Speaking on the development, Prakash Javadekar, Minister for Human Resource Development, Government of India said, "These bright minds will bring with them the openness to innovation, new methods of teaching and enthusiasm to serve and act as agents of change. This initiative will help meet the aspirations of youth in the backward areas and fulfill the vision of Prime Minister."
Javadekar further highlighted in his tweet that these selected graduates will be teaching in engineering colleges for next 3 years.
More than 1200 smart grads from IITs/NITs going to teach in engineering colleges in poor districts for 3 years!! #idealism @HRDMinistry is committed to PM @narendramodi 's vision of bringing in a quantum jump to quality of education our country. #Antyodaya #NewIndia pic.twitter.com/ZKZGRydDCL

— Prakash Javadekar (@PrakashJavdekar) January 31, 2018
These young graduates will teach in the States/UTs like Andaman & Nicobar, Assam, Bihar, Jammu & Kashmir, Madhya Pradesh, Odisha, Jharkhand, Chhattisgarh, Tripura, Rajasthan, Uttar Pradesh, Uttarakhand etc.
How Are Teachers Selected By Government?
A public appeal was given to the M.Tech and PhD students from the premier institutions to express their willingness to work in these backward areas and serve the nation. And Government has received an overwhelming response to the call. More than 5000 highly qualified persons applied for the post. The interviews were conducted in 20 NITs by constituting expert teams.
The entire process of giving a call and selection has been completed through a competitive and rigorous process of selection done by NITs in a record 2-month period. Finally, 1225 candidates were selected and they have joined 53 colleges in these states.  The new faculty will train the youngsters in the host of technical institutions for the next 3-years.
Profile of the teachers selected
24% of them are PhDs (in most of these institutions, so far, there are NO PhD teachers)

Due to PAN India selection, the selected faculty are coming from 369 districts of 26 states, bringing an All India character to these backward colleges.

(115) of these best faculty are going to (7) Aspiring Districts.
What Will These Graduate Gain?
Apart from serving the nation, each of the new faculty will be paid Rs. 70,000 per month. Not only this Government is planning to spend about Rs. 375 Cr in 3-year period on this initiative. With this measure, more than 1 lakh engineering students in the most backward areas would be benefited with better quality education.
Why Is this Initiative A Must Needed One?
With the surge of internet and smartphone penetration, students residing in the backward region of the country are still lacking behind in terms of good quality of education. Not only this, institutions in these regions have vacancies of teaching faculty (some of them have 40% vacancies). This initiative will not only help these institutions to find refined teachers to impart technical knowledge to students but also help graduates to get employed.
Also, apart from promoting a startup culture among students, these newly appointed teachers will contribute to the entire educational ecosystem of the backward areas.
TEQIP Project- To Improve Quality of Engineering Graduates
MHRD started the Technical Education Quality Improvement Project (TEQIP-III) for improving the quality of engineering graduates at a cost of Rs. 2,300 Cr to be implemented in 3-year period till 2020. The focus is on the most-backward states like Jharkhand, Chhattisgarh, Bihar, North-East, Rajasthan, MP etc.
Under this project, all the Government engineering colleges are selected for direct intervention, and all private engineering colleges are selected for indirect intervention.
Measures Included in TEQIP Project
Institution-based: Accreditation of the courses through NBA, governance reforms, improving the processes, digital initiatives, securing autonomy for the colleges.
Student-based: Improving the quality of teaching, teacher training, equipping the classrooms, revision of syllabus, industry interaction, compulsory internships for students, training the students in industry-relevant skills, preparing them for the GATE exam etc.
State-wise Details of Faculty
| | | | |
| --- | --- | --- | --- |
| S.No | State of the Institute | Count of faculty joined | No. of Institutes |
| 1 | Andaman and Nicobar | 2 | 1 |
| 2 | Assam | 55 | 5 |
| 3 | Bihar | 210 | 7 |
| 4 | Jammu and Kashmir | 63 | 2 |
| 5 | Jharkhand | 191 | 6 |
| 6 | Madhya Pradesh | 194 | 7 |
| 7 | Odisha | 65 | 4 |
| 8 | Rajasthan | 301 | 11 |
| 9 | Tripura | 15 | 1 |
| 10 | Uttar Pradesh | 32 | 2 |
| 11 | Uttarakhand | 97 | 7 |
|   | Total | 1225 | 53 |