Bennett University showcases technical capabilities to assist MSMEs for Make in India initiative
Bennett University' office of development organized an engineering project showcase for MSME Institute on Feb 7, 2020 at its campus in Greater Noida. The Project showcase was organised by School of Engineering and Applied Science (SEAS) and displayed 26 innovative projects across Biotech, Computer Science, Electronics, Physics, Chemistry and Mechanical domains focusing on applications in healthcare and agriculture.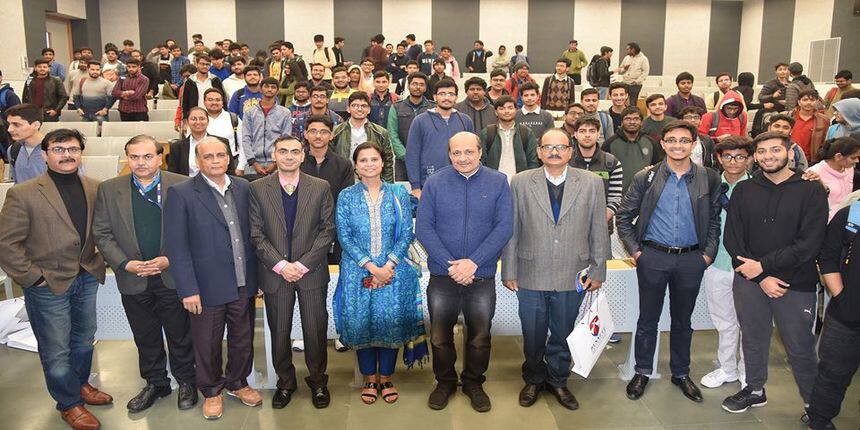 MSME director, Mr. Vijay Kumar visited BU campus and reviewed the research funded projects currently underway. In his career span of 30 years, Mr. Kumar has taken the onus of enhancing the innovative capacity of the MSMEs for growth of the economy. During his visit to BU, Mr. Vijay Kumar met Vice Chancellor Dr. Raghunath K. Shevgaonkar, President Mr. Sachin Jain, Dean, Research & Consultancy Dr Rajendra Chauhan and HoDs of School of Engineering and Applied Sciences. Mr. Kumar interacted with the students and was deeply impressed by the level of research happening at BU.
Mr. Vijay Kumar shared, "Labs are an integral part of an academic institution and Bennett University possess world-class infrastructure of labs of Mechanical, Electronics, Biotechnology, Physics & Chemistry etc. to create an ideal environment for students to understand the practical concepts including design and development of projects and ideas. MSME-DI, New Delhi, Ministry of MSME, GOI will extend all Technical, Financial & Academic assistance to Bennett university for all the projects undertaken by them in Design Innovation & Development of MSMEs located in nearby areas like Ghaziabad, Gautam Budh Nagar and Delhi".
MSME sector forms the backbone of economic progress and development of the Indian economy because of its contribution to industrial productivity and employment generation. MSME industries constitute an important segment of the economy in terms of employment generation and as a source of foreign exchange earnings through exports.
One of the biggest issues faced by MSMEs is assistance on areas such as technical know-how, prototyping, testing, business model etc. To support the MSMEs for such requirements besides fostering Government-Industry-Academic collaborations, MSME Institute has taken a unique initiative to connect MSMEs with academic institutions like Bennett University so that Universities can assist MSMEs as academic and technical know-how partners. MSME Institute also feels that such collaborations will accelerate commercialization of research done at academic institutions as interested MSMEs can set up business ventures based on research done at academic institutions. Lastly, for academic institutions, such opportunities will provide on-the-shop floor experience to students to work on real-life problems thereby enhancing their skills and employability.
Bennett University, Greater Noida Updates and Articles
Questions related to Bennett University, Greater Noida
Showing 134 out of 134 Questions