Will MHT CET 2020 be postponed again?
Maharashtra Higher and Technical Education Minister Uday Samant has announced that MHT CET 2020 is postponed till further notice, new exam dates to be announced soon. Uday Samant informed the students through his official twitter account about MHT CET 2020 postponement. Students preparing for MHT CET 2020 exam were continuously raising queries regarding the postponement of the exam. MHT CET 2020 admit card was not yet released and the exam was scheduled on various dates in July to August, beginning July 4. Students now have answer to their question, Will MHT CET 2020 be postponed again in view of the rising coronavirus cases in Maharashtra and all over the country. As students are continuously requesting MHRD minister Dr. Ramesh Pokhriyal and Maharashtra CET Cell to postpone the exam, MHT CET 2020 has been postponed till further notice.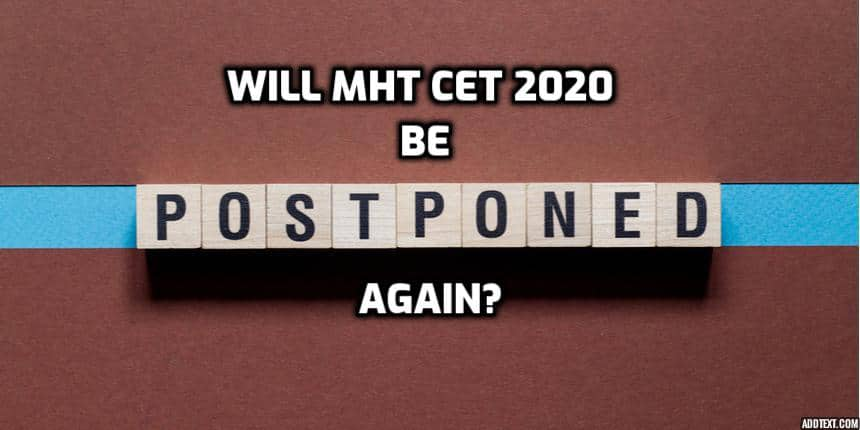 Maharashtra is the worst hit state and situation is nowhere to improve in near future. Students are much in stress and anxiety regarding MHT CET 2020. Whether the exam will be conducted or will MHT CET 2020 be postponed again ? Check what's the update.
MHT CET 2020 postponed
Maharashtra Education Minister Uday Samant has announced that MHT CET 2020 is postponed till further notice, new exam dates to be announced soon. The exam was earlier scheduled to be conducted in May but had to be rescheduled to July on account of a series of nationwide lockdowns. Ever since MHT CET 2020 postponed, students are worrying about their preparation as the schools were closed and coaching institutes were shut. Since their preparation is largely compromised, students are demanding further postponement of MHT CET 2020 and the exam should be conducted when the situations are improved.
What Does the Officials Say?
On June 18, HRD minister conducted a review meeting with secretaries of School Education and Literacy Department, Higher Education Department and chairpersons of All India Council for Technical Education (AICTE), University Grants Commission (UGC), Central Board of Secondary Education (CBSE), and the director general of the National Testing Agency (NTA). This was the second review meeting between the minister and top education officials of the country where "various issues" related to education during the ongoing COVID-19 pandemic were discussed.
The meeting concluded with assurance that the safety of students will not be compromised and the exams will be conducted keping the students safety as top priority.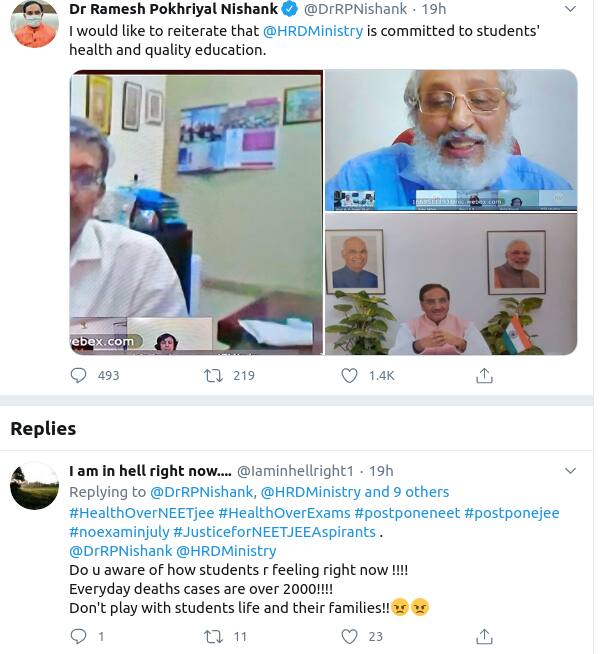 Will MHT CET 2020 be postponed again ?
As the exam has been postponed, earlier, students were raising queries over twitter and other social media platforms regarding postponement of the exam and do not risk the lives of students. Other national level exams like JEE Main and NEET are also scheduled in July and students are also demanding the postponement of these exams.

MHT CET 2020 Schedule
The MHT CET exam date which was scheduled for July and August. The exam was to be conducted on July 4, 6, 7 , 8, 9, 10 , 13, 14, 28, 29, 30, 31 and August 3, 4 and 5. MHT CET 2020 admit card will be issued to all the registered candidates few days before the exam.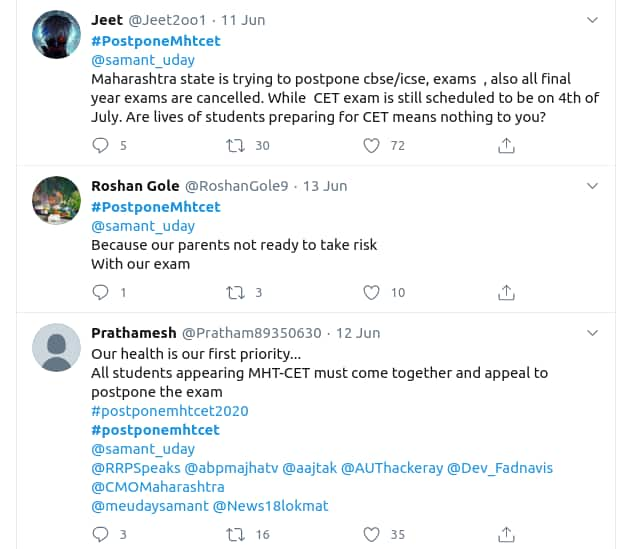 Questions related to B.Tech
Showing 2 out of 2 Questions
17 Views
If I get addmison by instiute Cota through MHT-CET, then will I get concsestion in fees by 50% because I am from obc category
Hello student pastor Satish
For OBC candidate student in Maharashtra get imbursement of all compulsory fees declared by the government of Maharashtra in favour of the OBC candidates to  allow them for higher studies from eleventh level to PHD program. The eligibility criteria for getting this reimbursement of all compulsory fees of the institution in government and private institution also,are as follows:-
He or She must be resident of Maharashtra
His or Her family income will be less than 8 lacs of rupees per annum
The student from CAP means children of army personnel category
Student should  be meritorious.
Students should submit documents like identity proof, caste certificate, income certificate, resident certificate, age proof certificate, allotment letter of cap category.
Hope this helps
8 Views
Which college can I get if my score is between 165 to 175 out of 200 in mht-cet 2020 16th october afternoon shift?
Hello aspirant,
Congratulations for getting such a pretty marks in MH CET 2020. As you are not mentioned any category so I am answering according to general category. As your marks are very good so as per last some years data your rank should be in between 200 to 300 so with this rank you will get admission into some very good colleges.
As per our college predictor you have very good chances in below some colleges:
1) VJTI, Mumbai with IT or E&TC branch.
2) COEP, Pune with E&TC or ELECTRICAL branch.
3) Sardar Patel institute of technology, Mumbai with CSE or IT branch.
4) ICT, Mumbai with chemical or food technology branch.
5) PICT, Pune with CSE branch.
6) KJ Sommaiyya college of engg, Mumbai with CSE branch.
Etc.
You should also go through our college predictor tool which will be very helpful for you in finding some good colleges for you as per your preferences.
https://www.careers360.com/mht-cet-college-predictor
Best of luck.