Will JEE Main 2020 be Comparatively Difficult?
National Testing Agency (NTA) has announced new JEE Main exam dates for the April 2020 exam. NTA will now conduct the exam from July 18 to 23. But, with the postponement of exam for more than 3 months, students have doubts, like, will JEE Main 2020 be comparatively difficult or similar as always. Candidates who are preparing for JEE Main 2020 are so much apprehensive and facing anxiety about the difficulty level of the exam due to this extra period they got due to lockdown. Many students are presuming that the exam may be a little bit down in difficulty while others are speculating on whether JEE Main 2020 will be comparatively difficult. To help students come out of all these apprehensive situations, Careers360 interacted with NTA director Vineet Joshi through a live webinar with students to help resolve queries about the JEE Main 2020. NTA is the organising body of JEE Main exam. Read more to know what the NTA director says on will JEE Main 2020 be comparatively difficult and other important information about the exam.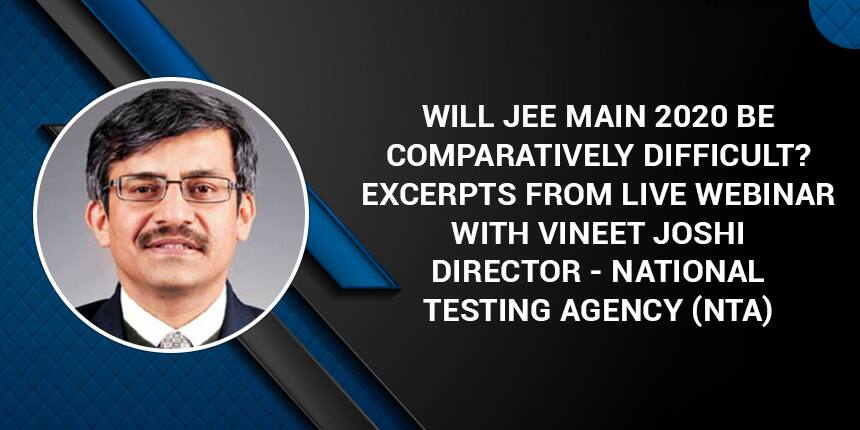 JEE Main 2020 April Exam Difficulty Level - What NTA Director Said?
The purpose of JEE Main exam or any other exam is not to defeat or deselect any candidate but the very purpose of the exam is to shortlist the deserving candidate, said NTA director Vineet Joshi in his talk with Careers360. He further said that this covid-19 pandemic and coronavirus thing has nothing to do with the difficulty level of the exam. It would be similar as it used to be always. So, all aspirants must do away with any kind of speculations like will JEE Main 2020 be comparatively difficult.
Students are advised to prepare for the exam with full dedication and determination, without having any doubt on difficulty level, postponement or safety of students in exam centres. Vineet Joshi advised students to use this period of lockdown as extra time for their JEE Main preparation and give their best during the exam. He further assured that the safety and hygiene of students will be the top most priority along with the successful organising the exam.
Other Common Queries of Students which NTA Director Resolved
When will NTA Release JEE Main 2020 Admit Card?
Students who have applied for the exam are so much curious to know JEE Main 2020 admit card date. Vineet Joshi has said that JEE Main admit card 2020 for April exam will be released 21 days before the exam. Admit card will be issued to all the registered candidates and candidates will have to download the same from the official website jeemain.nta.nic.in
What safety measures will be adopted for students during the exam?
Candidates are advised not to bother on the safety and hygiene front of students in the exam centres. We will make proper arrangements for hand sanitisers, thermal scanning, social distancing and other necessary medical arrangements as may deem necessary. It is our priority to conduct the exam in a healthy and peaceful environment.
Will JEE Main 2020 April exam be further postponed?
There were many queries from students during the live webinar about the possibility of further postponement of JEE Main 2020 due to the situation on coronavirus deteriorating in some areas. To this question, the NTA director said that the situations are being monitored for all the states throughout the country and also in foreign states where JEE Main exam centres are located. The situations are improving rapidly and with enough time for the exam, everything is expected to be held as per the announced schedule.
Will there be any change in the number of JEE Main Exam Centres?
The work on allotting exam centres to candidates as per their preference is currently in progress and we will soon release the revised list of JEE Main exam centres. It has to be assured that students get the nearest possible exam centres to their city of residence in line to the choice filled. There will not be any decline or rise in exam centres of JEE Main.
Any chance of delay in JEE Main 2021 January or April Exam?
As of now, we see no possibility of any delay in organising the JEE Main 2021 January or April exam. Although, JEE Main is scheduled one month before and after the board exam of class 12 (board exams are conducted in March) and if the board exam gets postponed, there may be chances of delay in JEE Main exam.
How to best utilise lockdown period for JEE Main Preparation?
The situation of lockdown which students are facing is unprecedented. Never anything of this sort has ever happened and so, stress and anxiety among students is normal. Infact, this period of lockdown can be taken as an extra time for JEE Main preparation. Some tips and suggestion for effectively utilising the lockdown period for exam preparation is as follows
Make a time table for study and prepare as per the schedule. Time table can bring continuity which is usually lacking in home study.

Study in a peaceful environment, away from noise of chattering or any kind of external sound.

Study regularly without any interlude

Revise each topic which you study

Regularly practise the mock tests to analyse your preparation level

Stay motivated and practice meditation regularly
Questions related to JEE Main
Showing 97786 out of 97787 Questions