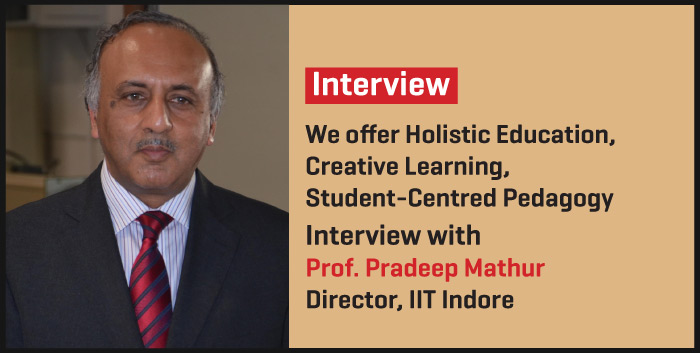 Though IIT Indore was announced along with seven others in 2008, it actually started functioning from July 2009. Functioning from two temporary campuses while building its own permanent one that will be functional from February 2016, IIT Indore has ensured that its students have access to all the requisite facilities and infrastructure.
Careers360 reached out to Prof Pradeep Mathur, Director IIT Indore to find out how far the Institute has reached in the matter of construction of the permanent campus, current facilities available, placement statistics and what prospective students can expect from IIT Indore.
Prof Pradeep Mathur holds a PhD in Organometallic Chemistry from Keele University and has worked as a postdoctoral research associate at Yale University for two years before joining IIT Bombay as a faculty member in the Department of Chemistry in 1984. He assumed the post of Director of IIT Indore in 2010. He is a fellow of the Indian Academy of Sciences, Bangalore and a recipient of the Shanti Swarup Bhatnagar Prize in Chemical Sciences.
Careers360: It is known that there are two campuses for IIT Indore and that the permanent one is in the construction stage. Please elaborate on this. Also when can students expect to move to its permanent campus?
Prof Pradeep Mathur:  Students are currently accommodated in row houses, terrace cottages and flats at Silver Springs, Indore.
Most of the classrooms and Engineering Labs are located at the PACL campus which is at MHow Road. The Sciences and Humanities Departments and their labs are located at the IET Campus which is at Khandwa Road.
The permanent campus is at Simrol and is spread about 510 acres. It is 25 km from the main city of Indore. The Campus is partially ready and we expect it to be completely ready by February 2016. The transition to this campus is scheduled next year.
Here I would like to point out that the institute has a fleet of 15 buses that ply between these campuses in accordance with the class timings. In addition, there is also a bus plying to the city for shopping and recreational purposes every Saturday and Sunday. We have a few standby vehicles for emergencies along with an ambulance.
Careers360:  Can you give some details about the infrastructure available for the students in terms of the classrooms, hostels, library, canteens etc currently?
Prof Pradeep Mathur: Every IIT as you know when it is set up comes with all the facilities expected in an IIT. We are no different. Our students have all the facilities available at every other IIT. Silver Springs has a football ground with floodlights, basketball court, tennis courts and volleyball net. The institute also maintains a table tennis table, gym and student activity centre here. In addition to the regular mess, there is also a night canteen during exam time.
The Dispensary always has a doctor to attend and is open every day. We have an ambulance available at all times at the hostel for emergency medical situations. Students are covered by medical insurance and all treatment is free, even at the hospital.
Other facilities include the Central Library, a General Store, Counselling Cell etc.
Careers360:  Please give details about the prospective facilities in the permanent campus?
Prof Pradeep Mathur: Some Salient features of the permanent campus are:
Campus Infrastructure: A state of the art campus that is sustainable, eco-friendly and comfortable living space for the IIT Indore community. Some of these include administrative and academic buildings for institute functionaries, schools, disciplines and inter-disciplinary centres. Well equipped Learning Resource Center, library, sports center, family friendly spaces are just some of the highlights of the master plan.


Academic facilities: IIT Indore will have smart classrooms that are technology enabled so students and faculty have access to the best forms of learning and pedagogy. We will continue to build on the excellent foundation of research labs that we have started at IIT Indore. These include (not limited to) a state of the art Sophisticated Instruments Centre (SIC) that is now a national facility, a Mechanical Engineering workshop, labs of different research groups of the institute across different departments.
Careers360:  What is the faculty ratio at the institute?
Prof Pradeep Mathur: Well we have 77 faculty members. The total number of students inclusive of UG, PG and PhD are 710. However at any given time, we also have visiting faculty amounting to 5 to 7 members. So the faculty student ratio works out to around 1:8.
Careers360:  What would you term as the USP of the institute?
Prof Pradeep Mathur: We offer to students a holistic education, creative learning, student-centred pedagogy and opportunities for research participation from the undergraduate level. Gearing research and learning to humanistic and societal goals and challenges is our driving force. IIT Indore's motto is Gyanam Sarvajanahitaya or Knowledge for the welfare of all and we infuse that in our philosophy of teaching, research and curriculum.
Careers360:  Could you share the placement ratio for 2014? Number of students who were placed and the average pay package? Names of some of the leading recruiters?
Prof Pradeep Mathur: We had 115 students out of which a total 100 students registered for placements in 2014. About 91 students got placed. We have achieved more than 95% placements for 2014. Actually, placements of B.Tech Computer Science & Engineering and Mechanical Engineering were 100% in this session. The highest package received was 1.7 Cr, INR by Google US and the average package was 11 Lakhs per annum.
More than 40 companies have approached us for Campus Recruitment Process 2014-15, including Google, DE-Shaw, Microsoft, Snapdeal, Flipkart, Amazon, BPCL, DRDO, Mahindra, Tata Motors, AVTEC , L&T, United Health Group, CISCO & many more renowned companies.
Careers360:  What is the student strength as of now?
Prof Pradeep Mathur: We have 276 doctoral students, 62 PG students (M.Tech & M.Sc) and 471 Undergraduate students.
We offer 527 courses in total out of which the Undergraduates courses are 288 and Post Graduate ones are 239.
Careers360: Is the institute conducting a session for prospective students? What should students expect out of such sessions?
Prof Pradeep Mathur: The Institute conducted an Open session for prospective B Tech students after the JEE Results so that students have an opportunity to experience firsthand the world class facilities that we have developed in the last five years. As we transition our move to the permanent campus, students get to see that even the hostel and mess facilities in the temporary residential township are excellent in quality.


IIT Indore also had an Open Day early in the semester for students, parents and others in and around Indore to come and visit the institute and see the research facilities as well as understand the various Post graduate and PhD programmes offered in the institute in different areas of Engineering, Sciences and Humanities and Social Sciences.


Students can avail of this opportunity to understand the range of academic opportunities and exciting work being undertaken across the different schools and inter-disciplinary centres of the institute. They can also interact with faculty, current students and other officials of the institute if they have any questions or would like to know more about about a programme or project.
Careers360: What would your message be to the Prospective students as to why they should safely opt for the institute?
Prof Pradeep Mathur: We have research scholars from all parts of the country, exchange students from premier institutes around the world, visiting faculty experts from all over the world and our opening rank for JEE students has been moving up each year, all signs that the work we put in is beginning to show results. The state of the art research labs, faculty access and opportunities to work on independent projects (Our BTech students too work on a semester long project in their final year) are just some of the reasons for students to select IIT Indore as their first choice. From the students' perspective, our excellent placement record (close to 100%, one of our students received a 1.4 cr package last year) every year has to be a winner
Careers360 thanks Prof Pradeep Mathur for sharing his valuable inputs for our students.
We at Careers360 would love to hear from you students. So drop a line at [email protected] or call us at 011-40360360 to tell us about your concerns, doubts or opinions.
JEE Advanced College Predictor
Know your admission chances
Use Now
Questions related to JEE Advanced
Related E-books and Sample Papers