VITEEE Counselling Online & Common Across Campuses: Interview with Kadhambari Vishwanathan,Asst.Vice President
As COVID-19 has led to change in the admission processes of many engineering exams, here we have provided the complete details about the VITEEE 2020. As the exam has been cancelled for this year, Careers360 team conducted an interview with Kadhambari Vishwanathan, Assistant Vice President, VIT Vellore to know about the changes in the VITEEE 2020 admission process. She is an engineering graduate and a Masters in Science from John Hopkins University, USA. As per the latest updates, VIT has released the ranks of candidates and have started VITEEE counselling 2020. Read the full article to know about the detailed VITEEE admission process 2020, classes, placements and much more.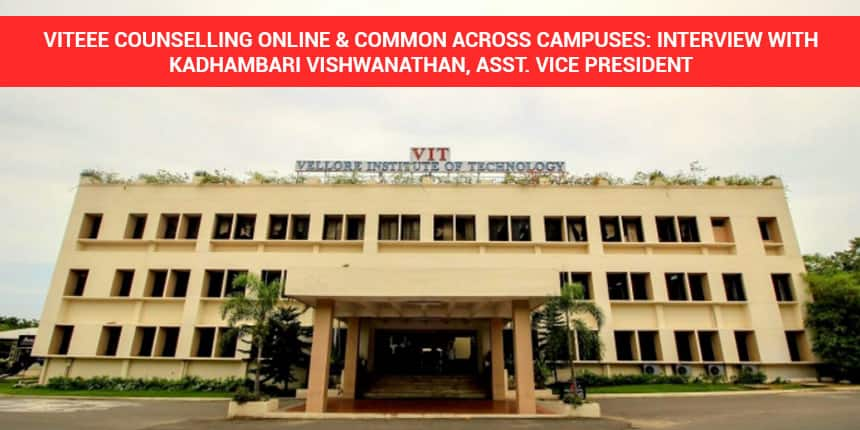 Watch the Video Interview here
Careers360: Explain the new admission process of VIT this year due to COVID-19?
Kadhambari Vishwanathan: Yes, the admission process is different this year as the pandemic has greatly affected admissions. As a first step, we have cancelled the VITEEE exam. VIT ranks were released on August 5. We received 1,83,000 applications this year which is much higher than last year. We have ranked the students on the basis of their normalized PCM/PCB with weightage to JEE Main 2020 January scores. So, based on that we have done ranking. Our counselling process is also completely online this year and has started on August 10.
VITEEE 2020 Counselling Schedule
Rank 1 to 20,000 – August 10 to 11
Rank 20001 to 60000 – August 14 to 15
Rank 60001 to 1 lakh –August 18 to 19
Ranks above 1 lakh – August 22 to 23
I will give a brief outline of how this online counselling process will work.
We have a one-stop online portal i.e. vit.ac.in.

The login credentials have already been sent to all the registered candidates, so they can view their ranks and also register for the VITEEE counselling 2020.

There is a counselling fee of Rs 5,000 for participating in the process.

On the day of the counselling, all the available programmes will be listed and the candidates can prioritize and fill their choices like which campus, program, or fee category they want.

We have 5 fee categories, details of the same are available on the website.

All candidates will have two days to fill their choices and submit the same. After this, the computer will run an algorithm and allot seats.

Once the seat is allotted, candidates will have to pay the advance admission fee which is 50% of the tuition fee.

Candidates can also pay the full fee if they want. Candidates will be given a time of 3 days to pay the advance admission fee.

The full fee payment deadline is September 10.
So, this is the complete admission process. It should be noted that the fundamental point of VITEEE counselling is merit based. So, the better is your rank the better are the chances of getting your preferred branch.
We also try to give the experience of the physical counselling, we have helpline numbers where candidates can call. Candidates can click on the link of different campuses and it will be directed to the specific campus where faculty are available to answer programme specific questions of the candidates.
Infact, in our VIT-Bhopal website, there is a one-click button through which candidates can connect to a video call with our faculty/admission counsellor. This will keep the students well-informed.
Careers360: As the admissions are to be done on 10+2 scores with weightage to JEE Main scores. How will it affect students who have not given JEE Main?
Kadhambari Vishwanathan: This time, we have to be flexible as I told you we got 1,83,000 applications from 29 states, all UTs, 12 countries and about 40 different boards. One thing is that the minimum eligibility criteria for VITEEE 2020 counselling is 60% marks in 10+2 PCM/PCB scores. So, students who have not given JEE Main, ranks will be allotted on their 10+2 scores.
Careers360: As JEE Main April session is scheduled in September and VIT is closing the admissions now, is there a provision for students who get a chance of admission in NIT or IIT. What are the guidelines for this?
Kadhambari Vishwanathan: Our refund policy has been the same in the last few years and it is in accordance with the UGC regulations. The withdrawal policy is also listed in the login. Also, we are not sure about the JEE September exam as students are demanding postponement and a pending case asking for the postponement of JEE Main. So, we are not able to make decisions on this. However, we do try to keep that in mind and our policy is designed as per the official guidelines.
Careers360: Do you have any separate rules for students applying in different campuses of VIT? For example VIT Vellore is the most popular campus, so do you have any changes in terms of ranks or other things?
Kadhambari Vishwanathan: Our online counselling since the beginning has been a centralized process. So, the same ranking is applicable to all the campuses. Candidates however have to choose the preferred campus and branch at the beginning of the counselling process.
Careers360: When will the session start and how will the classes be conducted?
Kadhambari Vishwanathan: For our current and existing students, the classes have started back in May itself in online mode. We don't have any clarity of the central and state government regarding this, so we can't comment on this now. So, we are waiting for the official orders on the same but we are fully prepared for the online classes. Last year, we started VIT online learning School that has an impressive amount of recorded material. So, we have a dedicated team to handle online classes. So, if the need arises that we have to start with the online mode, we are completely ready for that.
Careers360: VIT is now an Institute of Eminence (IOE), so what are the changes that the university has incorporated and that allows students to benefit from this huge tag?
Kadhambari Vishwanathan: The whole idea of this Institute of Eminence (IOE) is a very innovative and apt one. It is a very right scheme which aims at placing good Indian universities at the national and international levels. This is the kind of support that we also want from the government to propagate Indian education at a global level. Anything which we are aiming to do with the IOE tag is internationalisation and globalisation of educational strategies. Digitisation is already happening but how will we benchmark it to the international standards and there will be high focus on interdisciplinary research. We are also trying to come up with a separate team for research output. So, our focus will be on research which will definitely reflect on the students. This tag also gives a very good reputation to us.
Careers360: Will you be having collaborations with other foreign universities or Exchange programs?
Kadhambari Vishwanathan: We have over 20 years of experience in international relations. We have a partnership with over 400 universities and now the plus point that we have programmes that are 2+2 or 3+2 and in Chennai and Amravati, we have 4 year program i.e. 2+2, so the students study 2 years here and 2 years in a foreign university as per the campus. Yes, with the IOE tag, the recognition will widen and we are looking forward to new partnerships.
Careers360: Please give some information about the placements?
Kadhambari Vishwanathan: So, the perception might be that the placements will not happen but VIT is going against the wind. We were the first university in the country to start placements during the lockdown. So, the academic year started with the PG students internship in which 82 companies made 505 internship offers to our PG students out of which 450 are Dream and Superdream offers which means above 4 lakh offers. This internship offers usually get converted as job placements. The B.Tech placements have started 2-3 weeks ago and Superdream companies (offering over 10 lakh package) are coming. This year, it is more special as all the four campuses are participating. Over 155 offers have been made by 107 Superdream companies; the highest being Microsoft which gave 44 lakhs package to 7 students.
Questions related to VITEEE
Showing 5135 out of 5135 Questions