Application Oriented Academics and Unique Teaching-Learning Process is the VIT-AP's Forte - Dr. Sekar Viswanathan, Vice President, VIT University
Founded in 1984, VIT University has been serving quality education to students all over the nation. To provide more seats and facilities to the aspiring engineering students, VIT has introduced their Amaravati campus which currently offers 7 B.Tech courses. Supporting scientific and systematic research, VIT University Amaravati campus is steadily growing to give hands-on training, application-oriented exams, continuous assessment and industrial collaborations to the students.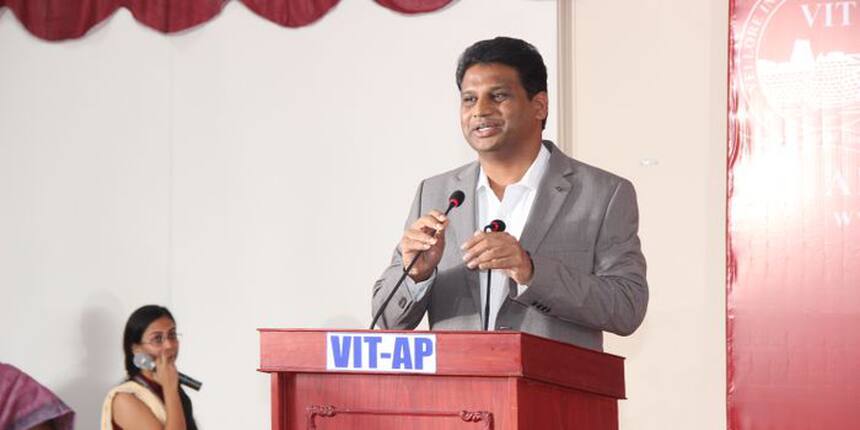 Dr. Sekar Viswanathan, Vice President, VIT talks to Careers360 in detail about the new campus and what they can expect to avail. Speaking of the Unique Teaching-Learning Process and foreign/industry collaborative programmes, Dr. Viswanathan gives an insight to all students regarding VIT-AP University. 
Careers360: How do you compare the quality of education offered at VIT-AP with Vellore and Chennai campuses?
Dr. S. Viswanathan: VIT-AP at Amaravati is another great campus of VIT. The quality of education offered at VIT-AP campus is at par with that of Vellore campus, as the academic processes followed are the same. In fact, many of the faculty members and all the top leaders of VIT-AP were earlier serving at Vellore campus.  The students of VIT-AP can avail the services of Placement office, International Relations office, Alumni Relations office etc which are common to all the VIT campuses.
Careers360: Is VIT-AP University a private university unlike Vellore which is a deemed to be university? How are admissions made?
Dr. S. Viswanathan: In the VIT group of institutions, Vellore and Chennai are part of the deemed university and VIT-AP at Amaravati and VIT-Bhopal are State Private Universities. B.Tech admissions for all the four campuses are done through the common entrance exam VITEEE (VIT Engineering Entrance Examination) and common admission counselling based on VITEEE ranking. The common counselling is conducted at all the four campuses simultaneously and transparently. During the counselling, a student may choose any branch of study and any campus based on the rank and availability of seats. For example, one may select a VIT-AP seat from Vellore as well as Amaravati.
Careers360: What do you think is the USP of this new University? Please elaborate on the various courses that are being offered at the University. What can students expect in terms of infrastructure, facilities etc?
Dr. S. Viswanathan: Strategically located in the heart of Amaravati, the capital of Andhra Pradesh, the institute is spread across 200 acres providing a comfortable and vibrant life on campus. In less than a year, the campus has two fully functional blocks, and three more coming up shortly. The aim is to create a green, educational and recreational space where learning is made meaningful and enjoyable. From a digital library, well-equipped laboratories, health centre, cafeteria, bank and ATM, sports facilities to a Wi-Fi enabled campus, the students are provided numerous facilities which are in line with global educational standards. At present, VIT-AP offers the following B.Tech programmes with fully equipped labs:
B.Tech. Computer Science and Engineering (CSE)

B.Tech. CSE with Specialization in Data Analytics

B.Tech. CSE with Specialization in Networking & Security

B.Tech. Electronics and Communication Engineering (ECE)

B.Tech. ECE with Specialization in VLSI

B.Tech. ECE with Specialization in Embedded Systems

B.Tech. Mechanical Engineering
Careers360: Can you please elaborate on the VIT-AP advantage?
Dr. S. Viswanathan: Sure.
A unique concept called Engineering clinics is implemented at VIT-AP as part of the curriculum. In this course, a small team of students belonging to different branches of engineering execute a hands-on multi-disciplinary project every semester. These projects are guided by faculty members and are evaluated by industry experts. They also have a very good placement team continuously working on bringing companies to Amaravati campus.

Application-Oriented Academics - Experts from the industry and academia participate in the design of curriculum and pedagogy to make it application oriented.

Unique Teaching-Learning Process - Qualified and caring faculty provide the best experience to students. Teaching methods include hands-on training, application-oriented exams, continuous assessment and industrial collaborations.

Mandatory Co-op programmes (industrial internship / work experience)

Opportunities to study 2 years at VIT-AP and 2 years overseas for a Bachelor's degree

Collaborative Master's and Doctoral level studies with International Universities

More than 640 students representing 24 states of India provide a cosmopolitan atmosphere.
Careers360: What are the international collaborations that VIT-AP has? Can you please throw some light on it?
Dr. S. Viswanathan: VIT group has partnerships with over 200 universities across the globe. VIT-AP students will gain the advantages of these partnerships. Due to these partnerships, professors from universities like Rochester Institute of Technology (USA) and Queensland University of Technology (Australia) have addressed the VIT-AP students this year. Students are encouraged to participate in SAP (Semester Abroad Programme) and ITP (International Transfer Programmes - 2 years at VIT-AP and 2 years abroad) with various universities abroad.
Careers360: Can you elaborate further on the hands-on training and industrial collaborations provided to the students at VIT-AP?
Dr. S. Viswanathan: Right from the first semester, students execute a hands-on project to apply the concepts they have learnt in class each semester through Engineering Clinics.
A 'First in the Country', hands-on course in every semester.

A theme based practical learning in every semester carrying credits.

Multi-disciplinary group (students from different programmes) of 5-6 students.

Groups can also choose a specific project from a large number of real world problems listed to them.

Each group has a faculty coordinator/Instructor who will guide/evaluate the overall group as well as individual students.

The students have to display their model in the 'Engineering Clinics Expo' at the end of semester.
Careers360: The use of digital pads for exams is a new concept.  How different is it from traditional examination methods?
Dr. S. Viswanathan: In VIT-AP all the exams are open book. There is no rote learning, as the students are expected to know only the concepts very well. Questions generally require higher order thinking (HOT) and the application of concepts taught in the class. Students write all their examinations using digital pads and digital pens. This saves tons of paper and is very eco-friendly. The faculty members also evaluate the answers online, which makes it more efficient and eco-friendly.
Careers360:How is the faculty-student ratio on campus? Is the faculty from Vellore also involved in the VIT-AP?
Dr. S. Viswanathan: We have highly-qualified, experienced, committed and caring faculty from Vellore as well as from other institutions of higher learning like IITs and NITs who facilitate learning. Our faculty members are in tune with the current trends in Education and Technology and impart the same in classrooms and laboratories. The faculty-student ratio in the campus is around 1: 14.
Careers360: Can you give us some insight into the mentoring system in the university?
Dr. S. Viswanathan: A unique mentoring scheme is in place at our institute, where a faculty member is assigned to a group of students as a mentor. The mentor not only helps a student in making informed decisions about his or her academic progress, but also acts as a local guardian. The mentor periodically meets the students and is in touch with the parents when needed.
Careers360: How does the campus encourage research and entrepreneurship?
Dr. S. Viswanathan: VIT-AP supports a large number of students at the PhD level to carry out scientific and systematic research for pertinent information in diverse areas of engineering, science and humanities. The scholars are provided with a unique opportunity to work with accomplished faculty and to pursue academic excellence. In addition, Bachelor's and Master's degree students are also encouraged to publish research papers and work towards patents by providing suitable guidance and academic credit. Entrepreneurship is also strongly encouraged among students by inviting successful entrepreneurs to share their experiences with students. There are students clubs which facilitate entrepreneurship among students. Funding of selected ideas/projects is also done by VIT-AP.
Careers360: Can you give us more information about the creation of International Centre of Excellence in Engineering in partnership with Rochester Institute of Technology (RIT)?
Dr. S. Viswanathan: VIT-AP and Rochester Institute of Technology (RIT), USA have announced the creation of an International Centre of Excellence in Engineering. The centre at VIT-AP, Amaravati focuses on :
Joint Research in Computers and IT, Microelectronics, Imaging Science and Manufacturing Automation.

Admission of VIT-AP students in UG and PG programmes of RIT

Development of Faculty, Lab and Instructional Resources

Curriculum Development and International Accreditation
Under the aegis of this centre, professors of RIT from the departments of computer science, computer engineering, electronics engineering and mechanical engineering have visited VIT-AP and interacted with the students. VIT-AP professors have also visited RIT to discuss regarding curriculum and lab development.
Careers360: Lastly, what would you like to say to the engineering aspirants all over the nation?
Dr. S. Viswanathan: An engineer's contribution to society is beyond the purview of his/her technical skills alone. The Engineering disciplines integrate scientific principles with a practically oriented research, providing systems and processes that themselves create ways of acquiring new knowledge. Those who are driven by science, technology, innovation, and have the knack to create something, can look at pursuing Engineering, which in itself is a fantastic career option. Unlike other fields, Engineering has a rich diversity of disciplines such as Mechanical, Computers, Electronics, Civil etc. Since the society's progress mainly depends on engineers, there is always a good demand for bright engineers.
VIT-AP University, Amaravati Updates and Articles
Questions related to VIT-AP University, Amaravati
Showing 241 out of 241 Questions