Vice Chancellor PK Khosla Speaks: 'Aim to claim its place among the top'
Shoolini University, located in Solan, Himachal Pradesh offers various undergraduate and postgraduate courses to students who are interested in admissions. Prof. PK Khosla, founder and Vice-Chancellor has the vision to claim its place among the top universities of the world. According to PK Khosla, the institution is on the right track to achieve this goal. It is all set to pick up pace and break new records in the field of research and education, besides extending its reach by opening off-campus centres in Himachal Pradesh and setting up a university in Punjab as well.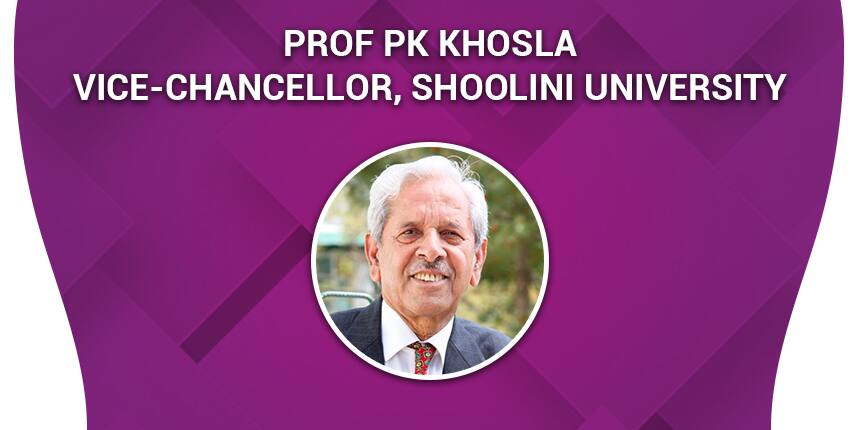 Prof Khosla conveyed to Careers360 that the university has placed equal emphasis in maintaining a high standard of teaching in liberal arts, engineering, pharmacy, and other fields of education. Its SPRINT program, which honed the soft skills of students and is credit based, is also being replicated by other institutions.
According to Prof. Khosla, the university is planning to construct a full-fledged Meditation and Yoga School as well as a Naturopathy and Health Care Centre, along with an Ayurveda College and Hospital for holistic education that engages the mind, body, and spirit. A good Yoga School, he said, is the need of the hour for our nation and in the coming 10 years, this would be his contribution to society.
Talking about the roadblocks he faced, Prof Khosla said, one must never be disturbed with the immediate results of any situation but have faith in God and focus on good Karma.
Prof Khosla also has plans to strengthen his idea of "Freeship", and sponsor intelligent children's education who lack financial support, so that they could reach their full potential and carve out a rewarding career for themselves.
The university has generated 500 to 600 jobs for the locals and promised that it would only go higher in the coming years.
Talking about how the university is taking on the challenge of providing learning in a technological environment during the troubled times of Covid-19, Prof Khosla shared that Shoolini University has taken a lead in quickly adopting e-learning through virtual classrooms. To further enhance the learning experience of students, the university has introduced the Yogananda Guru Series of webinars, where extraordinary people with extraordinary lives shared their stories of triumphs and victories, of sweat and toil, of struggles and battles.
Ample measures are being taken to ensure that other significant activities of the university, such as placements and admissions, as well as online end-term examinations, continue smoothly.
Looking Ahead
Full-fledged Meditation and Yoga School

Naturopathy and Health Care Centre

Ayurveda College and Hospital

"Freeship" to sponsor intelligent children's education

Off-campus centres in Himachal Pradesh

A university in Punjab

More jobs for the local population
Shoolini University of Biotechnology and Management Sciences, Solan Updates and Articles
Careers360 presents Students Speak: Campus Interview at Shooli...
09 Jun 2020
Questions related to Shoolini University of Biotechnology and Management Sciences, Solan
Showing 2 out of 2 Questions