UPSEE 2013 Admit Cards: The UPSEE 2013 exam conducted by Gautam Buddha Technical University, Lucknow is scheduled on April 21, 2013. Students who have applied for it will have to wait to receive the UPSEE 2013 Hall Ticket which will be sent by the University which is conducting the UPSEE 2013 exam. Students need to appear for the exam with the hall ticket.  If they don't get the hall ticket, they will not be able to appear for the UPSEE 2013 exam. Hence it is mandatory for students to be alert and contact the university for the same. Students can also download the Admit Card of UPSEE 2013. Students should carefully verify all details in the UPSEE 2013 Admit Card. Provision has been made for issue of UPSEE 2013 Duplicate Admit Card in case the original one is lost or misplaced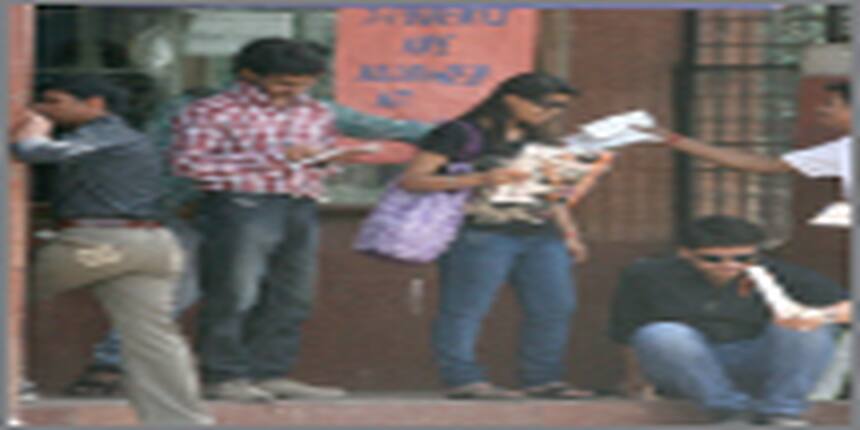 UPSEE 2013 Admit Cards:

IMPORTANT:
UPSEE 2013 Admit Cards are required to be presented during Admission and Counselling sessions.
Students are therefore advised to safeguard the UPSEE 2013 Admit Cards.

UPSEE 2013 Duplicate Admit Cards: Available on April 20, 2013 from 10 AM to 5 PM
A nodal centre in each city of examination shall be established to issue UPSEE 2013 Duplicate Admit Cards (except on the dates of examination).
Candidates needing UPSEE 2013 duplicate admit cards are required to contact the nodal centre situated in the exam centre chosen by them

Documents required to be submitted for the issue of UPSEE 2013 Duplicate Admit Cards:
Two passport size photographs (Black & White of 3.5 cm x 4.5 cm size)
Duplicate admit card fee of Rs 25 payable in cash
Online Application's Reference Number OR OMR application form number.
Proof of submission of the UPSEE 2013 application form

UPSEE 2013 Nodal Centres For Issue Of Duplicate Admit Card:
Agra: Anand Engineering College, Agra-Mathura Road, Keetham, Agra
Aligarh:  Aligarh College of Engineering & Technology, 3 k.m. from Sasni Gate on Mathura Road, Aligarh
Allahabad:  Devprayag Institute of Technical Studies, Phaphamau, Allahabad – 211013
Bareilly: Sri Rammurti Smarak College of Engg. & Technology, Bareilly-Nainital Road, Bareilly
Banda: Kalicharan Nigam Institute of Technology, Naraini Road, Banda
Barabanki: Institute of Engineering & Technology, Sitapur Road, Lucknow- 226021
Etawah: Baba Saheb Dr. Bhimrao Ambedkar College of Agriculture E.ngg. & Technology, Near Distt. Hospital, Agra Road, Etawah
Faizabad: IET, Dr. R.M.L. Avadh University, Faizabad
G.B.Nagar, Greater Noida: IEC College of Engineering & Technology, Plot no. 4, Knowledge Park- I, Institutional Area, Greater Noida
Ghaziabad: Raj Kumar Goel Institute of Technology, 5 km. stone, Opp. Jain Tube , Delhi- Meerut Road, Ghaziabad
Ghazipur: Technical Education & Reserach Institute P.G. College, Ravindrapuri, Ghazipur
Gorakhpur:  M.M.M. Engineering College, Deoria Road, Gorakhpur
Jaunpur: V.B.S. Purvanchal University, Jaunpur
Jhansi: Bundelkhand Institute of Engineering & Technology, Kanpur Road, Jhansi
Kanpur:  Harcourt Butler Technological Institute, Nawabganj, Kanpur
Lucknow: I.E.T. Sitapur Road, Sitapur Road, Lucknow – 226021
Mathura: G L Bajaj Group of Institutions, 23 km Milestone, National Highway#2 Mathura-Delhi Road, Akbarpur, Mathura-281001
Meerut: Radha Govind Engineering College, Anuyogipuram, Garh Road, Near L.L.R.M. Medical College, Meerut- 250004
Moradabad: Moradabad Institute of Technology, Ramganga Vihar Phase-2, Moradabad
Muzaffarnagar: S.D.College of Engineering & Technology, Jansath Road, Muzaffarnagar-251001
Raebareli: Feroz Gandhi Institute of Engineering & Technoloy, Ratapur Chauraha, Raebareli
Saharanpur: Shobhit Institute of Engg. & Technology, Babu Vijendra Marg, Adarsh Institutional Area, Gangoh, Saharanpur
Sitapur: Institute of Engineering & Technology, Resora, District- Sitapur
Sultanpur: Kamla Nehru Institute of Technology, Sultanpur
Varanasi: R.S.M.T. (U.P.Autonomous College Campus), Bhojubeer, Varanasi
Delhi: J S S Academy of Technical Education, Noida
Dehradun: Dehradun Instt. of Technology, Mussoorie - Diversion Road, Dehradun - 248009 (U.A.)
About UPSEE 2013: UPSEE is the state level entrance exam in Uttar Pradesh conducted by Gautam Buddha Technical University. The exam is conducted to give admission to various degree courses in engineering in the colleges under the University