UPESEAT 2019 Preparation Tips By Expert- Dr Kamal Bansal, Dean, School of Engineering, UPES
UPESEAT 2020 Preparation Tips By Expert - University of Petroleum and Energy Studies will conduct the UPESEAT 2020 from May 8 to 15, 2020. Candidates who are willing to get admission in undergraduate engineering programmes in UPES have to qualify UPESEAT 2020 entrance exam. While preparing for the entnrace exam, there are lot of questions like how to prepare for UPSEAT 2020, what is the exam pattern, which topics need to be covered and so on comes up in mind of every aspirant. So to answer all these questions Dr Kamal Bansal, Dean, School of Engineering, UPES interacted with Careers360 and shared some value tips to preapare for UPESEAT 2020. The UPESEAT 2020 preparation tips by expert will help candidates to make their study plan and prepare accordindly. Not only this, these preparation tips of UPESEAT 2020 by expert will also make aspirants aware about the important topics and books they need to refer to crack the entrance exam. Read on, to know in detail about UPESEAT 2020 preparation tips by Dr Kamal Bansal.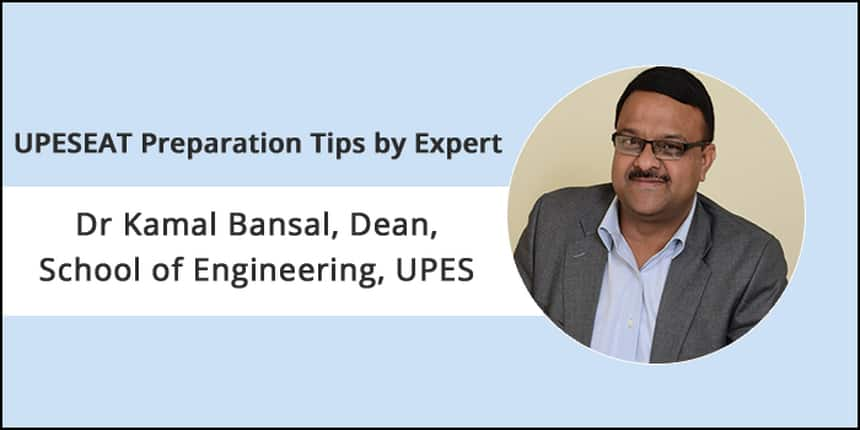 UPES offers engineering courses at two of its schools- School of Engineering and School of Computer Science. The courses offered cater to various sectors such as- Petroleum Engineering, Chemical Engineering, Energy Systems, Geo-Science Engineering, Automotive Design Engineering, Aerospace Engineering, Disaster Management, Mechatronics Engineering, Robotics, Nanotechnology, Fire Safety Engineering, Mining Engineering, Electrical Engineering, Civil Engineering and several others.
UPESEAT 2020 Preparation Tips By Expert
Every competitive exam has a set pattern which students need to know before preparing for the entrance test. Talking about UPESEAT 2020 written test, it comprises of a question paper divided into three parts. The first 150 questions are based on physics, chemistry and mathematics followed by 20 questions on general knowledge and the third part consisting 30 questions on English. To qualify the entrance exam follow the mentioned below UPESEAT 2020 preparation Tips by Dr Kamal.
Daily schedule to follow- Often students prepare for multiple exams at a time which leave them in stress. You should prioritise exams and prepare accordingly as most exams entail more or less same topics. Regular revision of all subjects is a must to secure good score in UPESEAT 2020.
Reference material – While there are ample of reference material available in market, all questions are based on syllabus followed in 10+2 in school. Hence it is advisable to be thorough with the syllabus and improve aptitude in general knowledge and current affairs with regular newspaper reading. Daily newspaper reading will also help comprehend English section while answering the question paper.
Mock tests and sample papers – To secure outstanding results in any exam, the best way is to test your time management skill and prepare yourselves with regular UPESEAT 2020 mock tests. For the entrance exam, the sample papers of UPESEAT 2020 is made avilable by the Univeristy by the fourth week of March. This allows enough window for students to practice before the UPESEAT 2020.
Time management: Candidates must know the tack tick to manage the time. Candidates are given 3 hours to answer 200 question. Therefore it is a must for candidates to know the time management so that they don't leave any question unanswered.
Give equal focus on all subjects: Students must be aware that all the three subjects Physics, Chemistry and Mathematics, are equally important. The weightage maybe different but all the three are equally important. Therefore, its important for candidates to divide the time equally between the three subjects. Major focus must be on the topics of Class XII boards, and then revision of class XI topics must follow.
Exam day strategy- UPESEAT 2020 question papers are designed in multiple choice format without any sectional cutoff or negative marking, enabling students to score high in any subject. Students should attempt maximum questions and should try to earn marks in the section they are more confident in.
Besides, students must keep in mind that the specializations are allotted on merit basis. Higher the score you have, number of options to choose from will be more.
Questions related to UPESEAT
Showing 204 out of 204 Questions
University of Petroleum & Energy Studies Engineering Aptitude Test (UPESEAT)