University of Engineering & Management (UEM), Jaipur goes completely online with IEMCRP
During the lockdown period all over India due to COVID-19 pandemic, the University of Engineering & Management (UEM), Jaipur has ensured that the entire teaching-learning process along with the examinations are held in time (in online mode ), without any loss of academic time. The students of the university will be thus ready with their academic completion right in time. Some practices of the university to make this a reality are as follows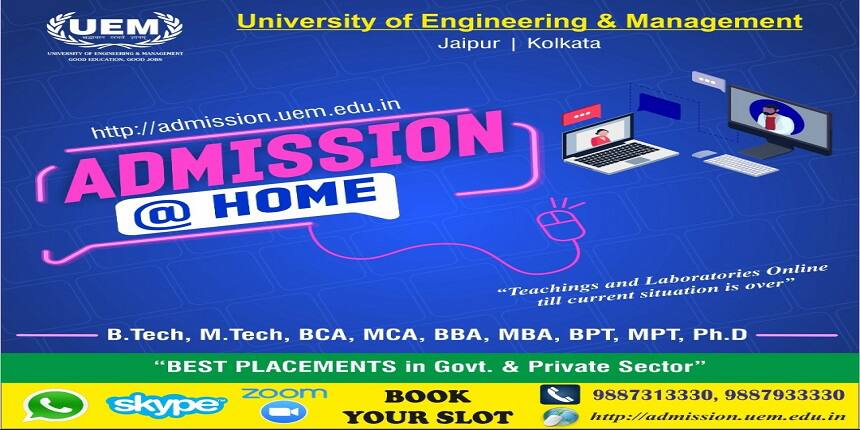 The University is holding daily meetings both in the mornings and afternoons with its faculty through YouTube live.

Digital Attendance of Faculty is being validated through Google forms and IEMCRP (the university's e-governance software).

Online classes are being held exactly as per routine through Zoom, YouTube live everyday as per routine.

Online Labs are being held in virtual mode using Virtual Labs (vlab), Matlab, Hacker Rank (online coding platform) etc.

Online lectures are being held by corporate experts.

Mid-semester examinations were conducted through IEMCRP while invigilation was through Zoom. The exam papers (with descriptive type questions) were uploaded by teachers into IEMCRP and were available at exam time from the students' profiles. Students wrote the exam with pen and paper. Answer scripts were scanned with a mobile phone and uploaded by students to be examined by the faculty, (students will have to submit the answer script at a later point of time for keeping records). The answer scripts were available to the teachers from their profiles of IEMCRP. Zoom was used so that students couldn't take help of others.

Since the above-mentioned method worked fine during the mid- semester exams, the same will now be used in final semester examination also.

About 5 percent of students found it difficult for various reasons like internet connectivity in their hometown. Their cases will be placed in front of the Academic Council and the Governing Body for consideration.

Online FDP is a regular process. This is helping the faculty members to update their skills and teaching methodology. The teachers are now aware of the new fangled methods of taking classes and conducting the curriculum online.

Online admissions are being facilitated through IEMJEE and the admission related website (admission.uem.edu.in).

Online placements are also ongoing.
The authorities of the University have given an assurance to its students that they will be ready with their academic preparations right in time, in spite of the global crisis.
The Management of the University has urged the students and guardians to get in touch with the University at admission.uem.edu.in or at 9887313330 for any guidance and help.
University of Engineering and Management, Jaipur Updates and Articles