TS EAMCET 2020 Admission Process amid Covid-19: Interaction with Navin Mittal
Telangana Engineering, Agriculture and Medical Common Entrance Test, commonly called TS EAMCET is conducted for admission to UG engineering, pharmacy and agriculture courses. TS EAMCET 2020 was conducted on September 9, 10, 11 and 14 and the results are expected around September 23-24. Careers360 interacted with Navin Mittal, IAS, Commissioner of Telangana Technical Education (TSCHE) about how the TS EAMCET 2020 admission process will proceed amid COovid-19, counselling, seat allotment and commencement of classes. The interaction also discussed online education and the new National Education Policy. Read the full interview to know details about TS EAMCET 2020 admission process and other excerpts.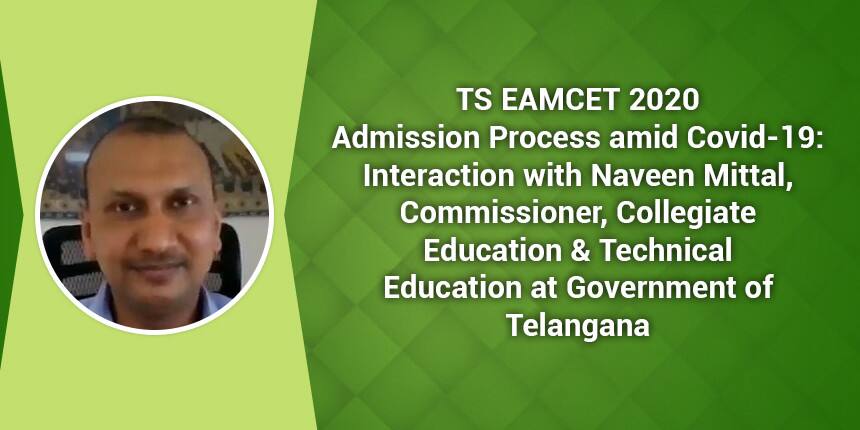 Careers360:- What would be the revised schedule for admissions in Telangana?
Navin Mittal:- TS EAMCET exam has been conducted on September 9, 10, 11 and 14. After that we'll take 9 to 10 days for result processing so somewhere around 23rd, 24th or so we would probably be declaring the EAMCET result and the counseling for that will start somewhere towards the end of the month or very early October.
Careers360:- How would the admission process be, When do you think the classes start? Would it be online?
Navin Mittal:- From 21st of September the 9th to 12th classes students have been allowed to go to the schools under teacher guidance and also in the higher education in PG & research programmes of professional courses Engineering & other professional courses Students have been allowed to start work. We don't know what is really going to happen but right now, I think the dates which we are looking forward to seem pretty reasonable.
Careers360:- KCET has taken everything online. No physical verification of documents etc..Would Telangana do something to avoid physical counselling for admissions?
Navin Mittal:- There is a bit of difference between the state of Telangana & other states. Telangana & Andhra states have article 371 D wherein seats are actually reserved for local students in education & also for local jobs as per constitutional provision. In fact that is the provision which makes us call the candidates physically because we need to verify the local status which is based on their school records In Fact the present norms is that they must be studying in Telangana for 6 years before 10th class to be considered as local or bulk of the period in 1st to 10th class to be considered as local so in order to verify that particular status we need to call them physically but for other verification for example their 12th class result, We have available online, their caste certificate is available to us online, The income certificate, For the purpose of scholarship is available to us online. It's only that the local status is something which we really need to verify compared to other states.
In Fact we were on on top of it just before COVID because of COVID lockdown, We got postponed, Maybe by next year, We expect that we might be able to do something regarding this.
Careers360:-What is the support the state would give to colleges that have infra issues for online classes?
Navin Mittal:- Actually the problem is not from the institution side, Institutions are equipped to hold online classes, even the faculty is equipped to hold online classes. For example, Telangana state during the lockdown, We had to closed down our education institution from 15th of March but when we realised that lock down will be continue, From 15th of April we started Online classes to cover up the syllabus of previous semester and we were really amazed to find that 93% of our faculty were up and running in organizing online classes within 48 hours. Infact for me it was really a pleasant surprise because I was expecting 65-70% beginning from the faculty in front but 93% within 48 hours which is something unimaginable. But the real challenge & real issue is from the student's access point of view. When we look at the bulk of students who are in non-engineering courses, degree courses like B.A, B.com & B.Sc & affiliated colleges to our public universities and Those institutes where students base which is largely coming from the rural areas & largely those students who are from poor, disadvantaged, social & economic background, For them expecting to have a device at home & internet connectivity at their home is a real issue.
Careers360:- Do you think it is a possibility that EAMCET would be subsumed and become a part of JEE. UP would be doing that next year. 11 states already do that.
Navin Mittal:- It has been debated in the state of Telangana from last many years. Telangana got formed in the year of 2014 when it got separated from the state of Andhra Pradesh. The Andhra Pradesh Reorganization Act prescribed that the admission system which is currently being followed in 2014 will continue to be followed for a period of next ten years. So that is the issue.
Careers360:- What are your views on the NEP? Have you noticed any changes?
Navin Mittal:- My personal take is that NEP is a very progressive policy. After 34 years in 2020 we have this new National Education policy. I saw one article which said that NEP would be for education what the 1991 liberalization has been for industry. If it is really implemented properly, I think that it can be that 1991 moment for education which we have been waiting for from the last many years because our system has been very rigidly regulated. Our rigid system has really limited the growth of our educational system. There are few things which I am personally very bullish on. One of them is the whole concept of multidisciplinary Institution. It is not that India is not having multidisciplinary institutions, but we have to kind of really focus on this. The second is flexibility, I think which is being talked about designing your own degrees in term of courses you take, the subject combination or course combination which a student can take which has been very rigidly in force in the past.
And another very important fundamental structure change which is being brought about is this freezing out affiliated colleges, I think the greatest damage to this Indian education system has been done by this whole concept of affiliation.
Questions related to TS EAMCET
Showing 9552 out of 9552 Questions
Telangana State Engineering Agriculture and Medical Common Entrance Test (TS EAMCET)