TS EAMCET 2018 Topper Interview - Hard Work and Time Management gave flying wings of Success to Yash Garg (AIR 7)
TS EAMCET 2018 Topper Interview - Passing an exam with flying colours and securing a position in top rankers is a dream of every student. But shaking hands with success requires a handful amount of hard work, dedication, preparation strategy and time management. One such candidate who put all of these into his preparation is Yash Garg who scored an AIR 7 in TS EAMCET. A student of Narayana Junior College, Yash's biggest inspiration is Steve Jobs. He credits his rank to the ability of keeping the requisite formulae on his fingertips and adequate speed during the exam. In in exclusive interview with Careers360, Yash elaborates on his preparation strategies, how to overcome hurdles along the way and tackling the exam. Read the complete interview of TS EAMCET 2018 Topper to know more.
Stay up-to date with TS EAMCET News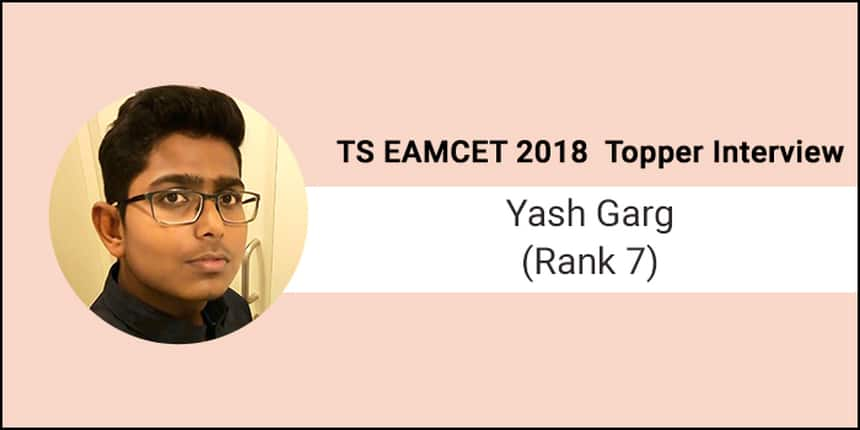 Careers 360: Congratulations for your outstanding performance in TS EAMCET! What was your reaction upon knowing your rank?
Yash Garg: Thank you so much. TS EAMCET result was declared just a day before the JEE Advanced exam and I was pretty busy with it. When I got to know that I had secured 7th rank in TS EAMCET, my joy knew no bounds. I felt that all my hardworking finally paid off.
Careers 360: Tell us something about yourself. Which board have you studied under? Which school have you studied in?
Yash Garg: I studied in Kennedy High the Global School from class 6 to 10. It is affiliated to CBSE. I joined Narayana Junior College to study class 11 & 12. It is affiliated to the Telangana State Board.
Careers 360: What is your score in TS EAMCET? What is your all state rank and category rank?
Yash Garg: I scored 147.61 marks in TS EAMCET. I secured 7th rank in state in general category.
Careers 360: Did you also appear for AP EAMCET? What was your score and rank in AP EAMCET?
Yash Garg: Yes, I did appear for AP EAMCET and I scored 123 marks securing 143rd rank.
Careers 360: Why do you want to study engineering? When did you decided to study engineering? Which branch are you interested in? Which college do you wish to apply for?
Yash Garg: I have always fancied the programming languages and wanted to contribute my part towards developing them. The way artificial intelligence has improved over the last few decades is impressive and I am totally into it. I decided to study engineering, pretty much when I was in class 9. It was then I realised my craze for programming and related stuff. I would like to pursue CSE from IIT Delhi and achieve my dreams.
Careers 360: When did you start your TS EAMCET preparation? Tell us something about your preparation strategy and daily routine for TS EAMCET?
Yash Garg: I did not undergo any special preparations for TS EAMCET as I was preparing for JEE Advanced. All that I learnt while preparing for JEE Advanced helped me in to do well in TS EAMCET. One of the important things for TS EAMCET is having formulae on finger tips, so I revised formulae from Arihant's Handbook two to three days before the final exam. Another important thing is speed; you need to complete 160 questions in 180 minutes and for that one needs to be fast.
Careers 360: Was there a difference in the preparation strategy in the last months of TS EAMCET considering that the board exams also are during this period? How did you manage preparation for both?
Yash Garg: As I said that I did not undergo any special preparation for TS EAMCET. My JEE Advanced preparation was enough. I prepared for my board exams alongside this preparation.
Careers 360: Did you take coaching for TS EAMCET and if yes from where? What are the benefits of coaching according to you?
Yash Garg: Coaching is really helpful in my opinion. You learn more from high qualified professors and you have the added advantage of the vast experience of the coaching institute. This if utilized well works in your favour. It gives you enough time to work on each subject and thus improve.

Careers 360: The exam went online this year? What did you feel about it?
Yash Garg: The exam going online definitely had an impact on our preparations but our institute helped us well enough to cope with it.
Careers 360: Mock tests and sample papers – how extensively did you practise with the help of these? Do you think practising from the previous year papers help and how?
Yash Garg: I practiced mock test and sample papers online and it did help me a lot. My biggest learning was time management. Previous papers helped me understand the difficulty level of the exam and prepare accordingly so that I did not end up wasting my time on unnecessary topics.
Careers 360: Are there any special books that you feel have helped with your TS EAMCET preparation? Are the school text books adequate for preparing for TS EAMCET and Class XII?
Yash Garg: Arihant handbook series surely helped me a lot a few days before the exam. The school textbooks though necessary are not adequate. Some questions come right from the text books and you need to be well versed with the theory from chapters like chemistry to do well.
Careers 360: How was the TS EAMCET exam different from JEE Main? How was AP EAMCET different from TS EAMCET?
Yash Garg: Well, TS EAMCET exam was different from JEE Main in the level of difficulty. No doubt the latter was much more difficult. AP EAMCET was similar to TS EAMCET, but it's just that between writing an exam for the first time and a second time, there is a lot of difference and you learn from your mistakes.
Careers 360: Did you face any problem during the TS EAMCET examination? Which subject was the easiest and which was the toughest? What do you think is a tough thing to manage during the exam?
Yash Garg: I did not face any particular problem during the preparation. The toughest subject I felt was Maths and easiest was Chemistry. The toughest thing to manage is time. And to overcome it, I started with Maths, then Chemistry and lastly Physics. This is an unorthodox method but it worked for me.
Careers 360: What do you think are the key factors behind your stupendous success in TS EAMCET?
Yash Garg: It is all about time management and only thing one needs to worry about is that. Also, that we need to go through NCERT or Telugu Akademi books such that we get perfect in the subjects.
Careers 360: How did you de-stress yourself during the preparation? What are your hobbies? How often could you pursue them?
Yash Garg: I did feel a bit of pressure during the preparation and to relieve the stress I used to play football.
Careers 360: Who is your ideal or biggest inspiration in life and why?
Yash Garg: The biggest inspiration in my life is Steve Jobs. The way he brought about a revolution in the smartphone industry, the ups and downs he has gone through but still managed to come out at the top has always inspired me. I have always looked up to him and will keep doing so.
Careers 360: You know you are an inspiration to thousands of students across the country. Do you have any message for future aspirants on tackling the TS EAMCET exam?
Yash Garg: I would again say the same thing that I have been telling that TS EAMCET is all about time management. It has nothing that you don't know, so just keep on improving your speed and that will get you to achieve your goal.
Questions related to TS EAMCET
Showing 10732 out of 10732 Questions
Telangana State Engineering Agriculture and Medical Common Entrance Test (TS EAMCET)