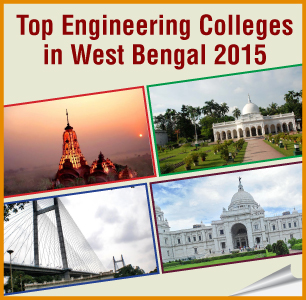 Careers360 has conducted its annual rating exercise to bring you a comprehensive list of Top Engineering Colleges in West Bengal 2015.

Kolkata in particular and West Bengal in general have been in the news for lack of industrial dynamism. But the state was a pioneer in industrialisation in the last century. And true to its industrial roots, the state boasts of specialised institutions offering B.Tech/B.E programmes in ceramics, leather, textiles, power and petroleum. But even now Computer Sciences and Electronics remain the most preferred branches for the state's students. Only recently, the state has allowed the opening of private universities and two new institutions have come up during the last academic year. The old warhorse, IIEST, Shibpur, continues to march towards excellence, despite the change in the name and management structure.

Latest :
Top Engineering Colleges in West Bengal 2016
Top Engineering Colleges in India
With AAAAA rating, Indian Institute of Technology (IIT), Kharagpur leads the pack of Top Engineering Colleges in West Bengal 2015, followed by AAAA+ rating for bothIndian Institute of Engineering Science and Technology, Shibpur; and Jadavpur University, Kolkata.
The next set of Top Engineering Colleges in West Bengal 2015 with AAAA rating includesIISER Kolkata, NIT Durgapur, West Bengal University of Technology, Kolkata and Bidhan Chandra Krishi Viswa Vidyalaya, Nadia.

Click here to check Top Engineering College for other state